Major Liverpool retail centre changes hands in deal with London property groups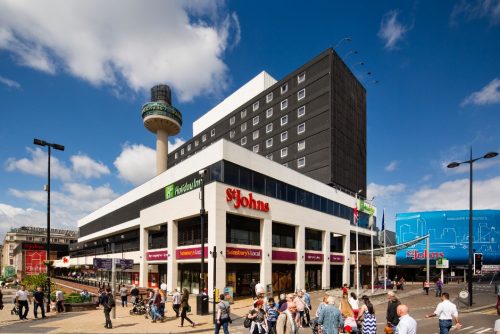 One of Liverpool's most famous retail centres has been sold.
St Johns Shopping Centre, which opened in 1969, has been acquired by investor Anacap Financial Partners and real estate developer, RivingtonHark, both based in London, in a deal reportedly under £40m, considerably less than the £76.5m when it last changed hands.
The new owners said the deal is an "exciting opportunity" in a sector "which may have been previously overlooked".
Sebastien Wigdo, AnaCap, managing diretor, said: "This acquisition represents an exciting opportunity for AnaCap to invest in a prime and stabilised retail asset in the UK, demonstrating our ability to identify value in a sector which may have been previously overlooked.
"We were particularly attracted to the asset given its high quality location and strong tenant mix of both local and national retailers, a large number of whom have shown a long term commitment to the location during COVID."
Mark Williams, executive director at RivingtonHark, said: "We are glad to partner with AnaCap and are looking forward to engage with our tenants, the Liverpool City Council and the wider community to continue to invest in the asset and create long term value for all stakeholders."
St Johns is currently 97% full and is host to more than 100 tenants throughout its 540,000 sq ft estate.
It is situated in the centre of Liverpool, between the main, and local train stations, and bus station.
Tenants are a mixture of national and local retailers, and the site includes St Johns Beacon, a former revolving restaurant and now home to the Radio City radio station.
The centre last changed hands in March 2012 as part of a £76.5m deal between Britain's then biggest landlord, Land Securities, and London-based property funds company InfraRed Capital Partners.
Land Securities also owned the neighbouring Clayton Square shopping centre but it was not included in the sale.
The property group announced plans in 2007 to invest £100m in a revamp of the site, to compete with the £1bn Liverpool One retail scheme that was due to open in Liverpool in 2008.
The last time the centre had been refurbished was 1989 and it was beginning to show its age.
Work was set to start in the autumn of 2008 but plans were shelved as the economic downturn hit shoppers' pockets.
However, the centre has undergone significant renovation and refurbishment over the past decade.
The new owners are understood to be keen to continue investing to provide an impressive retail centre for the city.