Popular Liverpool Greek restaurant opens Manchester 'dark kitchen'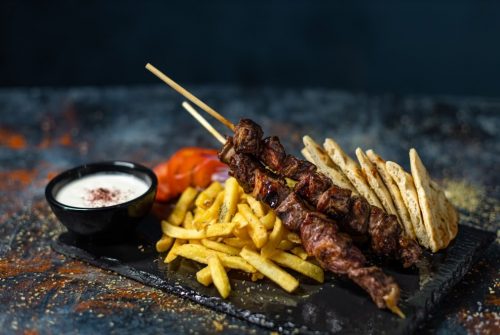 Laros, a much-loved authentic Greek eatery on Liverpool's Bold Street, is expanding and opening a second location, in Manchester.
This time though, Laros will be presented as a 'dark kitchen' and will be available for delivery only, via Just Eat, Uber Eats and Deliveroo, from today (October, 27).
Offering its full authentic Greek food menu, Mancunians will be able to tuck into Laros's renowned chicken and honey or pork and tzatziki gyros, as well as the juicy pork, chicken or lamb souvlaki and the eatery's 'better than halloumi' Talagani cheese fries.
Also on Laros's dark kitchen menu is the Talagani cheese fries vegetarian wrap and the Revithokeftedes Vegan pita wrap, which both make excellent meat-free alternatives.
Talagani fries are very similar to halloumi fries which have become increasingly popular, but "even better", says owner Nikolaos Fylladitakis who has been in the hospitality industry for many years, having owned his own restaurants in Liverpool.
Originally from Crete, the entrepreneur is keen to showcase authentic Greek cuisine that is of the highest quality, with the majority of Laros's ingredients sourced and imported directly from Greece.
Other ingredients that cannot come from Greece, are locally sourced using trusted independents.
Nikolaos said: "Laros has become increasingly popular in Liverpool and we've really enjoyed serving so many people our delicious, healthy, authentic Greek cuisine.
"We work very hard to maintain the highest standard with the finest products. The most important part of this journey is to bring to our guests flavours that we have grown up with and to provide a source of education of what truly Greek food entails."
He added: "We have been very rewarded by our guests' feedback and are delighted that they share this experience with us. Laros is a takeaway of the future and I want everyone to be able to enjoy restaurant-quality dishes from the comfort of their own home."