People: KPMG; GCA Altium; Express Solicitors; M247; Hope Capital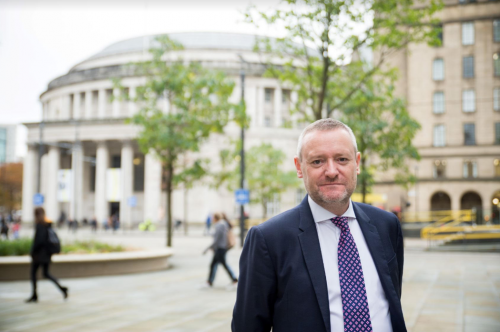 KPMG UK has promoted 72 colleagues across its Manchester and Liverpool offices, mirroring areas of growth for the business and the continued investment the firm is making in its people.
Thirteen new directors are among those promoted by the professional services firm, which employs more than 1,300 people across its offices in Manchester and Liverpool.
In Manchester, Thomas Maddern, Ioannis Boutaris, Fiona Welch and Alexander Burrows have been appointed directors within KPMG's consultancy practice.
Richard Lee, Nicola Baldwin, Kate Hindle and Hannah Johnston have been promoted to director within the firm's audit function. Richard Green, Howard Sharkett and Chris Wilson have become directors within tax and legal functions, while Jon Schofield has been promoted to director in deal advisory.
In Liverpool the business has promoted Zealah Brindley to director in consulting.
In other promotions, 17 colleagues have risen to senior manager, 34 are now manager, and eight have been promoted to assistant manager.
These promotions reflect demand from the firm's clients and have been made across all of KPMG's capabilities – from audit and deal advisory, to tax, legal and consulting.
Warren Middleton, Manchester office senior partner at KPMG in the UK, said: "Our people are at the core of what we do and central to our collective success.
"Attracting and retaining staff is a priority for every company and I am proud that we are able to support internal career progression and nurture the talent that we have here within the firm.
"Congratulations to all of the individuals who have been promoted through their hard work and dedication to providing the very best advice and expertise to our clients across the North West."
KPMG UK has made a range of senior promotions nationally, with more than 1,700 colleagues promoted on October 1, the start of the firm's new financial year.
::
Manchester-based global investment bank GCA Altium has strengthened its London team with the appointment of consumer M&A expert Tom Barnard as director.
Tom joins as part of the leisure M&A team having spent more than a decade working in the sector, the majority of which was spent at BDO. Prior to this, Tom completed an 18-month secondment at the LDC London Investment Team.
During his career, Tom has worked on landmark transactions in the UK leisure and consumer sector, with a specialist focus on the restaurant and bar and travel spaces. As a qualified accountant, Tom also holds a BSc in Geography from the University of Durham.
In his new role as director in the London team, Tom will work directly with managing director and office head, Sam Fuller, and the wider GCA Altium team on some of the UK's most prolific consumer M&A deals. In recent years, these have included AIMs biggest ever flotation in Victorian Plumbing, the sale and subsequent flotation of Loungers, and the sale of Watchfinder.
This appointment is the latest move in the most active period in history for the global investment bank, which has more than 500 employees in 24 offices across America, Asia and Europe. GCA Altium has enjoyed a record first half of the year to date, completing more than 150 deals in Europe, 45 of which have been in the UK.
Tom Barnard said: "I'm pleased to be joining GCA Altium which, as a firm, has a one of the strongest reputations in the UK for its dealmaking ability on a local and global scale.
"I am looking forward to working alongside Sam, Christopher Jones and the rest of the London team in expanding our offering, not just in the UK, but also using our international connections to support consumer facing companies across a range of sectors and geographies."
Sam Fuller said: "We are thrilled to be welcoming Tom to the London team. His extensive experience and knowledge of the UK leisure and consumer sector will be invaluable to the future of the company, helping us to build and consolidate relationships within these sectors and continue to grow at scale."
::
Express Solicitors, the Manchester-based personal injury law firm, has made good on its policy to bring its brightest talent through the ranks with the promotion of 56 employees from September 2020 to August 2021.
Six employees have been promoted to partner, including three who started in the new client team before achieving a training contract at the business – Ryan Postlethwaite in the consumer claims litigation department, Amy Cassell in the road traffic accident department and Catherine Citron in the occupiers/public liability department.
The other new partners include Ruth Magee who specialises in employers' liability and Adele Greenough in road traffic accidents, while Stuart McLachlan has become a partner in the IT department.
Recruitment and training carried on as normal throughout the pandemic and head count at the firm increased from 308 to 389 employees.
From its inception, Express Solicitors has had a policy of promoting employees from within. As well as promoting six employees to partners, it has promoted nine to senior associate and 12 to associate. In addition, there were 19 employees who became trainee solicitors, giving the firm some 39 trainees in total. Other promotions included staff being promoted to positions such as HR manager, senior IT technician and assistant solicitor.
The promotions come on the back of news that Express Solicitors Group had its best ever financial results from April 2020 to April 2021, with group turnover up by 14% from last year to £31.3m and caseloads growing by 36% to 19,015.
Express Solicitors' managing partner, James Maxey, said: "Since the launch of the firm 21 years ago, our mission has been to reward and promote talented individuals. Our in house training department has played an important role in helping us continuously train and promote our staff, which, ultimately, benefits them, the firm and our clients.
"We're extremely proud to reward the determination and talent of these 56 employees, they've played a crucial role in helping the firm grow and they're a credit to the business.
"It's especially satisfying to have promoted three partners who started off in our new client team before we offered them training contracts. Their loyalty, hard work and skills have shone through from the beginning and they very much deserve to be partners at the firm."
Express Solicitors is ranked in The Lawyer Top 200. Its lawyers and the firm are recognised in The Legal 500 and the firm is noted in Chambers and Partners. The firm specialises in personal injury and accident claims, clinical negligence claims and serious injury cases.
::
M247, the Manchester-based global connectivity and cloud services provider, has appointed a new chief sales and marketing officer to its executive leadership team.
Stephen Bates joins the company from connectivity platform ngena. He brings a wealth of technology sales and leadership experience, having previously held positions as chief executive of Cloudview, managing director of Cannon UK & Ireland, and SVP of global enterprise sales at RIM (Blackberry).
Based in London, Stephen will operate from the company's City office and play a significant role within the M247 group Leadership team.
Chief executive, Darryl Edwards, said: "We are strong believers in a people-first philosophy at M247 and always invest in the best talent at every level of the business in order to benefit our solutions, services and ultimately our customers. Stephen is a highly accomplished sales leader and we are delighted to welcome him to the team and look forward to him making an immediate impact on the business."
Stephen said: "M247's significant heritage and credentials alongside its forward thinking and innovative outlook certainly stand out in the market and I am looking forward to being able to put my previous experience to good use and influencing the go-to market strategy of the business going forward."
Steven Briant, who has been in the acting role for the past few months, will now transition the business over to Stephen and then revert to a senior sales role within M247.
::
Specialist short-term lender, Hope Capital, has bolstered its underwriting team by welcoming Jon Reed as senior development underwriter.
Jon joins after working in the finance industry for more than 20 years, with a specific focus on bridging and development finance more recently. He has previously gained wide experience of the underwriting process in the specialist lending market in a variety of roles.
In his new position, Jon will be responsible for underwriting and completing case volumes, as well as supporting the Bootle-based Hope Capital team as the business looks to enter a new lending space.
Jon said: "This is a brilliant opportunity for me to use my previous experience to help contribute to Hope Capital's continued success. Speed and efficiency are key when it comes to bridging and I'm excited to be part of a company that recognises this, as well as one which places product innovation and service excellence at the forefront of everything they do."
Jon joins Hope Capital just after the firm has celebrated reaching 10 years in business. Planning ahead for its ambitious future, Hope Capital is currently looking to onboard a wave of new appointments at all levels of the business.
Managing director, Gary Bailey, said: "We are thrilled to have been able to appoint Jon as senior development underwriter and are looking forward to seeing his Hope Capital journey unfold. This is a really exciting time for Hope Capital and by Jon joining us we are better positioned to take on increased business volumes."