People: PHD Industrial Holdings; Legacie Developments; ForHousing; FRP; Miralis Data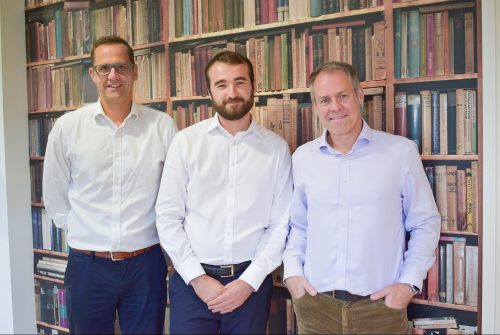 PHD Industrial Holdings, the industrial acquisitions business which is part of the Daresbury-based Dow Schofield Watts network, has expanded its team with the appointment of Peter Horton as acquisitions executive.
His arrival comes as the company is planning a series of new acquisitions after raising an additional £5m via a rights issue in June.
A qualified accountant, Peter spent four years working in audit – initially with Deloitte in Manchester and most recently with Mazars – before joining PHD.
He will be based in the firm's headquarters in Daresbury, where his role will include identifying potential acquisitions and supporting the growth of existing portfolio companies.
PHD Industrial Holdings currently has six companies in the group which, between them, employ more than 330 people and have sales of in excess of £60m. It targets profitable SMEs in well established industry sectors with a turnover of up to £10m.
PHD Industrial Holdings was recently acquired from PHD Equity Partners. Andy Dodd, director, said: "PHD has delivered excellent returns to date and our new structure, together with the recent £5m rights issue, gives us considerable firepower going forward.
"Peter will play a key role in our plans to identify new acquisitions and build the group to a capital value in excess of over £100m."
::
Legacie Developments has announced the appointment of a new managing director to oversee the company's national expansion.
Gavin Currie, who has more than 25 years construction experience and was previously managing director of the Scotland-based Bancon Construction, joined Liverpoool-based Legacie this month.
The company has several live construction sites under way including the flagship £90m Parliament Square residential development in the Baltic Triangle and Element The Quarter, a North Liverpool scheme which will be developed into 450 eco-friendly apartments.
Meanwhile, Legacie will start work on its first major venture outside the North West this week when construction begins on a new residential development in Luton. The firm has also started work on its first development in Manchester with a 196-unit apartment and commercial scheme at Salford Quays.
The developments in Manchester and Luton are being delivered in partnership with RWinvest.
Legacie Developments founder, John Morley, said: "We are incredibly excited to welcome Gavin to the team as our new managing director. He is extremely experienced and will be a great asset to the business as we look to expand across the UK."
Gavin Currie said: "Legacie has developed a strong name in the construction of large scale commercial and residential developments and has really strong plans for the future.
"I am looking forward to getting into the role and supporting John and the team as we continue to deliver in the North West and as we move into new territories such as Luton and London. It is an exciting time for the company."
::
ForHousing has appointed four new board members, including one of the North West's most prominent equality, diversity and inclusion champions, an expert in older people's housing and one of the UK's most respected property experts.
The progressive landlord, which owns and manages more than 24,000 homes across the North West, says the new appointments will increase the breadth and depth of talent on its board.
As part of the changes the landlord has named Paul Kennedy as its new chair.
It has also appointed Manchester Pride CEO Mark Fletcher, Alpha Living chief executive Graeme Foster and current Liverpool City Council regeneration commissioner Deborah McLaughlin.
Paul is a highly experienced leader having held a number of executive and non executive positions over the oast 25 years, working in both the civil service and private sector.
He has a lifelong passion for supporting businesses that make a lasting impact on communities and society, and has a particular focus on helping organisations set the right culture. Paul's current portfolio includes non executive chair of a Liverpool-based youth inclusion charity and non executive director at Illumar, which provides data management solutions.
He replaces outgoing chair Stephen Reuben, who has been in post since April 2019.
Paul said: "I'm really looking forward to working with ForHousing to improve lives by delivering real change. I strongly believe a stable, high quality home is vital. The work of ForHousing and their commitment to making more things possible for more people really resonates with that."
Mark Fletcher has been CEO at Manchester Pride since 2014. He is an influential voice on inequalities across Greater Manchester and beyond.
Since 2018, Mark has chaired the LGBTQ+ advisory panel to the Mayor and Greater Manchester Combined Authority and he is a member of the Tackling Inequalities Board. He is also a member of The Manchester College Board and member of the Editorial Advisory Panel for Reach.
Deborah McLaughlin is a member of the board of trustees at charity Manchester Camerata, an orchestra that makes music for change with performances ranging from opening Glastonbury to working in care homes with people living with dementia.
She is currently Liverpool City Council regeneration commissioner and has held positions including executive director at the Homes and Communities Agency and chief officer at Manchester City Council Housing Services. Deborah is also a non executive director at property developers Mulbury.
Graeme Foster is the current chief executive at Wirral-based housing association Alpha Living, which specialises in housing for older people.
Graeme was born in Liverpool and recently moved to North Wales. He has been a vocal champion of ensuring older tenants living in social housing can access the housing and services they need, and are treated with dignity and respect.
Before taking on his role with Alpha he was senior regulation manager at the Homes and Communities Agency and previously worked for both the Tenant Services Authority and as a lead housing inspector for the Audit Commission.
Outside of his executive role, Graeme served on the board of Cobalt Housing for four years as a key member of the audit committee and was chair of the governance committee.
Colette McKune, CEO of ForHousing, said: "I am delighted to welcome Paul as our new chair and Mark, Deborah and Graeme as new board members and look forward to working with them all.
"Our open recruitment process, led by our nominations committee, was highly competitive, which is reflected in the wealth of experience, knowledge and skills brought by our new board members. Together with our existing members, the board will be able to navigate the increasingly complex challenges faced by providers and drive continuous improvement in our governance arrangements."
As part of a review of its governance the ForHousing board will work with a newly developed customer committee which will give tenants their say in improving ForHousing services and creating inclusive communities where people can thrive.
Recruitment to the committee is well under way with 600 applications received.
Colette added: "I would like to say a huge thank you to our outgoing board members for their dedication and service and to our outgoing chair, Stephen, who has worked tirelessly to help us achieve our purpose of improved lives."
::
Specialist business advisory firm FRP has bolstered its offering in the North West with the appointment of restructuring consultant, Dermot Power.
With more than 20 years of industry experience, Dermot was previously head of restructuring at a major international accountancy firm for nearly two decades. He also holds a number of non executive roles across the North West.
Dermot will join FRP's 31 strong ream in Manchester, who regularly advise on administration cases involving North West businesses, including completing the sale of restaurant and bar business East Coast Concepts to an investment group, in a deal that protected more than 250 jobs.
The firm's wider restructuring team has also advised on a series of high profile administration cases, including Debenhams, Carluccio's and Edinburgh Woollen Mill.
The North West team continues to grow its headcount, and recently strengthened its team with the appointment of associate director, Daniel Brecker to its corporate finance team.
Anthony Collier, restructuring advisory partner at FRP, said: "Dermot is incredibly well connected and respected in the region, with an impressive track record of securing positive outcomes for distressed businesses and their stakeholders.
"As businesses continue to experience the challenges created by the pandemic, he will undoubtedly play a critical role in preserving value and, ultimately, strengthening the economic recovery locally. His appointment broadens the depth of our senior team and strengthens our position as a key partner and adviser to the diverse range of businesses across the North West."
Dermot said: "FRP is a firm that commands a strong reputation, which is evidenced by its recent work and achievements in the North West. With the impact of COVID-19 and Brexit likely to continue affecting the region's businesses in the coming months, I'm looking forward to utilising my experience at this crucial time to support businesses, and ensure they are able to overcome the challenges they face."
::
Miralis Data, a transport-focused Cleantech and data science company based in Lancaster, has welcomed five new members to its growing team, and is looking for more.
The company has seen continued success since its establishment in 2016, and following the official launch of its flagship product Fuuse – an EV Charge Point Management system – in spring 2021, it is building its team to match growing demand.
In the past two months Miralis has welcomed members to its development and operational teams, and is currently seeking at least three more to bolster its sales and onboarding operations.
Having embraced a remote and flexible culture since before the pandemic began, Miralis is delighted to welcome new members to the team across the UK, with new starters based in Newcastle, Portsmouth, Bristol and the local Lancaster area.
Edlira Troka who joined the finance team last month, said: "I've always been keen to work towards a greater environmental purpose, and Miralis is the perfect embodiment of that with its commitment to reducing carbon emissions. The company focuses on building a team that believes in, and embraces, its purpose while helping each one succeed and grow."
Joining the development team and working on Miralis's latest product, Fuuse, are senior software engineer Will Roscoe, and software engineers Chloe Grillo, Janice Taylor and Margarita Vlachou.
Miralis is a member of the Tech Talent Charter – a non-profit organisation leading a movement to address inequality in the UK tech sector and drive inclusion and diversity. Since its involvement with the TTC, Miralis has utilised resources and best practises to ensure its recruitment processes are free from gender bias.
Finance director, Martin Peters, said: "We are delighted to have seen results from the TTC recommendations we have made to our recruitment process, as we strive for more diversity and inclusion in the tech sector. We are keen to remove the barriers to female applicants, ensuring that we appeal to the full talent pool out there and continue to grow our team with the very best people."
Miralis is now seeking to grow its sales team in response to huge demand.