Online electricals retailer creating 80 jobs with fourth warehouse opening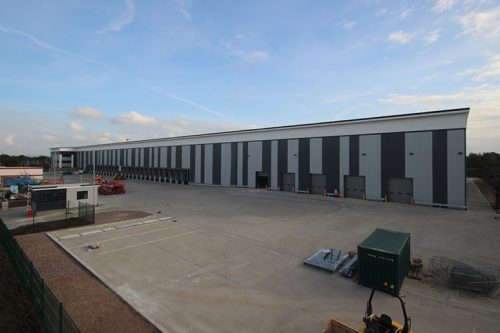 Bolton-based online electricals retailer AO has opened its fourth warehouse in Crewe, creating more than 80 jobs and adding in excess of 300,000 sq ft of new distribution space to its logistics network.
In the largest commercial property build of the year in the region, AO Logistics will occupy the huge Crewe 305 site at Crewe Commercial Park from this month, building on the retailer's existing logistics hub with its three warehouses in the town.
It will house more than 200,000 appliances, with the increased stockholding capacity meaning that the products will always be available when customers need them.
The retailer is continuing to invest heavily in its logistics network to support future growth.
Over the past 18 months, AO has increased its warehousing capacity by more than 80%, rapidly growing its distribution network and creating in excess of 1,200 jobs across the business.
This will be the fourth warehouse opened recently, following sites in Stafford and Stoke, and the Latchford site on Weston Road in Crewe.
While the new site itself will initially create more than 80 jobs in the Cheshire area, the move follows AO's huge push for driver recruitment.
The retailer is currently recruiting employed drivers nationwide, with more than 100 logistics vacancies available, including HGV drivers, 7.5t delivery drivers and warehouse operatives.
Tony Chrystal, director of operations at AO Logistics, said "It's fantastic to see AO both growing its logistics base in the North West and providing even more job opportunities for the people of Cheshire.
"The rapid expansion of AO Logistics is really a testament to the hard work of our people and how much we've grown over the last 18 months – I can't wait to see how this investment benefits our operation."
The 305,360 sq ft warehouse is the second constructed by logistics developer Panattoni at Crewe Commercial Park and the biggest consented in the area for more than a decade.
Sarah Ratcliffe, commercial property partner at retail specialist law firm Gordons, advised AO on the letting. She said: "Crewe 305 is in an excellent strategic location which will further enable AO to implement its impressive growth strategy. We are very pleased to have helped AO secure this high quality logistics space."
AO acquired the two-person delivery company, formerly Expert Logistics, in 2009 and it now offers next day delivery to every UK postcode seven days a week on its range of 12,000 electrical products.