£1.5m investment for Manchester contact centres software specialist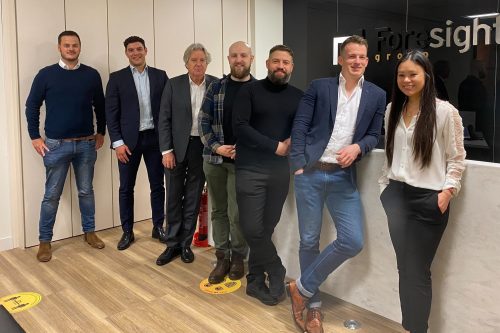 The Modular Analytics Company (TMAC), has received a £1.5m investment to expand its services and hire senior personnel.
TMAC was founded in 2018 by Jimmy Hosang and Sean Northam. It is a rapidly growing contact centre software solutions company based in Manchester, with significant operations across the Midlands,
The funding is a joint investment of approximately £1.5m by the Foresight Midlands Engine Investment Fund and the Greater Manchester Combined Authority Fund.
TMAC's proprietary artificial intelligence and machine learning software drives efficiency, reduces costs and improves results for large contact centres, primarily in the insurance, retail and banking sectors.
It offers three affordable modular products to improve key areas within a contact centre, including customer engagement, customer service and coaching: Fonetik is a speech analytics platform; Playbook, a guidance and prompt platform; and Coach, a performance improvement and management tool used by an organisation to increase outputs and develop employee performance.
Together, the three products help businesses better listen to their customers by identifying trends and patterns, act on their preferences to achieve customer success and learn by ensuring each agent's development opportunities are nurtured.
As a result of the pandemic, and with more remote working, organisational leaders are increasingly focused on customer engagement, customer retention and lifetime value, which can all be improved using TMAC's software.
This funding round supports the company's growth plans, allowing it to focus on developing its software as a solution platform, as well as make key senior hires as it consolidates its East Midlands base.
Jordan Lavender, investment manager at Foresight, said: "We are delighted to be supporting TMAC on its next stage of growth.
"With digital transformation projects becoming more widespread in organisations, TMAC is well placed to take advantage of this flourishing market. The team have extensive experience in this sector and I am pleased they have selected Foresight as their partner for the next exciting phase of their journey."
Jimmy Hosang said: "I'd like to thank the British Business Bank, Foresight Group and the Greater Manchester Combined Authority in supporting us in our vision to create a market leading AI company that the regions can be proud of.
"This investment will allow TMAC to invest in our products and create numerous jobs across the Midlands and Greater Manchester which are both high quality and diverse in nature, including speech analytics consultants, data engineers, product and UX specialists and B2B marketeers."
Ken Cooper, managing director, at the British Business Bank, said: "This investment is another great example of the way that the MEIF can support businesses as they develop and innovate.
"The fund continues to invest to address market gaps in access to finance in the Midlands and has had a demonstrable effect in supporting regional economic growth.
"In 2020 MEIF was responsible for 25% of all equity deals in the region and we want more businesses to take advantage of the opportunities that the right type of funding can provide."