People: MHA Moore and Smalley; Impact Data Metrics; English Lakes Hotels Resorts & Venues; RVA Surveyors; Epic Risk Management; DF Capital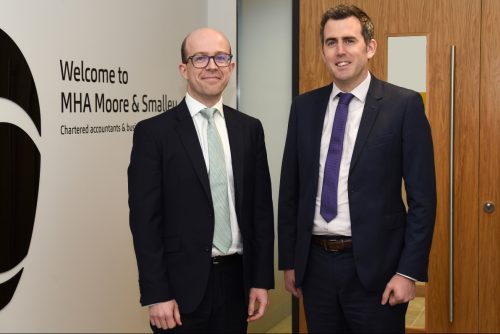 X

Register for free to receive latest news stories direct to your inbox
Register
Accountancy and business advisory firm MHA Moore and Smalley has further grown its team in Liverpool following a new senior appointment.
Experienced chartered accountant Gearoid Hennessy has joined the firm's Liverpool office as corporate services senior manager.
The move comes a month after MHA Moore and Smalley relocated its Liverpool office to the city's Exchange Station building, giving the firm the capacity to significantly grow its Liverpool team.
Andrew Matthews, partner and head of MHA Moore and Smalley's Liverpool office, said: "To help our clients grow and drive their recovery from the pandemic, we need the right people advising them. Gearoid is an experienced business advisor who can help shape a better tomorrow for our clients, people and communities.
"We're creating a great team in Liverpool that's helping us become an advisor of choice for SMEs and owner managed businesses in the city and the wider region."
Gearoid, who joins MHA Moore and Smalley from Jackson Stephen, said: "From my first conversation with the management team at MHA Moore and Smalley, I knew this was an opportunity to be part of something bigger – not just helping a firm grow its Liverpool office, but supporting its mission to help businesses and their owners create a better tomorrow."
Throughout his career, Gearoid has worked with an array of corporate clients, SMEs and owner-managed businesses and has also developed a sector specialism advising charities and not-for-profit organisations.
As well as managing a portfolio of clients at MHA Moore and Smalley, he will also work on special projects and act as a mentor to help colleagues develop their professional skills.
Gearoid, originally from Clare in Ireland, graduated from the Limerick Institute of Technology in 2006, and then qualified as an accountant in 2010.
::
Impact Data Metrics, the Liverpool-based technology firm using Artificial Intelligence and machine learning to create bespoke datasets to help business leaders in property, regeneration, economic development, healthcare and innovation make better decisions, has made a key appointment as part of its strategic growth plan.
Paul Gussar, who has 25 years' experience in many of IDM's target markets, has joined the team as business development director.
His appointment follows IDM's successful fund raise in June 2021 which will support the development and launch of a range of new products and services.
Neil Murray, chief executive, said: "Paul comes with an excellent pedigree in strategic business development and we are delighted he has joined our business at an incredibly exciting time, not just for IDM, but for economic development in the UK regions.
"Our proprietary machine learning/AI technologies provide best-in-class data sources which provide critical insights to help inform decision makers across a number of key sectors in the economy. I am confident Paul will play a key role as IDM continues its growth."
Paul's CV includes 13 years with 3Fox International, a key place making consultancy, where he rose from business development manager to deputy managing director, generating multimillion-pound revenues.
He said: "I am really excited to join Neil and the IDM team as they scale the business. I am convinced there is a superb market opportunity for our high quality data services and I can't wait to get started."
::
A switch from food and drink to health and leisure has won a hospitality professional from Lancaster a managerial promotion.
Gary Tennant returned to Lake District-based English Lakes Hotels Resorts & Venues after a two-year spell working at another venue. With additional training and qualifications, he has now made the jump to become the new manager of the health club and spa at the group's flagship venue in Windermere, Low Wood Bay Resort & Spa.
Having served as food and beverage manager at Lancaster House Hotel during an 18-year stint there, Gary longed for a return to the group and, as luck would have it, a managerial post opened in the resort's health club and spa.
That position allowed him to undertake NVQ courses including Level 2 in gym instruction and Level 3 in personal training, the perfect springboard for his latest promotion to run the health club and spa at Low Wood Bay.
He said: "The chance to return to Lancaster House turned out to be a great career move. I was seeking to get a better work life balance for myself and the family and the switch to health and leisure gave me a new lease of life.
"I had fantastic support in getting new qualifications and cannot wait to get started. There's a change of emphasis between food and drink and leisure and health – both require strong customer service skills and building a rapport with guests, but the latter is more about the coaching aspects, which I really enjoy."
Gary takes the reins at Low Wood Bay's health club and spa from Annabel Berry, who has moved up to a new role within the hotel group as product development and training manager.
English Lakes Hotels Resorts & Venues group leisure manager, Michael Kay, said: "Gary's story of progression up the career ladder is fascinating and his return to us hopefully shows we're on the right track with staff welfare and training. The interpersonal skills he's developed in his time in food and beverage, coupled with new qualifications, will serve him well within his new position in the company."
::
Independent business rates reduction specialist, RVA Surveyors, has embarked on a major digital transformation to respond to rising demand for business rates reductions for commercial properties across England and Wales.
The move also comes amidst a major recruitment drive by Manchester based RVA Surveyors, which includes the appointment of John Ward as marketing director with a remit to drive growth and bolster the business's digital proposition for potential customers.
John's appointment forms part of RVA Surveyors' strategy to help educate and support businesses on the convoluted business rates system while improving access to information through new automated systems and digital assets.
Bringing more than 15 years' experience, John's background lies in strategic brand awareness and harnessing digital communications to enable businesses to respond to customer needs and drive sustainable growth.
RVA managing director, Anthony Hughes, said: "It is no secret that the Government's Business Rates system is deeply flawed and increasing numbers of businesses are turning to RVA to help guide them through what is an extremely complex and confusing system.
"So many of our customers are frustrated by the complexity of the system and while we are extremely well placed to support and guide them through this process, we also want to make sure we meet the rising demand for our services. John's appointment forms a big part of this as we continue to upgrade our internal processes to ensure we can provide an efficient service that ultimately saves money for our customers."
John Ward said: "I have joined RVA Surveyors at a pivotal time for the business. We have engaged with over 40,000 businesses and found that half of those are overpaying on their business rates. This is a staggering figure and it continues to rise."
Established in 2011, Denton-based RVA Surveyors works with a variety of businesses across the UK to help reduce their property's business rates liability.
::
Epic Risk Management has made a key appointment during a period of rapid expansion as experienced business transformation expert Les Murray joins the gambling harm minimisation consultancy as managing director.
Working closely alongside founder and CEO, Paul Buck, Murray will be helping the organisation to maximise awareness of its education programmes and thought leadership in gambling harm prevention at a time when it has just launched both a US subsidiary, Epic Risk Management US, PBC and the Epic Risk Management Pro Sport Advisory Board. The latter is the first body to bring together leaders from around the world of professional sport and eSports to find ways of preventing and reducing gaming and gambling harm within those sectors.
Epic has recently announced a four-year education programme with the Professional Cricketers' Association (PCA) to deliver projects for the benefit of both male and female professional cricketers within the England and Wales Cricket Board (ECB) system, as well as academy and rookie camp players, which will run alongside a vast array of similar existing projects in major sports leagues, corporate institutions and both state and private schools or colleges.
Murray brings extensive experience as a consultant, coach and facilitator to the organisation, having worked directly with numerous large blue chip institutions to achieve rapid growth or expand their global reach. Murray led business transformation programmes as a director with Collinson Grant, a chairman at Vistage UK, served as business development director for Littlewoods, and was previously a director with PwC /IBM in the consulting services division.
Murray said he was excited and privileged to take on the new role: "Demand for Epic Risk Management's life-changing training and consultancy services has continued to grow during COVID-19. I join a uniquely talented organisation established by Paul Buck, and built by the senior leadership team, which increasingly pivots towards international markets.
"I am honoured to now shape and help lead this socially driven and commercially sustainable business on its future growth journey. The work on reducing gambling-related harm has never been more important with the Gambling Act Review in the UK, the acceleration of sports gambling across the US, coupled to enquiries for our support from leading organisations around the globe. I'm excited to get started and look forward to contributing to the high impact work Epic delivers on helping to take the problem out of gambling."
The business is based in Appley Bridge, and has offices in London and New Jersey, USA.
Paul Buck said: "In a field of exciting, high calibre candidates, Les stood out for his undoubted track record of taking organisations to the next level through consultancy and coaching, identifying their strengths and helping them to realise their potential.
"His previous clients have included numerous FTSE 100 and FTSE 250 multinationals, so with our work expanding on an increasingly global level, his experience will be vital in helping our organisation to spread the vital message of how to minimise gambling related harms.
"Les's warm character is a perfect fit for our organisation, which puts an undoubted focus on the people who work for us and alongside us, and I look forward to seeing the longer term benefits that his expertise will have on all of those individuals as we establish new projects and break new ground with the territories in which we'll be delivering."
The arrival of the new managing director is part of a busy period of continued growth for the company, which has also welcomed three further faces. Sam Brooks, who has been an Industry Fellow for the University of West England and a training and development specialist for the Army, is Epic's new evaluation and research manager, Joanna Whitehall joins as sustainability manager after 25 years in harm minimisation and player protection and Alan Smart arrives as further lived experience in the ranks as harm prevention manager.
::
Manchester-based DF Capital, the specialist commercial lending and personal savings bank, has hired Rachel Taylor as head of change and continuous improvement.
Rachel is responsible for leading the continued development and delivery of business innovations across the bank, as well as monitoring and improving organisational processes with the aim of optimising efficiency and maintaining high levels of customer satisfaction.
She has worked in change management and business improvement roles in the financial services sector for more than 15 years. She joins from Aldermore where she was a business manager, advising and supporting the senior management team. She also worked in similar roles for Swinton Group, Co-op Insurance, Barclays, Homeserve and Britannia Building Society.
Rachel said: "I'm thrilled to join DF Capital at what is a very exciting time. My focus will be on delivering at pace but also continuing with the delivery of great customer outcomes that we've become known for.
"My job is to review what we do and work out if and how we can do it even better. It's great to be joining such a dynamic and passionate company and I look forward to how I can help the business grow."
Carl D'Ammassa, DF Capital's CEO, said: "We've been looking for an effective and experienced leader to cultivate and maintain a proactive, strategic approach to change management and continuous improvement across the business. Rachel fits that bill perfectly.
"She will help us embed a positive approach to change and improve the management and implementation in support of DF Capital's priorities of operational efficiency, colleague wellbeing and customer satisfaction. We're delighted to welcome Rachel to the team."