North West business briefs: DAM Health; HOST; Speedy; Smart IR; Sherwin-Williams

X

Register for free to receive latest news stories direct to your inbox
Register
Liverpool-based coronavirus testing company DAM Health has signed a major deal with Spanish football club RCD Espanyol.
DAM, which operates PCR testing clinics, will support the football club with the testing of the team and employees at the Barcelona-based stadium and training grounds. It follows a similar deal agreed between the company and Glasgow Rangers FC and Crystal Palace earlier this year and comes after DAM agreed a seven-figure partnership with Edinburgh Rugby which will see the private medical firm open a test laboratory on the BT Murrayfield campus.
The deal with RCD Espanyol follows a rapid expansion for DAM Health in Spain. The company has set up a specialist team in the country which has overseen the opening of more than 80 clinics.
Director of partnerships, at DAM, Liam Spence, said: "DAM Health is quickly establishing itself as the preferred provider of PCR testing for some of the biggest sports clubs and organisations in Europe. We are delighted to be working with RCD Espanyol in Spain and sports clubs throughout the UK.
"Our business growth continues to be strong as testing for coronavirus remains essential for work and travel. These recent business wins, including with the various sports clubs that we are working with, is testament to our dedicated and hardworking team based at our headquarters in Liverpool and our employees in Spain."
CEO at RCD Espanyol, José María Durán, said: "We are extremely satisfied with this agreement. It is important for our club to keep on expanding our network of providers with internationally well-renowned companies. We are once again pioneers, since this is the first agreement of DAM with a Spanish LaLiga club. We are proud that DAM has decided to join RCD Espanyol as a partner."
::
The prestigious WorldSkills UK national finals – the biggest skills competition in the UK – are being held for the first time in the North West at innovation hub, HOST, the Home of Skills & Technology. HOST in MediaCity will welcome 25 students and apprentices from across the UK as they compete to be crowned national champions in the 3D Digital Game Art, Graphic Design and Accountancy Technician finals.
The three competitions will be held over three days at HOST, from Monday 15, to Wednesday 17, November, and the winners will be unveiled at a live ceremony hosted by TV presenter Steph McGovern from her Packed Lunch studio at 4pm on Friday, November 26.
In total, more than 400 young people will do battle in 63 different competitions at 22 venues across the UK in November to be crowned the best of the best at WorldSkills UK's national finals. The WorldSkills UK competition-based development programmes are designed by industry experts and enhance the practical skills and knowledge taught on training courses by assessing an individual's employability attributes against set criteria in a competitive timed environment.
The programme has a real impact on those taking part, with 90 per cent of previous entrants saying their career progression improved after competing and 86% stating their personal and employability skills had improved. Mo Isap, CEO of IN4 Group, operator of HOST, said: "We are honoured to be bringing the WorldSkills UK finals to the North West, putting it at the heart of the global skills community, and proud to be championing the amazing, highly skilled and diverse local talent we have here."
Ben Blackledge, deputy chief executive, WorldSkills UK, said: "We are really excited to be taking the show on the road this year with finals hosted across the UK. After a year without competitions due to the pandemic it was really encouraging to see so many people competing in the qualifying rounds. I want to offer my congratulations to all those that took part and wish the competitors at MediaCity the best of luck in their finals."
::
More than 120 construction industry representatives joined equipment and services provider Speedy for the opening of its new Innovation Centre in Milton Keynes, an industry-first low carbon facility that will showcase net zero equipment and provide an extensive hire range for contractors.
Contractors were able to view the latest sustainable construction equipment demonstrated by Newton-le-Willows-based Speedy's suppliers including Hilti, Milwaukee and Generac at the new 100,000 sq ft site. The centre will showcase the latest electric, solar and hydrogen powered technologies that will help to lower contractors' environmental impact. The site adds to the list of larger new regional service centres launched in the past 12 months including sites at Reading, Swindon, Doncaster, Aberdeen and Edinburgh, providing a comprehensive range of hire tools, equipment, plant and powered access under one roof.
All commercial vehicles operating out of the site will be electric or fuelled by hydrotreated vegetable oil (HVO), which emits up to 90% less CO2e when compared with red diesel, minimising the environmental impact of deliveries. The centre is powered by 670 solar panels and utilises pioneering bespoke energy efficient lighting and climate control technology. It's also home to a wellbeing and wildflower garden, an 18-metre living wall and beehives made from repurposed hard hats. The site uses furniture, from desks to garden benches, made from recycled materials to help further lower its environmental impact.
Employing more than 50 staff, the site is strategically located in Milton Keynes to support contractors building the first phase of HS2 from London to Birmingham, and provides low emission equipment to help meet the project's sustainability goals, including electric lighting towers and track laying machinery.
Russell Down, Speedy chief executive, said: "Our new Milton Keynes facility represents the gold standard in decarbonised construction hire. This first of its kind facility showcases to industry the innovation that's driving forward the development of new sustainable technologies, while acting as a blueprint for how we'll minimise the environmental impact of our hire centres. Customers are increasingly scrutinising the sustainability of their supply chains to meet growing demand for low carbon construction projects. We recognise as a key intermediary our responsibility to enable this transformation, which is why we're investing millions of pounds across the business to expand our range of eco products, to decarbonise our delivery fleet, and to lower the environmental impact of our facilities."
::
A UK start-up is using graphene technology to transform how satellites in orbit regulate their temperature. Space is a place of wide extremes, and this includes temperatures – between sun-facing and earth-facing aspects, a satellite can experience temperature variations of more than 400C.
The consequences of a satellite getting too hot or cold can be far reaching, from disruption to the apps we use every day, to severely affecting our emergency services. Current thermal management options are large, heavy and involve high power consumption, which can rapidly deplete a satellite's power reserves.
A spin out of the University of Manchester, SmartIR, is developing a cost effective solution that will enable satellites to control thermal radiation on demand. Its graphene-based smart coating for satellites will enable them to manage thermal energy in real time, depending on whether a satellite's surface is earth's shadow or on the side closest to the sun.
SmartIR is the latest company to join the European Space Agency Business Incubation Centre United Kingdom (ESA BIC UK) at the Science and Technology Facilities Council's (STFC) Daresbury Laboratory. Here it is taking advantage of the funding and support available in space and satellite technologies to further this commercial development.
Prof Coskun Kocabas, SmartIR's scientific director and co-founder, said: "There is a clear need for a cost effective solution that will enable satellites to regulate their temperature automatically and in real time. Applying graphene technology to space industry is a fantastic opportunity to take the capabilities of current thermal management systems to a new level, whilst significantly reducing satellite power consumption and cost. Our current primary focus is on the testing and validation of our patented technology to meet the requirements of the space industry. Being part of the ESA BIC UK, with access to funding, space facilities, business support and valuable collaboration opportunities, is incredibly important to us."
::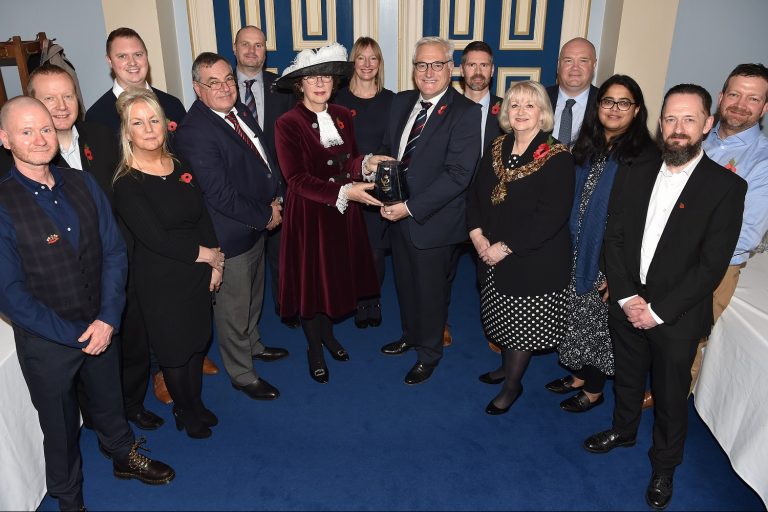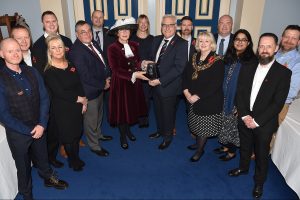 The Queen's Award for Enterprise: Innovation 2021 was handed over to Bolton-based Sherwin-Williams Protective & Marine Coatings to recognise the company's business excellence and innovation in the way it is helping to transform the passive fire protection of structural steel.
The award was presented to managing director Ian Walker by Senior Deputy Lieutenant Mrs Diane Hawkins, who is the current High Sheriff of Greater Manchester, at Bolton Town Hall. Also attending the presentation were Bolton North East MP Mark Logan and Bolton Lady Mayoress Cllr Linda Thomas.
Ian Walker said: "To win this award twice in just five years is testament to the dedication of our team throughout the company at all levels."
Sherwin-Williams is one of just 205 organisations nationally to be recognised with this prestigious honour.
The Queen's Awards celebrate excellence and are designed to help drive economic growth. In particular, the innovation category showcases companies whose use of industry expertise and technology innovation helps foster unique growth opportunities in their respective industries.