Huge orders boost for North West aircraft manufacturer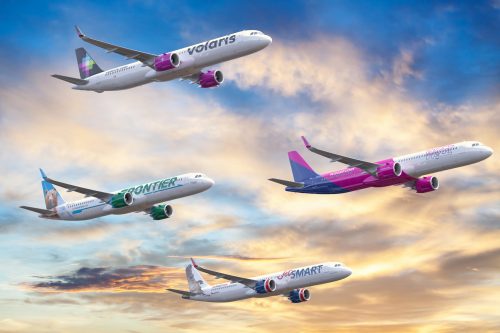 Aeroplane manufacturer, Airbus, has revealed orders from four airlines totalling 366 aircraft.
It revealed Wizz Air (Hungary), Frontier (United States), Volaris (Mexico) and JetSMART (Chile, Argentina), Indigo Partners portfolio airlines, have announced an order for the A321neo (new engine option) family aircraft under a joint Indigo Partners agreement.
The firm order was signed at the Dubai Airshow.
Airbus employs approximately 4,500 staff at its Broughton factory, near Chester, which makes wings for all its commercial aircraft.
This order brings the total number of aircraft ordered by the Indigo Partners' airlines to 1,145 A320 family aircraft. The aircraft ordered today are a mix of A321neos and A321XLRs, which will be delivered to the individual airlines as follows:
Wizz Air: 102 aircraft (75 A321neo + 27 A321XLR)
Frontier: 91 aircraft (A321neo)
Volaris: 39 aircraft (A321neo)
JetSMART: 23 aircraft (21 A321neo + 2 A321XLR)
In addition to this order, Volaris and JetSMART will upconvert 38 A320neo to A321neo from their existing aircraft backlogs.
Bill Franke, managing partner of Indigo Partners, said: "This order reaffirms our portfolio airlines' commitment to consistent growth through the next decade.
"The Airbus A321neo and A321XLR have industry-leading efficiency, low unit costs and a substantially reduced carbon footprint relative to prior models.
"With these aircraft, Wizz, Frontier, Volaris and JetSMART will continue to offer low fares, stimulate the markets they serve and improve their industry-leading sustainability profile."
Christian Scherer, Airbus chief commercial officer and head of Airbus International, said: "We are happy to further expand our relationship with our great Indigo Partners' airlines Wizz, Frontier, Volaris and JetSMART who have acted fast and decisively over the last few months to position themselves for this landmark order as the effect of the pandemic recedes and the world wants more sustainable flying.
The A321neo incorporates new generation engines and Sharklets, which, together, deliver more than 25% fuel and CO2 savings, as well as a 50% noise reduction.
The A321XLR version provides a further range extension to 4,700nm. This gives the A321XLR a flight time of up to 11 hours, with passengers benefitting throughout the trip from Airbus's award-winning Airspace interior, which brings the latest cabin technology to the A320 family.
By the end of October 2021, the A320neo family had totalled more than 7,550 orders from 122 customers since its launch in 2010. Since its entry into service five years ago, Airbus has delivered more than 1,950 A320neo family aircraft contributing to 10 million tons of CO2 saving.
Indigo Partners LLC, based in Phoenix, Arizona, is a private equity fund focused on worldwide investments in air transportation.
Air Lease Corporation (ALC) has also signed a letter of intent covering all Airbus families, highlighting the power of the company's full product range.
The agreement is for 25 A220-300s, 55 A321neos, 20 A321XLRs, four A330neos and includes seven A350Fs.
The order, which will be finalised in the coming months, makes Los Angeles-based ALC one of Airbus's largest customers and lessor with the biggest A220 order book. Founded in 2010, ALC has ordered a total of 496 Airbus aircraft to date.
With this order ALC and Airbus are launching a multimillion-dollar ESG fund initiative that will contribute towards investment into sustainable aviation development projects that will, in the future, be opened to multiple stakeholders from the aircraft leasing and financing community and beyond.
Steven F Udvar-Hazy, executive chairman of Air Lease Corporation, said: "This new order announcement is the culmination of many months of hard work and dedication by both organisations to optimise and fine tune the size and scope of this large aircraft transaction in view of the rapidly growing global airline demand to modernise their jet fleets through the ALC leasing medium.
"After lengthy and detailed consultations with several dozen of our strategic airline customers around the world, we are focusing this comprehensive order on the most desirable and in demand aircraft types, covering the A220, A321neo, A330neo and A350 families.
"ALC is an international market leader in each of these categories of the most modern Airbus product line-up. These multi-year additions of new technology aircraft assets to ALC's expanding portfolio will allow us to grow our revenues and profitability while satisfying our airline customer requirements."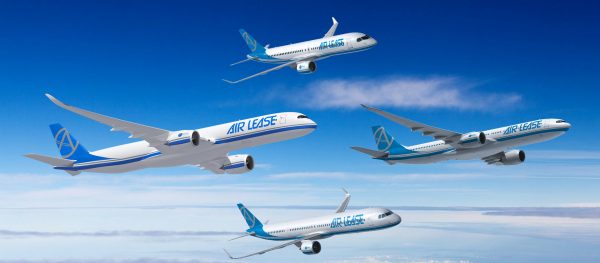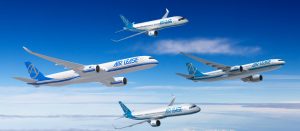 He added: "ALC was the launch customer for the very popular A321LR and XLR versions. Now, we become the launch lessor for the A350F and by far the largest lessor customer for the A220. We had the vision to be first adopters of the A321 and are convinced we have made the right choice again on the A220 and A350F, responding to what we see the market will need in the period of recovery ahead.
"In addition we are very enthusiastic to have inked a partnership for a sustainability fund which will contribute to the green future for our industry."
Christian Scherer said: "This is a major announcement for Airbus in 2021. ALC's order signals we're moving beyond the COVID doldrums. With foresight, ALC is solidifying its order portfolio for the most desirable aircraft types as we exit the crisis and, in particular, it has seen the formidable value the A350F brings to the cargo market. ALC's endorsement confirms the global enthusiasm we see for this quantum leap in the freighter space and we applaud its insightfulness in selecting it and in beating everyone to the finish line for the first A350F order announcement.
"In addition we agreed to make our sustainable aviation vision part of this agreement which is a priority for us both."
Airbus has also predicted that, in the next 20 years, demand for air transport will progressively shift from fleet growth to the accelerated retirement of older, less fuel-efficient aircraft, resulting in a need for some 39,000 new-build passenger and freighter aircraft, 15,250 of these for replacement.
As a consequence, by 2040 the vast majority of commercial aircraft in operation will be of the latest generation, up from some 13% today, considerably improving the CO2 efficiency of the world's commercial aircraft fleets.
The economic benefits of aviation extend beyond the sector, contributing around four per cent to annual global GDP and sustaining some 90 million jobs worldwide.
While having lost nearly two years of growth over the COVID period, passenger traffic has demonstrated its resilience and is set to reconnect to an annual growth of 3.9% per year, driven by expanding economies and commerce around the globe including tourism.
The middle classes, who are the likeliest to fly, will grow in number by two billion people to 63% of the world's population. The fastest traffic growth will be in Asia with domestic China becoming the largest market.
The demand for new aircraft will include around 29,700 small aircraft like the A220 and A320 families, as well as about 5,300 in the medium aircraft category such as the A321XLR and the A330neo. In the large segment, covered by the A350, a need for some 4,000 deliveries is expected by 2040.
Cargo demand, boosted by e-commerce, is driven by an expected growth in express freight of 4.7% per year and a general cargo – representing about 75% of the market – growth of 2.7%. Overall, over the next 20 years there will be a need for some 2,440 freighters, of which 880 will be new-build.
In line with growth, ever more efficient aircraft operations globally increase the need for commercial aviation services – including maintenance, training, upgrades, flight operations, dismantling and recycling.
This growth is on track at Airbus's pre-pandemic forecast levels reaching a cumulative value of around $4.8Tn in the next 20 years. While continuing through a COVID-related downdip of some 20% over the 2020-2025 period, the services market is rebounding, triggering a need for some 550,000+ new pilots and 710,000+ highly skilled technicians over the next 20 years.
While maintenance will remain the leading services segment, flight, ground operations and sustainable services are also expected to grow significantly.
Christian Scherer said: "As economies and air transport mature, we see demand increasingly driven by replacement rather than growth. Replacement being today's most significant driver for decarbonisation.
"The world is expecting more sustainable flying and this will be made possible in the short term by the introduction of most modern airplanes.
"Powering these new, efficient aircraft with Sustainable Aviation Fuels (SAF) is the next big lever. We pride ourselves that all our aircraft – the A220, A320neo family, the A330neo and the A350 – are already certified to fly with a blend of 50% SAF, set to rise to 100% by 2030 – before making ZEROe our next reality from 2035 onwards."
Airbus said the global aviation industry has already achieved huge efficiency gains, as shown by the 53% decline in aviation's global CO2 emissions since 1990.
Airbus's product range supports at least a 20% CO2 efficiency gain over previous generation aircraft. In view of further ongoing innovations, product developments, operational improvements as well as market based options, Airbus is supporting the air transport sector's target to reach net zero carbon emissions by 2050.