Region now host to one-in-four of UK's longevity companies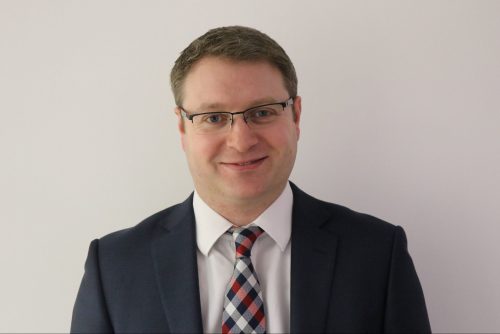 Following advances in digital development for ageing populations, Greater Manchester has mapped the innovation happening in the UK's first age-friendly city.
A new study which analysed the longevity and healthy ageing landscape of the city region, has found that one-in-four (24.8%) of the UK's longevity companies now have Greater Manchester bases – spanning AgeTech, NeuroTech, Longevity FemTech, P4 Medicine and other organisations and specialist developers.
The independent research was commissioned by MIDAS, Manchester's inward investment agency, and identified a surge in longevity innovation, with 237 Greater Manchester-based companies now developing products, services and tech to support older generations.
Greater Manchester – which became the first UK city region recognised by the World Health Organisation as an age-friendly city back in 2010 – has rapidly developed its healthy ageing community over recent years.
The research was led by Aging Analytics Agency, which focuses exclusively on the longevity industry, geroscience, and the aging economy.
Dmitry Kaminskiy, founder of Aging Analytics Agency and general partner of Deep Knowledge Group, said: "We have seen huge growth in the longevity community over the past three years.
"The thriving healthy ageing industry in Manchester reflects the traction of advancements in longevity in the UK – with the Greater Manchester region alone now accounting for almost the same number of entities we tracked across the whole country back in 2018."
One of the companies that has developed strong roots in the city region is Safe Steps, a digital care homes risk assessment tool, which has been rolled out across 332 care homes in Greater Manchester.
Lee Omar, founder of Safe Steps who started the company after his grandfather had a serious fall, said: "The collaborative environment has allowed us to co-design, test and trial our product and roll it out at scale across Greater Manchester.
"Our unique commercial partnership with Health Innovation Manchester has been instrumental for scale up and adoption of Safe Steps.
"This has had a huge impact on older people and eased pressure on services. For us as a company it's been extremely rewarding working within the progressive health tech business environment. It is a great place to scale up your healthy ageing business in the UK."
Tim Newns, CEO of MIDAS, said: "The innovation happening here in Manchester is supporting our own longevity economy, as well as developing innovation that's playing an important role nationally and supporting ageing populations around the world."
Amanda Halford, Greater Manchester Local Enterprise Partnership (GM LEP) lead for health innovation, said: "Greater Manchester is proud to be home to researchers and businesses doing some of the most ground breaking work in the field of healthy ageing. Studies like this one reflect how our city region's strengths in health and digital are becoming increasingly complementary. We're ready to support the next wave of innovation that will help people everywhere lead healthy, active and independent lives."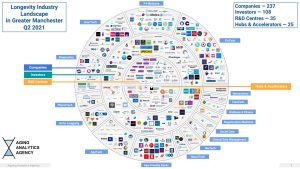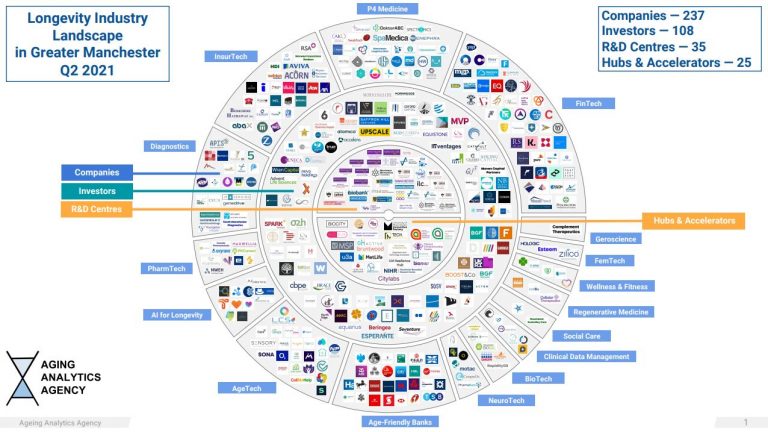 The research follows the launch of the Greater Manchester's Innovation Partnership in Healthy Ageing (IPHA) earlier this year, a joint Greater Manchester and UK Government initiative. This builds on Greater Manchester's globally recognised age friendly credentials and involves Greater Manchester's Ageing Hub, the Health and Social Care Partnership, NHS, The Department for Business, Energy and Industrial Strategy (BEIS), UK Research and Innovation (UKRI), business leaders and business support programmes delivered by Health Innovation Manchester and MIDAS.
As well as mapping the healthy ageing digital community in Greater Manchester, the research also looked at investors, R&D hubs and non-profit organisations that are part of the longevity community