North West business briefs: Ash Integrated Services; Xploro; pro-manchester; Ten Locks; Uncle Joe's Mint Balls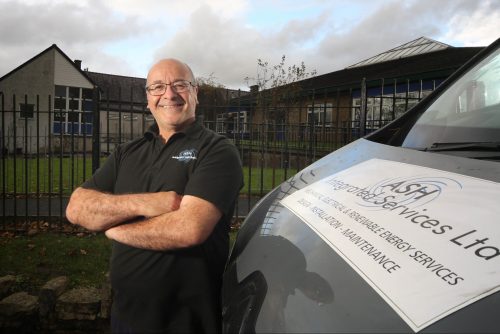 Electrical, heating and plumbing services provider Ash Integrated Services has created eight jobs after being appointed by Lancashire County Council to provide planned and emergency heating and plumbing maintenance for hundreds of premises in the region.
The Atherton-based company will deliver round the clock cover for the mechanical heating systems on around 390 buildings operated by the council in the northern half of the county, including schools, libraries and colleges for the next three years, with an option to extend for a further two. Ash has also secured a contract to carry out planned and emergency electrical maintenance for buildings across the county for two years, also with an option to extend for an additional two.
The newly created jobs include a number of help desk roles located at the company's head office, and also positions for service engineers, to be based in the north of Lancashire itself. Company director, Sean Jackson, who is part of the engineering team himself, said: "This new long term contract will enable us to ensure systems across the council's estate are working at optimal efficiency, with local engineers ready to respond round the clock to any emergencies.
"As a company that also specialises in renewable and low carbon technologies, we also know that, when considering the whole life of a product, maintaining equipment properly can help prolong their useful lifespan and lead to lower emissions overall."
As well as traditional heating and electrical equipment, Ash Integrated Services installs and maintains solar PV panels, electric vehicle charge points and other low carbon technology.
Sean added: "As well as being of real benefit for the north of Lancashire, this contract is a potentially transformative step forward in the growth of Ash Integrated Services. By securing a significant body of work for the longer term, we will also be able to expand our renewables business, which we aim to bring up to half of total turnover in the coming years."
::
Manchester-based Xploro, a platform that uses augmented reality, gameplay and artificial intelligence to deliver health information to young patients, has secured a £100,000 loan from the Greater Manchester Export Fund, backed by the Recovery Loan Scheme and delivered by specialist lender GC Business Finance.
Founded as a solution to the lack of quality information available to prepare children for hospitalisation, Xploro uses age-appropriate language and interaction paradigms to reduce stress and anxiety around treatments and improve clinical outcomes. It has already used the funding to recruit four employees to support its expansion into international markets.
With significant experience in gaming and advertising, Rawad Abi Akar has joined Xploro as lead 3D artist to build new environments for the platform, including content for African audiences and content that can explain intravenous injections. Madrid-based Kelvin Tavarez has been appointed as senior growth manager, where he will drive new business acquisition in the Spanish and US markets. Bryony Price joins as customer success manager, where she will focus on helping its customers to achieve maximum value from the platform. In July 2021, Xploro appointed Joe Kemp as head of software engineering to oversee the transfer of the platform's outsourced operations with Corporation Pop, a Manchester-based digital agency, to in-house at Xploro.
In October 2021, Xploro announced that it was working with World Child Cancer to offer free of charge access to its award winning app to children in Ghana. Dom Raban, CEO and co-founder at Xploro, said: "We're so excited to welcome Rawad,Kelvin, Bryony and Joe to Xploro. They have already played a key role in supporting our international growth strategy, and we look forward to them taking us to the next level as we expand into new markets. The support that we've received from GC Business Finance and the Greater Manchester Export fund has been second to none, and we're incredibly grateful to Andy and the team for helping us to scale up globally."
Andy Nichols, senior loan manager at GC Business Finance, said: "Supporting Xploro on its international growth journey has been a pleasure. The technology is already having a positive impact on young patients in the UK, US, Africa and beyond, and has the potential to expand into more markets. We're looking forward to supporting Xploro and creating more success stories with businesses in Greater Manchester that have rich export potential but can't necessarily access export finance from traditional lenders in the near future."
::
No one should be left behind as the city rebuilds, said pro-manchester chair Anthony Morrow at the organisation's annual dinner last week. In his address he drew a stark contrast between the evening's glittering proceedings and some of the frightening statistics that are a reality in the city, such as one in three children live in poverty and that while we may have shiny new buildings and business efficiencies at our disposal, not everyone has access to such luxuries.
Anthony went on to urge all businesses to play their part in addressing these shortfalls and making sure everyone is brought along on the city's future growth story. He said: "We need to include those left behind in our remarkable progress."
Morrow who is co-founder of OpenMoney, encouraged Manchester's businesses to look beyond traditional thinking, to adapt and keep pace with the change which is upon us. He urged business to rethink the way we work and how we engage young people into the workforce saying: "Our ability to attract and retain talent from the universities which now comes from around the country is incredibly important, but so is making sure those from the city itself have the ability to access those fantastic services and opportunities, too, and that is unfortunately not always the case right now.
"Our city is brimming with talented young people, the provision of apprenticeships, paid internships and other learning opportunities beyond university is crucial and upon us as a business community to provide."
He closed his address with the call to all businesses to think about 'how you recruit' urging companies to always consider where they are recruiting from and if there is an opportunity to reach out into local areas and communities.
::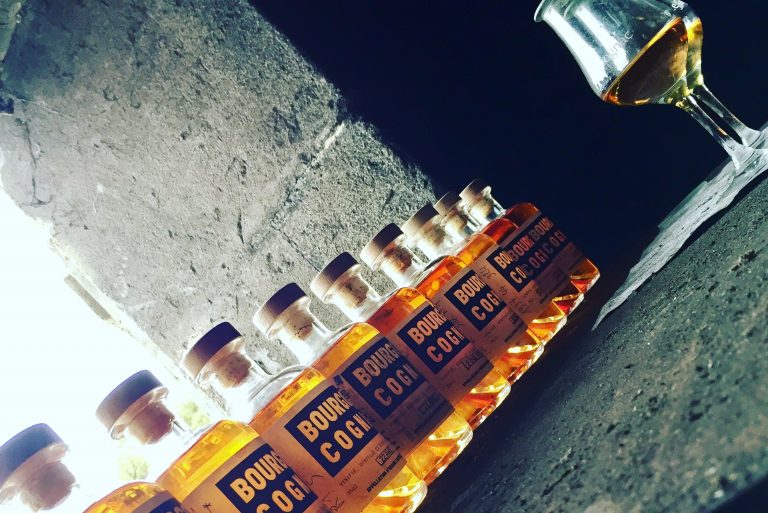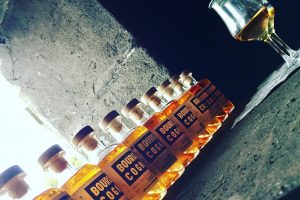 Salford-based Ten Locks has announced the addition of Bourgoin cognac to its portfolio – a modern, small batch cognac aimed at contemporary drinkers looking for a new take on this prestigious French spirit. The premium spirits distributor welcomes three expressions that show the depth of the Bourgoin range – VSOP 2015, XO Double Lies 2010 and XO Microbarrique 1998.
Bourgoin Cognac is successfully revitalising the cognac category, which is often viewed as old fashioned, complicated and 'stuffy'. The family run company, established more than 100 years ago, is now run by Frédéric Bourgoin and supported by Rebecca Asseline who are on a mission to bring a new, credible, great tasting cognac to market to appeal to a modern audience, using the most natural means possible.
Rebecca – previously global brand ambassador for Courvoisier – is happiness and opportunities manager at the company, located in Tarsac in the Charente region of France. With her extensive knowledge of the cognac sector and strong connections in the UK, she will work with Ten Locks to support the brand's growth in the UK and drive appeal for cognac among new drinkers.
Becky Davies, head of commercial at Ten Locks, said: "Bourgoin Cognac is a highly esteemed brand, and Frédéric and Rebecca represent a new generation of spirit makers paving the way for innovation across the whole cognac category. Dark spirits are growing in the UK, especially among younger drinkers who may have come into the category through dark rums and whiskies and are now they're exploring cognac."
Frederic Bourgoin, master distiller and owner of Bourgoin Cognac, said: "Our cognacs are sincere and authentic, true to their heritage with a contemporary look and feel, and Ten Locks was the perfect UK distribution partner for us. We're proud to be featured alongside the brands Ten Locks works with – all striving for positive change, and bringing innovation to the spirits category. We know the British drinks market is diverse, sophisticated and open to new products, and we're confident Ten Locks will guide us through the category and ensure we are the cognac on everyone's lips."
::
Premium British confectionery brand Uncle Joe's Mint Balls has secured its first order from Australia in more than 10 years as the free trade deal between the two countries opens up new opportunities.
The order is from Perth-based British Provender, UK manufacturer representatives and "distributors of outstanding food brands throughout Australia".
An initial delivery comprising bags and tins of Uncle Joe's Mint Balls as well as Winter Nips, Herbal Cough, Dandelion and Burdock, Aniseed Lozenges, Honey and Lemon Lozenges, and Throat and Chest Lozenges is due to be dispatched this month. The sweets will initially be sold in specialist, independent shops as part of British Provender's commitment to be a leading importer and distributor of Britain's favourite foods.
The company was established in 1986 with the goal to establish a portfolio of iconic UK food brands and products and it currently also works with the likes of PG Tips, Coleman's mustard and Branston pickle. The new Free Trade Agreement means iconic British products will be cheaper to sell into Australia, and is currently being finalised after the two countries reached an agreement in principle in June.
John Winnard, and Ant Winnard, joint managing directors at Wigan-based Uncle Joe's, said that even though the trade deal had yet to be implemented, it had created a feelgood factor between businesses in the two countries, which had already begun to open doors. They said: "This is the first major trade deal negotiated from scratch by the Government since we left the EU and will effectively eliminate tariffs on all UK goods. That, in itself, has encouraged conversations and led to businesses from the two countries wanting to build relationships ready for when the deal is fully implemented."