Bensons for Beds to open eight stores by Christmas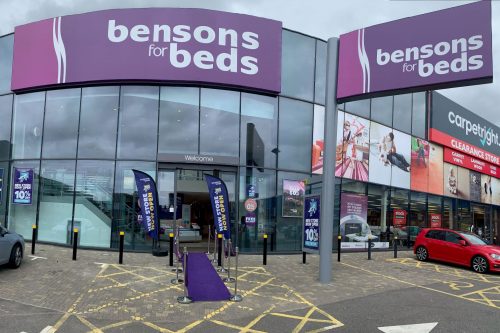 Accrington-based beds retailer Bensons for Beds is forging ahead with its expansion and transformation plans by opening eight new stores this month.
The nationwide bed and mattress retailer is opening three brand new stores and relocating another five into state-of-the-art premises.
The new openings mark another big step in the transformation of Bensons for Beds which restructured to become a standalone company in June 2020, after receiving new investment.
While that restructure led to the closure of around 60 stores, Bensons has now embarked on modest growth in its estate.
Over the past 12 months it has relocated or opened in 20 new locations and these latest pre-Christmas moves will take the total number of Bensons stores to 179.
Around 35 new stores and relocations are planned for 2022, with 15 in the first half of the year as Bensons accelerates its growth plans.
New store openings, creating 18 jobs, will be in Bedford, and Poole, in Dorset, both on December 3, and Dumfries in Scotland, on December 17.
Relocations will take place at Harlow, in Essex, on December 3, at a site employing five staff, while on December 10, relocations will take place in Oxford, and Doncaster at sites employing five staff. Meanwhile, on December 17, stores will relocate to new premises in Swansea and Barnsley, employing six, and five colleagues, respectively.
The new concept stores have been designed to show off the range to its best. In addition to the new stores, the transformation of the business is also seeing investment in the online store, digital technology, training, distribution and its dedicated manufacturing site at Huntingdon in Cambridgeshire.
Bensons' chief executive, Mark Jackson, said: "The new openings and relocations are an essential part of our transformation plans as we invest in our store portfolio to give customers the best possible experience.
"Over the last 12 months we've made huge strides in our transition into a new company, and we've laid the foundations for growth through our continued investment in all aspects of the business."