People: Harrison Drury; Begbies Traynor; Liberty Group; Blackpool Grand Theatre; Watsons Solicitors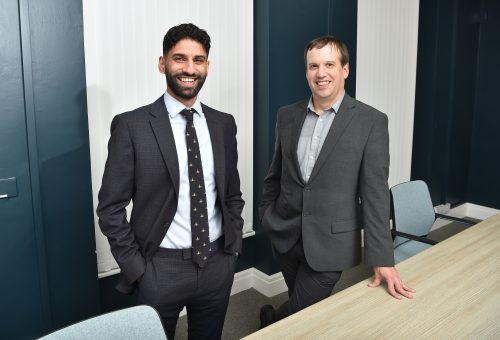 North West law firm Harrison Drury has appointed experienced property disputes solicitor Hasin Amin to its property litigation team.
Hasin joins after property litigation roles with several regional firms including Kuits and DAC Beachcroft.
He will advise landlords and tenants on a wide range of commercial property disputes including termination and occupation, repair obligations, rent forfeiture and deposit claims, and property possession.
Colin Fenny, head of Harrison Drury's property and construction dispute resolution team, said: "Hasin is a fantastic addition to the team. He joins us in a period of great uncertainty as the commercial property sector recovers from the pandemic and we are only starting to see the full impact it has had on the landlords and tenant relationship.
"It will be a difficult period ahead as the sector readjusts and Hasin's ability and expertise in resolving all manner of landlord and tenant disputes will be greatly valued by our clients."
Hasin said: "Joining Harrison Drury was the perfect move for me at just the right time. The firm has been very welcoming and I've felt at ease in my new role from day one.
"Harrison Drury offers the opportunity for me to make a real difference in the sphere of landlord and tenant disputes, but also to further develop my skills across other areas of property litigation."
In a previous role Hasin asset managed for one of England and Scotland's largest commercial landlords. He has also gained experience in professional negligence claims against financial advisers and solicitors, and dealing with disputes over breaches of property contracts.
He is a mentor for the Asian and Muslim Lawyers Network and is keen on increasing awareness and accessibility for professionals from this community into the legal profession. He is also an advocate of mental health, in particular for ADHD.
::
Manchester-based Begbies Traynor Group's advisory practice is continuing to build its offering across the North with the appointment of experienced banking professional Danny Scarr as a director.
With a 17-year track record in banking, Danny has held a number of positions with Barclays, latterly as business relationship manager, working across Hull and the Humber region. He has extensive experience of supporting businesses from a funding perspective and providing bank lending in complex scenarios.
Danny joins as director in the corporate solutions team within BTG Advisory which provides tailored funding solutions and receivables management services. In his new role, Darren will focus on strengthening the division's profile throughout the Humber region and East Yorkshire.
Danny adds to the team's geographic reach with director Scott Bradley heading its operations in the North West, director Andrew Grundy representing the team in the North East, Andrew Chaffer in Leeds and Harrogate, and director Martyn Shakepear taking the lead across the East Midlands. Danny complements the firm's 10-strong corporate solutions team which provides a wide range of services including raising finance, refinancing, credit control services and sales ledger management.
Karl Hodson, partner for BTG Advisory, said: "After almost 20 years supporting businesses by providing lending across a wide range of transactions, Danny is a great fit for our rapidly growing team, adding to our geographic reach of funding experts who already have established relationships with local lenders throughout the North.
"At a time when a large number of businesses are looking for lending support, whether for refinancing or to take advantage of new opportunities post-pandemic, there is a greater need than ever for independent, informed advice.
"Unlike traditional corporate finance brokers, our business model is not commission-based, but rather we can focus on providing the right advice for the particular situation. We see our service as complementing existing high street banks and funders by offering another credible and trusted option."
Danny said: "I'm familiar with Begbies Traynor Group from my previous roles – as the UK's leading specialist professional services provider, they have an impressive reputation and I've had a very positive experience of working with them. I am looking forward to being part of a firm which is able to support its lending offering with such a wide range of complementary services from corporate finance and forensic accounting to insolvency.
"Despite the upheaval of recent times, we are seeing many businesses with ambitious ideas to expand and make the most of new opportunities. This is a great opportunity to work with businesses whether they need finance for growth working capital or restructuring, and to help drive the growth of BTG Advisory across the North."
The corporate solutions team assists businesses needing to raise finance, working with banks and accountants across the North. In addition, the team provides sales ledger support, helping to collect outstanding business debts.
::
Property services business Liberty has appointed Helen Francis as group business development director.
Helen joins the Knowsley-based national business from United Living Group where she previously oversaw partnerships and new business. Prior to that, she had various roles including those of national business development director at Kier and Keepmoat. Helen has a solid track record of winning work in both public sector maintenance and construction.
As a key member of Liberty's senior team, her 16 years' worth of experience will enable her to be instrumental in delivering Liberty's mission to be the go-to people for property services by developing and strengthening partnerships with new and existing clients.
She will lead Liberty's work winning teams while also heading up the corporate social value offering. Helen's appointment builds on the strong growth that Liberty has seen over the past 12 months.
Helen said: "As an ambitious and growing business with a unique smart and straightforward approach, this is a really exciting time to be joining Liberty. I'm looking forwarding to creating new opportunities for the business, building on what's already been a really successful year."
Ray Jones, managing director, said: "We're delighted to welcome Helen Francis to the Liberty team as our new group business development director. With her unparalleled understanding of both social housing and procurement, Helen will contribute a wealth of knowledge and expertise to the team.
"Liberty is going through a period of strong growth, so her insight and experience will be invaluable. On top of that, she is known for her enthusiasm and professionalism, so we're really pleased to have her on board."
Liberty specialises in the full range of property services and construction including refurbishments, new build homes, repairs and maintenance, gas servicing and renewable energy.
::
Blackpool Grand has announced the appointment of new chief executive in Adam Knight.
He will take over the leadership of the Blackpool Grand Theatre early next spring, when the current incumbent, Ruth Eastwood, steps down to resume her freelance career. Adam joins the Grand from HQ Theatres and the Lyceum Theatre in Crewe, where he is currently theatre director.
Anthony Stone, chairman of the charity that operates the venue, said: "I'm delighted to announce that Adam Knight has been appointed to lead the Grand Theatre through its next phase of development. Adam has a wealth of experience in the theatre industry, from the ICC Waterfront & Ulster Hall, to the Savoy Theatre in London and Edinburgh Playhouse.
"He brings with him an extensive network of contacts and an in depth understanding of commercial theatre. Plus, as an extra bonus, in a previous role as operations director of the Grand Opera House in Belfast, he's had experience of managing another exquisitely designed Frank Matcham theatre."
Anthony added: "I'd like to take this opportunity to thank Ruth for almost eight years of excellent service and wish her all the best for the future."
Adam Knight said: "It's a great privilege to be offered the chance to take over the reins at Blackpool's Grand Theatre. Not only is it one of the country's most iconic heritage assets, it's a vibrant, bold and ambitious organisation committed to creating opportunities for all kinds of people to enjoy, participate and learn through theatre.
"Theatre is my passion, and I look forward to sharing that passion with audiences, artists and staff at the Grand Theatre."
Julian Russell, CEO of HQ Theatres & Hospitality, the organisation that operates the Lyceum Theatre, Crewe, said: "While we are sad to see Adam move on, we are equally delighted for him and wish him all the very best for the future. Adam's tenure of the Lyceum Theatre has been nothing less than transformative. The Lyceum Theatre is at the epicentre of a cultural revolution in Cheshire East, alongside our local authority partners, Adam has been integral in reinvigorating the cultural ecology. Adam will be missed but his legacy will remain for many years to come."
Before turning his energy to management, Adam was a professional actor, trained at the Webber Douglas Academy of Dramatic Art. He is currently completing an MSc in Management at the University of Manchester and, in 2010, won the industry accolade of London Theatre Manager of the Year. Adam is a founding board member of Gary Clarke Company and co-chair of Theatre and Dance Northern Ireland.
::
A Warrington law firm has strengthened its growing family department with the recruitment of a new solicitor.
Lauren Soutar joins Watsons Solicitors from a fellow Cheshire-based firm, bringing the total number in the family department to four full time solicitors.
A graduate of the University of Liverpool, Lauren went on take the legal practice course in Chester before qualifying as a solicitor in 2017.
She said: "It's an exciting time to join Watsons – as a growing, dynamic team with a good mix of younger and older partners, the prospects here were particularly enticing, and that really tipped the balance.
"It's been such a smooth transition. I work on many of the same areas I did previously, but there is much more going on, including advising new clients and attending multiple hearings in a day, so it's consistently fast paced."
She added: "The majority of my time is spent in areas of the law connected with children, such as advising on care proceedings, but I also cover domestic abuse.
"Many of the cases I deal with are complex, involving vulnerable individuals and serious allegations of abuse, so providing sensitive advice is key.
"I hope to be on the Law Society's children's panel in the near future, but most importantly I want to continue to build my professional reputation in the region."
Partner and fellow member of the family department, Danny Hudson, said: "We are always on the look out for talented local professionals, so we're over the moon to have Lauren on board.
"We now have the biggest family department in Warrington, with four full time fee earners, as well as four hugely experienced support staff.
"We have developed an enviable reputation as the go-to family law firm in the area, and continuing to bolster our numbers with talented individuals like Lauren will only result in more success."
Watsons Solicitors, which has been established for more than 60 years, specialises in family law, employment law, wills and probate and conveyancing.
The team of experienced solicitors each hold various accreditations and memberships of professional bodies relevant to their expertise, while the firm's partners oversee all areas of work.