City round-up: Carr's Group; Evgen Pharma; Pebble Group; Anexo Group; Franchise Brands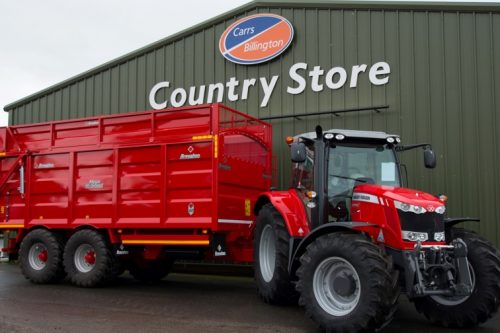 Carr's Group, the Cumbrian agricultural and engineering business, published better than expected annual results for the year to August 28, today.
Revenues rose 5.5% to £417.3m, while pre-tax profits of £12.1m were 10.3% up on the previous year. A 5p per share dividend was a 5.3% improvement on 2020's figure.
The results were ahead of the board's improved expectations, despite COVID-19 and oil price volatility thanks to a substantial increase in profitability of both agriculture divisions.
Engineering adjusted operating profits were marginally higher, despite lower oil prices and the COVID-19 impact in the first quarter. The year end engineering order book 15.9% higher than the prior year.
Carr's also reported a "very strong" cash and net debt position. Cash and cash equivalents stood at £19.696m, compared with £10.304m a year ago. Net debt fell from £18.9m to £10m.
The board said it remains confident in prospects of all divisions.
Chairman, Peter Page, said: "The group has delivered an excellent result ahead of the board's original expectations, with increased profits across both Agriculture divisions and an enhanced order book for Engineering. In large part, this result stems from the unwavering commitment of all employees.
"The markets for both Agriculture and Engineering remain positive, and the board, therefore, remains confident in the group's prospects."
::
Drugs development company Evgen Pharma said it looks forward to a successful second half of the year after publishing first half results for the six months to September 30, today.
Evgen, which has operations in Wilmsow and Liverpool, reported no revenue for the half, compared with £194,000 the previous year. It made a £1.524m pre-tax loss, down from £1.843m in 2020.
Cash outflow from operations was £1.5m, against £1.9m a year ago. Cash deposits, cash and cash equivalents balance at September 30, stood at £10.1m. compared with £2.3m last year.
One of its products, SFX-01, may suppress tumour growth in patients with oestrogen receptor positive breast cancer. It reported a new formulation of SFX-01 in tablet form enabling scale up to supply late-stage clinical trials and commercial use.
Dr Helen Kuhlman and Dr Glen Clack were appointed as chief business officer and chief medical officer, respectively, completing the senior management.
Dr Huw Jones, chief executive, said: "The last six months has yielded further positive preclinical data to support the potential of SFX-01 in a number of cancers and an Orphan Drug Designation in the USA for malignant glioma.
"With the scale up and refinement of the SFX-01 production process and design of the Phase I and Phase II clinical trials running in parallel, we look forward to commencing further important clinical programmes in H1 2022.
"With our strengthened senior management team that brings further expertise, we look forward to a successful second half of the year and I would like to extend my thanks to our shareholders for their continued support."
::
The board of Pebble Group, the Stretford-based corporate promotions specialist, said it expects results for fiscal year 2021 to be at least in line with market expectations, in a trading update today.
Both the group's businesses, Facilisgroup and Brand Addition, continue to trade well in the second half of 2021, it said.
By December 31, 2021, Pebble expects its Facilisgroup 2021 milestones to be met with partners, implemented or contracted and awaiting implementation, to be around 205, GMV to be greater than $1.10bn; and spend with preferred suppliers to be circa $0.33bn.
Revenue generation from Facilisgroup's commercio product is expected to start in the second quarter of 2022.
Brand Addition's revenue in 2021 are expected to be circa £100m (FY 2020 £72.6m, FY 2019 £97.9m), representing an immediate and full recovery from the demand challenges of 2020.
At the year end, December 31, 2021, Pebble expects the net cash balance, excluding IFRS 16 lease liabilities, to be no less than £9.0m (December 31, 2020: £7.1m)
::
Anexo Group, the specialist integrated credit hire and legal services provider, has announced the formation of a new team within its legal services division, Bond Turner, to deal with claims arising from housing disrepair (HDR).
The HDR team is currently engaged in almost 1,600 cases and this figure is expected to rise substantially during 2022.
Housing trends indicate a move away from owner occupation towards either private or social rental. Anexo says 12% of social housing dwellings and 23% of private rented dwellings fail to meet the Decent Homes Standard, while five per cent of social housing dwellings and 13% of private rented dwellings suffer from a Category 1 Hazard, defined as damp and mould growth.
Alan Sellers, executive chairman of Anexo, said: "It has been apparent for some time that large numbers of tenants, including many of our customers, are suffering from poor quality housing.
"The new HDR team will be able to help claimants by ensuring that their landlords, whether they be local authorities, housing associations or private landlords, are obliged to maintain their homes to a decent standard.
"This includes a reasonable state of repair, the provision of reasonably modern facilities, and reasonable thermal comfort, including the absence of damp and mould."
He added: "Bond Turner has built an excellent reputation for helping people who have been placed in an invidious position through no fault of their own. We believe that by addressing the problem of sub-standard housing, we are performing a socially useful function and helping to raise standards across the board. We look forward to growing our HDR casebook and believe that it will become a significant contributor to group revenues."
Anexo has operations in Liverpool, Bolton and Leeds.
::
Macclesfield-based multi-brand franchise business, Franchise Brands, today announced that chief financial officer, Chris Dent, has informed the board of his intention to leave the company following the announcement of the group's final results for the year ending December 31, 2021, to take up the role of chief financial officer at Oldham-based UP Global Sourcing Holdings.
As a result, the board will shortly commence a recruitment process to appoint a new chief financial officer.
Executive chairman, Stephen Hemsley, said: "Chris has been a valued member of the Franchise Brands team throughout his nearly five years at the group, and we are sorry to see him go.
"He has been a great colleague and contributor throughout his tenure as CFO.
"We are pleased that he will be staying with the business until after the announcement of the current year results in Q1 2022. We wish Chris all the very best with his new role."
Ultimate Products said Mr Dent will join them on April 4, 2022. It follows Graham Screawn's previously announced decision to retire in the second half of 2022.
Mr Dent has been CFO at Franchise Brands since July 2017. He previously spent four years as finance director of 7digital Group, the B2B end-to-end digital music solutions business. He began his career at Deloitte where he spent 10 years within audit, corporate finance and transactional accounting services. He is a Fellow of the Institute of Chartered Accountants of England and Wales, and studied History and Economics at the University of Oxford.
James McCarthy, chairman of Ultimate Products, said: "On behalf of the board, I am delighted to welcome Chris to Ultimate Products. He has significant accounting and financial experience having been the CFO of two other quoted companies, and we are very pleased to have found such a strong candidate to replace Graham. We look forward to Chris playing a key role in Ultimate Products' ambitious future growth plans."
Chris Dent said: "I am thrilled to be joining the outstanding team at Ultimate Products, and I am hugely impressed by the way in which the company has adapted and thrived in such a rapidly-changing market.
"It is clear to me that the group's exceptional portfolio of brands, its entrepreneurial spirit and its strong balance sheet leave it exceptionally well placed to achieve sustainable, long term growth."