Relocation part of plans to double turnover at energy management group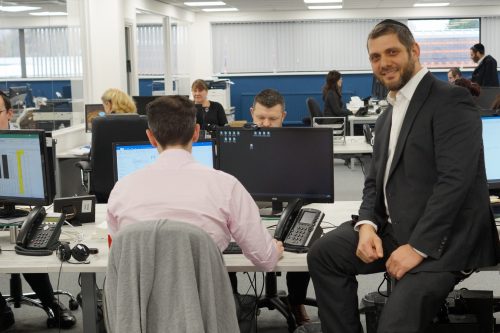 An energy management services group has powered up for major growth after moving to bigger headquarters to accommodate its expanding team.
Affiliated Utilities has seen demand for its service soar, with businesses seeking its expertise to help them negotiate better deals during the current energy market turmoil and find ways to reduce their carbon emissions.
The group has relocated to Cussons House in Salford, where it has taken 7,500 sq ft of space after outgrowing its base on the nearby Knoll Street Industrial Park.
It has invested more than £100,000 to fit out the new premises with open plan office space, a boardroom, meeting rooms and a kitchen area. A further £100,000 has been invested to upgrade the group's software and IT systems.
The Affiliated Utilities group of companies, which includes billing services specialist Clever Energy and tariff management business Utility Tracker, employs a total of 33 staff. The group has annual revenues of £2m and aims to double in size over the next few years.
Founded in 2008 by directors Motty Broder and Joel Debson with just two staff, the group advises on all aspects of energy management, including procurement, market and legislation updates, carbon management and reporting, bill validation and reporting, meter installations and district heating systems.
Clients include manufacturers, hotels, care homes, commercial and residential property companies, shopping centres, retail parks and warehousing businesses across the UK.
Joel said the group has evolved from being purely an energy broker to offering a full suite of energy management services to an expanding client base, including helping them with strategic planning and decision making when it comes to their energy requirements, compliance, and advising on measures to achieve net zero carbon emissions targets.
He urged companies to stay calm amid the current market turmoil, adding that costs are likely to fall when demand is lower and new pipelines to the UK come into operation.
He said: "So many factors need to be considered when deciding on a contract that companies often need expert advice to guide them through the process. This has never been more relevant than during the current turmoil.
"While many people are concerned about energy companies going out of business recently, the energy industry operates in such a way that supply will continue and our clients will move to a new supplier either through choice or as mandated by Ofgem.
"In the business sector, suppliers are much more robust than in the domestic sector, as contracts tend to be fixed for a longer period of time, and suppliers should have mitigated their exposure to external market forces.
"Where that has not been the case, we have been able to come to the rescue of new commercial clients when their suppliers have gone bust."
Currently the group manages an energy spend of £120m on behalf of its clients across more than 15,000 sites nationwide.
The group has offices in South Africa and Israel in addition to the UK.
Joel said: "Previously we were based in a building made up of small, separate offices, and bringing everyone together has transformed the way we operate.
"Our larger, open plan offices have created a great team atmosphere, improved efficiency and a more dynamic business environment.
"We have invested heavily in the fit-out and software systems upgrade, as well as to bring in high calibre staff who will be integral to our strategic plan to double revenues over the next few years.
"With an on-site gym and on-site parking, the new offices are a big improvement on our former premises and give us a superb platform from which to continue our growth journey. These are exciting times for the group."