Halewood homes will support 1,000 jobs and provide £7m in community benefits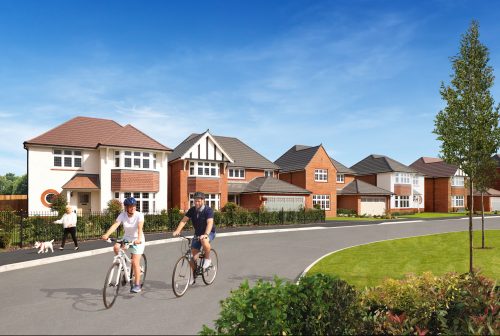 The foundations are being laid for two new Redrow developments in Halewood, South Liverpool, which will support 1,000 local jobs, deliver a boost of around £7m to the local community and bring much needed affordable new homes.
The estimates are based on a report for the Home Builders Federation in 2018 that revealed the housebuilding industry generated £38bn of economic output each year in the UK and supported 3.1 jobs for every home built.
South west of Halewood, off Lower Road, Redrow has started work on 196 new homes in the first phase of The Finches at Hilton Grange, with up to 358 additional homes earmarked for future phases, subject to planning.
To the north, off Greensbridge Lane, the home builder is creating a further 148 homes, with the development named Grace Fields at Hilton Grange.
Both locations will include 25% affordable homes.
Foundations are now being laid for the first properties on both sites, which will go on sale in early 2022 and be ready to move into next summer.
The homes will all hail from Redrow's award-winning Heritage Collection, with traditional arts and crafts-inspired exteriors paired with modern interiors to meet the demands of today's lifestyles.
As part of the planning agreement, Redrow will make contributions of around £7m towards improvements in the local community over the lifespan of all development phases. This figure is subject to planning permission for an additional circa 358 homes being granted for future phases.
The benefits include:
c£58,400 towards offsite healthcare and dental facilities in the local area
c£567,210 for improvements and maintenance at Finch Woods, to the south of The Finches at Hilton Grange
c£608,090 for childcare provision
c£2,754,400 towards primary school places in Halewood
c£636,560 to improve outdoor sports facilities at Halewood Leisure Centre
c£51,100 to provide employment and training opportunities for local residents
c£365,000 for local bus services, including providing a bus route through The Finches at Hilton Grange
c£2,438,200 for road improvements, including introducing traffic signals at the junctions of Higher Road/Baileys Lane and Higher Road/Finch Lane; integrate two junctions at Lower Road/Greensbridge Lane and Church Road/Baileys Lane and provide for one way traffic along Finch Lane
Claire Jarvis, managing director for Redrow Lancashire, said: "Not only are we providing much needed, high quality and energy efficient new housing in Halewood, we're also making a major social and economic contribution to the local area, including supporting over 1,000 jobs as we complete the first phases of homes at both new developments.
"This includes direct jobs on site, indirect jobs in the supply chain and induced jobs through additional spending in the local area."
She added: "Through the Section 106 agreements we will also be providing around £7m of essential funding for schools, healthcare, public transport and highways improvements in the local community over the lifespan of our developments, subject to planning agreements. In addition, a quarter of the new homes we build will be affordable to meet local need.
"Halewood already benefits from excellent connectivity to the major North West hubs of Liverpool and Manchester. Our development will form part of a brand new and sustainable community that's being created, with a character to match the high quality of its homes, and access to outstanding local facilities."
The two Hilton Grange developments form part of the East Halewood Sustainable Extension – a masterplan to provide high quality new homes in the local area with a vision statement to 'be the most sought after and significant scheme of its type in the south of the city region'.
The Finches will boast one- and two-bedroom apartments and three- and four-bedroom terraced, semi-detached and detached homes, while Grace Fields will feature three-, four- and five-bedroom detached houses, averaging 1,450 sq ft. Green open spaces and wildlife habitats will feature throughout the ventures, providing places for future homeowners to enjoy nature on their doorstep.
The development is expected to take between seven and 10 years to complete.