North West success in Institute of Technology funding bids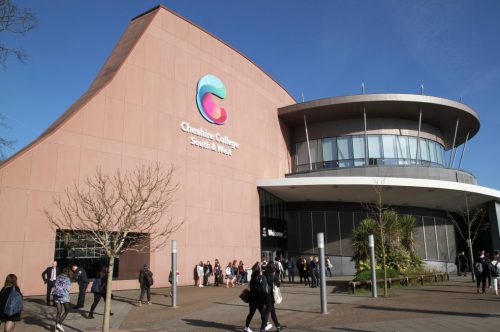 Two North West partnerships have been successful in their funding bids to create Institutes of Technology.
Cheshire College and the University of Salford, who both spearheaded local partnerships, have been awarded multimillion-pound packages as part of the £120m Institute of Technology (IoT) competition.
They were among nine Institutes of Technology announced by the Department for Education this month (December 2021), bringing the total to 21 across the country and delivering on the Government's manifesto commitment.
Institutes of Technology are unique collaborations between employers, colleges and universities that specialise in offering high quality Higher Technical Education and training in subjects such as advanced manufacturing, digital and cyber security, aerospace and healthcare, which will support businesses in gaining skilled workforces.
Cheshire College, the largest provider of post-16 education in the region, was named the lead organisation for Cheshire and Warrington. In collaboration with Warrington and Vale Royal College, Macclesfield College, Reaseheath College, University of Chester, Priestley College and employers, the region will benefit from more than £13m investment.
This partnership, involving a range of names from the world of business such as Encirc, Warrington and Halton NHS Trust, Alderly Park and Case IH, will offer world class training and education and provide the skills that employers need to keep the region at the forefront of industry developments and addressing local skills gaps.
Dr Kieran Mullan, MP for Crewe and Nantwich, said: "This is great news not just for young people in our area, but anyone who wants to get new skills, create new opportunities for themselves and get on in life.
"We know we have vacancies and skills shortages and that means opportunities for people and this investment will mean our local residents are well placed to take advantage of them. This will build on the already excellent work the college is doing to support T Levels and the Lifetime Skills Guarantee which all together are pushing forward further education as a key way to level up our country."
Dhesi, principal and CEO at Cheshire College, said: "We are incredibly excited to be the lead college for this project. We aim to provide learners with the skills, experience and qualifications needed to succeed, and we are committed to working with businesses and our local communities to help ensure we are supporting our learners to take up the high quality, high-skilled jobs needed today and in the future.
"The IoT has been secured following a comprehensive and competitive process. This announcement means investment in prestigious new facilities and resources across all the colleges across Cheshire and Warrington, including almost £6m for Cheshire College's Crewe Campus."
Meanwhile, lead partner, the University of Salford, said it has been successful in its "multimillion-pound" bid for a new technical education institute in Greater Manchester.
Led by the university, with Wigan and Leigh College as the lead FE partner, the Greater Manchester Institute of Technology brings together a number of colleges and employers in the city region and will specialise in construction, engineering, health and digital skills.
The partners – University of Salford, Ada, the National College for Digital Skills, Bury College, Tameside College, Wigan & Leigh College, GCHQ, Laing O'Rourke, Siemens, and Talk Talk – have been working together on the proposal for 18 months.
The GMIoT will offer a range of courses, including new Higher Technical Qualifications and apprenticeships, designed to fast track learners into jobs in growth sectors for Greater Manchester.
GMIoT will operate on a hub and spoke model, with capital funding being invested in a new centre at the University of Salford and hubs across Greater Manchester, with investment committed to the upgrade of existing facilities across partner colleges.
It is envisaged that new students will be enrolling at the GMIoT from September 2023. The GMIoT will target both school and college leavers who might be considering a career in STEM and older learners looking to upskill or retrain.
Jo Purves, pro vice chancellor academic development at the University of Salford, said: "We are delighted that we've been successful in our efforts to bring an Institute of Technology to Greater Manchester. The GMIoT will make a valuable contribution to the education and skills system in our city region and offer residents of all ages new routes into high skilled, high paid jobs.
"This brilliant news coinsides with our recent success in the Office for Students challenge competition where the University has been awarded £100,000 to develop six new short courses."
Anna Dawe, principal at Wigan & Leigh College, said: "This is excellent news and a huge boost to the promotion and delivery of higher level technical skills across Greater Manchester. For our borough it will deliver training and employment opportunities that are for the careers of the future as well as responding to current skills and workforce needs. We are very much looking forward to working with our partners and putting our plans into action."