Great North Pie latest to sign up to Little David Street development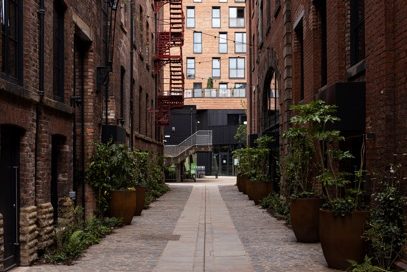 A pie and mash café is set to open in Manchester's Kampus neighbourhood this spring.
Independent handcrafted pie maker, Great North Pie, is the first occupier announced for the reborn Little David Street, a long forgotten street closed off for decades.
Great North Pie's range includes dishes such as 'Classic Lancashire Cheese and Onion' – Dewlay's Tasty Lancashire cheese, caramelised white onion, white pepper, nutmeg and panko breadcrumbs –-alongside a seasonally changing selection of pies using locally sourced ingredients.
A modern take on a traditional pie and mash café, the pies can be washed down with a matching beer or glass of prosecco, with a full drinks menu on offer.
With booth-style seating inside and covered outdoor seating on the cobbles of Little David Street, the café will look out over the Kampus garden and the canal.
Husband and wife team, Neil and Sarah Broomfield, started Great North Pie 10 years ago, making pies in their home kitchen for local farmers' markets. The business is now one of the North West's success stories with cafés in Altrincham and Ambleside in the Lake District.
Neil said: "Since we started out making pies at home for farmers' markets, we've always wanted a base in the city centre. We'd been looking for a while and as soon as we saw Kampus we knew it was the right place for us.
"It had to be somewhere intimate and cosy and Kampus really nails that laid back vibe. We'll be keeping things simple, just great northern pies and mash, with loads of gravy, and a few beers.
"The Kampus gardens are one of the nicest places to come and sit in Manchester and with the mix of independent traders that are coming, it'll be an amazing community to be part of."
Little David Street, part of the Kampus neighbourhood being developed by HBD and Capital&Centric, is thought to be one of the only untouched cobbled streets in Manchester. It's now reopened to the public and set to be a bustling, alfresco hang out, buzzing with bars, cafés, shops and restaurants.
Adam Brady, of HBD, said: "Great North Pie is something of an institution when it comes to pie and mash and it's amazing to welcome them to the Kampus community. They're the first to sign up at Little David Street, which will have cafés, bars and shops all spilling out onto the beautiful cobbles, giving it an almost European feel."
Great North Pie is the latest name to join Kampus which, with the likes of Nell's, General Store, Pollen and Beeswing also signed up, is fast becoming a haven for some of Manchester's most loved indies.
Kampus, is a vibrant new neighbourhood built around a garden developed by HBD and Capital&Centric. Its collection of old and new buildings offers a melting pot of architectural styles and builds on a rich cultural heritage, making use of historic buildings that lay derelict for years, next to the famous Canal Street in Manchester's Gay Village and just minutes from Piccadilly rail station.