Property giant Bruntwood back in the black after £64m turnaround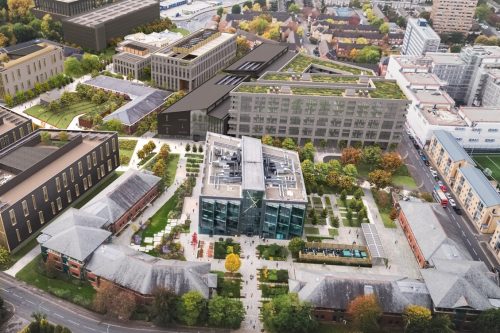 Manchester property group Bruntwood roared back to profit with a £64m turnaround during the year to September 30, 2021.
Driven by rising core rental income and property valuations, the group turned an £18.9m pandemic-fuelled pre-tax loss in 2020 into a £44.9m pre-tax profit in 2021.
The scale of the the pandemic's impact on the industry is illustrated by the group's recent results.
In 2019, a year of unprecedented political and economic uncertainty as Brexit raged, it achieved a £52m pre-tax profit, albeit down on the previous year's level of £116m, which was, in fact, an impressive 62% improvement on the 2017 figures.
Today's announcement revealed Bruntwood's total assets under management have grown to £1.7bn following major investments and strategic acquisitions.
And it said it begins its current fiscal year with more significant investments and transactions.
Last year, a year once more affected by lockdowns and hybrid working practices, Bruntwood completed more than 703,000 sq ft of leasing transactions across its portfolios, with 70% of customers retained at lease break or expiry.
Its net asset value increased to £606.5m, up from £588.6m in 2020, despite the ongoing impact of the pandemic and social distancing restrictions since October 2020.
The group invested £18.6m into refurbishment and capital improvement projects across its portfolio last year, along with an additional £27.8m of equity injected into its Bruntwood SciTech vehicle, which was matched by Legal & General. SciTech committed £80.8m to new development schemes.
The value of Bruntwood's 100% owned Bruntwood Works portfolio surpassed £1bn for the first time after reaching £1.03bn (2020: £973.1m). This followed new investment and strategic acquisitions in key cities.
Bruntwood SciTech's portfolio also grew, reaching £669.5m (2020: £545.7m) taking the total value of Bruntwood's assets to more than £1.7bn.
The group's financial position continued to strengthen after the completion of two major funding deals, including a new £276m, 15-year sustainability-linked facility with Aviva Investors and the extension of a £240m club with NatWest/HSBC/Barclays/ Santander to March 2023.
Bruntwood has £50m in undrawn commitments.
Turnover dipped to £122.6m, from £134.4m the previous year, following the outsourcing of its fitout, FM and energy services units and their 300 employees into new stand alone businesses – CubicWorks and Unify Management Solutions – outside of the group structure, as well as the absence of non-recurring development income reported in 2019 and 2020.
Chris Oglesby, Bruntwood chief executive, said: "Our ability to attract, retain and grow with our customers owes a huge amount to our unwavering commitment to invest in our offering, even when operating within the challenging economic environment of the past two years. The impact of this approach is clear to see in our brilliant financial performance last year."
He added: "In the early days of the pandemic, there was a lot of hyperbolic commentary about the decline of our city centres and their workplaces. But in fact, what happened was that businesses and people felt the impact their absence had on the innovation, collaboration and interactions that make our economies successful and our lives richer."
Among the highlights within its Bruntwood Works office portfolio last year was the completion of a transformative refurbishment at Bloc – which is now at 92% leased and 97% serviced occupancy – and 111 Piccadilly in Manchester, both of which were delivered under the Pioneer investment programme that has now doubled in size to £100m.
In a major commitment to its growth in Leeds, Bruntwood Works acquired the 14-storey, 90,000 sq ft Castle House, which it will bring together with its existing neighbouring assets at West One and 100 Wellington Street under the Pioneer scheme.
Within the Bruntwood Works retail and leisure portfolio, new regeneration-led masterplans were brought forward for Stretford town centre and the Stamford Quarter in Altrincham, as part of its longstanding strategic partnership with Trafford Borough Council.
Pre-tax profits also returned at Bruntwood SciTech, hitting £17.1m, compared with a £7.6m pre-tax loss in 2020, with net asset value increasing to £235.3m, against £231m previously, and turnover growing almost 30% to £51.8m, up from £40.1m in 2020.
The acquisition of Melbourn Science Park in Cambridge saw Bruntwood SciTech's network of innovation districts expand into the 'Golden Triangle' for the first time, before then being named as development partner for the Begbroke Science Park in Oxford.
The University of Manchester also selected Bruntwood SciTech as its joint venture partner for the development of ID Manchester in a bid to build a new £1.5bn innovation district in the city, creating more than 10,000 jobs and providing 2.6m sq ft of commercial space over the next 10-15 years.
The first quarter of the current financial year began with further significant investments and leasing growth across the Bruntwood Group, it revealed.
This included the acquisition by Bruntwood Works of the 84,000 sq ft, Grade II-listed Pall Mall Court building in Manchester. Greater Manchester tech success story, Autocab, which is backed by Uber, recently announced its relocation to No.2 Circle Square and with it the aim to create 200 jobs.
Mr Oglesby said: "While there may be bumps ahead as the world adjusts to COVID becoming an endemic condition, we have never been more convinced of the vital long term importance of our cities being able to thrive.
"This is our purpose and we're doubling down on our commitment to it by ramping up our investment and development activity this year. We will expand Bruntwood Works' Pioneer investment programme and Bruntwood SciTech's network of innovation districts.
"And, of course, our thriving cities need to be surrounded by a diverse network of thriving towns, so we will also continue to invest in our existing town centre partnerships while exploring new ones. And we'll mark notable progress on our work with two hospital campuses, bolstering their role as community anchors for our towns and cities and their ability to help address health inequalities."