North West business briefs: Fragrance Shop; GM Cyber Foundry; Samson VT; Yumi; Wire Regeneration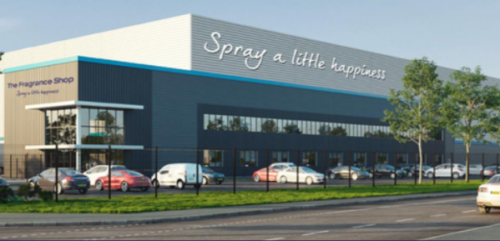 Trafford Park-based The Fragrance Shop has enjoyed a bumper Christmas period driven by online performance, with overall sales rising 38% in the six weeks to January 1, 2022, compared with the same period in 2019.
This record sales performance saw some key new fragrance launches which proved popular with customers, including Dior's Miss Dior, Gucci Flora and Paco Rabanne Phantom. Investment in the retailier's digital platform over the past two years is paying off for the company which has transformed itself into a 'phygital' retailer, with a high growth digital business complementing its physical high street network. In addition it opened 16 new stores in the year, taking its total footprint to 214 store locations nationwide.
CEO Sanjay Vadera said he is looking forward to further expansion: "Stores will always play a big role, offering expertise and a sensory experience that's complementary to our online offer. But there's no doubt our performance is powered by the investments we've made in digital as our customers choose how and when they shop with us on their terms."
During 2021, The Fragrance Shop launched its own new live shopping channel called TFS Live where customers can meet its fragrance experts and beauty pros in live sessions. It also became one of the first fragrance retailers to partner with TikTok.
The retailer has confirmed it will move from its current HQ in Acheson Way, to a new central office and fulfilment centre at Metro 190, in Trafford Park, this summer. At more than 190,000 sq ft, the new site is five times bigger than its existing premises and includes warehousing and office space. The scheme has been developed by Legal & General's Industrial Property Investment Fund (IPIF) and logistics and industrial property developer PLP.
::
A £6m scheme which helps innovative companies develop digital products and services in a cyber-secure way has been hailed a success, with new figures showing more than 130 businesses have so far benefited from it.
The Greater Manchester Cyber Foundry is spearheaded by four North West universities to help small and medium-sized companies innovate and grow while defending their data, systems and software from cyber attacks. The initiative, which was launched in 2018, brings together experts from the Manchester Metropolitan University, the University of Manchester, the University of Salford and Lancaster University to share their expertise with businesses across a range of sectors, from energy, digital, IT and recruitment to manufacturing, healthcare, property management and marketing.
In partnership with the GM Cyber Foundry, companies undertake research and development projects which are fully funded by the European Regional Development Fund and other agencies. To date, 134 businesses have attended workshops and knowledge sessions to explore ways of using cyber security techniques and technologies to protect their operations and systems and to develop products and services including secured apps and business management tools.
Of these, 45 have received further technical support from one of the universities to drive forward their plans. The support has included security audits, source code reviews, web app development, augmented reality and block chain research and development projects, data analytics and visualisation. Working with the GM Cyber Foundry team has enabled companies to introduce 24 new products, systems or processes in their own businesses and bring 14 new products and services to market and improve efficiencies by automating manual processes or upgrading the user experience.
The GM Cyber Foundry is now recruiting for its next cohort, which will start in March. Roxana Lawton, an enterprise fellow at MMU, who is the project lead for the GM Cyber Foundry, said: "The power of four North West universities working in partnership and collaborating with SMEs across Greater Manchester has been a key benefit to the GM Cyber Foundry model, resulting in the creation of products and services that have cyber security at the heart of the design, leading to new revenue streams and improved security of existing assets."
::
Manchester-based Industry 4.0 technology start-up SamsonVT has announced a partnership with industrial and electronics products distributor RS Components, to produce the first affordable machine learning-enabled predictive maintenance (PdM) solution for manufacturing SMEs.
The partnership will be supported by Innovate UK, which has awarded a £1.3m joint R&D grant to support the technology's development.
Machinery downtime currently costs British manufacturers approximately £180bn every year, representing three per cent of all working days. It is estimated that the implementation of a PdM solution would save SMEs 65% of these costs.
By ensuring machinery is neither under nor over maintained – as is often the case with time-based preventative maintenance practices – PdM helps to optimise maintenance resources, reduce the unnecessary replacement of parts and minimise the ancillary damage repair costs caused when parts fail in situ.
Sam Burgess, CEO at SamsonVT said: "We know that the high costs and complexity of PdM tools are a big barrier to adoption for SMEs – which make up the majority of the UK's manufacturing companies. But, by delivering a PdM platform that is accessible and affordable – leveraging cutting edge machine learning techniques – we can help save British manufacturers billions every year in unplanned machine downtime."
::
Salford Quays-based chewable supplement brand Yumi is taking proactive measures to support the mental health of its staff.
According to the Health and Safety Executive, more than 821,000 employees were suffering from work-related stress, depression or anxiety in 2021. As a result, businesses across the UK have a responsibility to put practises in place to support staff wellbeing.
In response, Yumi has partnered with Essentialise Workplace Wellbeing founder and psychologist Lee Chambers to give employees the opportunity to talk to an impartial professional from outside of the business. Lee provides regular one to one sessions where every member of the Yumi team can confidentially discuss any problems and issues they may have, whether that be at work or problems they're having outside of the workplace.
As well as providing advice to the team, Lee also feeds back to the Yumi directors any areas of concern and recommendations that could help improve the wellbeing and performance of the team. Sebastien Vanderlinden, co-founder and CEO of Yumi, said: "A lot of people talk about mental health but not enough business owners take proactive action. As a business within the health industry, we strive to look after the wellbeing of our employees as well as our customers.
"With this in mind, we've partnered with Lee and Essentialise to provide a safe space for our team to talk confidentially about any problems they're having at work or at home. The feedback so far from the team has been very positive with employee satisfaction rates improving and Lee has fed back some valuable general insights and suggestions for changes we can make."
::
Warrington Youth Zone has welcomed Wire Regeneration as its latest founder patron. The joint venture between commercial property firm Langtree and Warrington Borough Council will support the charity's ongoing running costs.
The Youth Zone, located in the Stadium Quarter opposite the UTC, is currently under construction and due to open next spring. It will become the new home of Warrington Youth Club and provide the town's young people, aged between seven and 19, with more than 20 activities every evening for just 50p with facilities for sports, arts, media, climbing and projects including enterprise and employability workshops and the club's existing Buddy Up scheme.
John Downes, group chief executive of Langtree, said: "This is an initiative that we know will deliver lasting benefits to our community and it makes absolute sense to a business like ours, based in Warrington and investing here, to support it. I'm looking forward to the opening immensely."
Wire Regeneration was set up to regenerate the Southern Gateway part of the town centre and is a keen supporter of initiatives that help young people to thrive. The £6.9m Youth Zone is being delivered by OnSide, a national charity which has created a network of Youth Zones across the country.
Warrington Youth Zone chief executive, Dave McNicholl, said: "We are so thankful to all involved with Wire Regeneration for their fantastic support of Warrington's young people. We are getting closer and closer to opening our doors and that wouldn't be possible without the support of so many local businesses and Warrington Borough Council."