Airbus to recruit 6,000 staff as it prepares for new future of aviation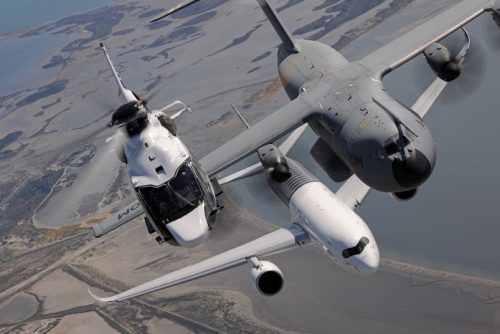 Aircraft manufacturer, Airbus, is to recruit around 6,000 staff, it has revealed.
The European manufacturing giant employs around 4,500 staff at its wing-making plant at Broughton, near Chester.
It said the new roles will be spread across the group and has given no specific details on which sites will see their headcount increase.
The recruitment drive is in response to strong signs of recovery post-COVID in the aerospace industry, and linked to the group's plans to prepare the future of aviation and implement its roadmap for decarbonisation.
Thierry Baril, chief human resources and workplace officer, said: "Airbus has demonstrated resilience throughout the COVID crisis, and has laid the foundations for a bold future for sustainable aviation.
"This can only be achieved by acquiring the right talents in the various domains of expertise that will help us grow our activities as we come out of the crisis, while preparing the long term transformation of the company."
He added: "Following this initial wave of recruitment, which will take place worldwide and across all our businesses, the number of external hires will be reassessed before mid-year 2022 and we will adjust our needs accordingly.
"Not only will we look at acquiring the new skills that Airbus needs in the post-COVID world, but we will also do our utmost to reinforce diversity across the company, fostering a safe and inclusive culture reinforcing Team Airbus to be ready to pioneer sustainable aerospace."
About a quarter of the planned recruitments should focus on acquiring the new skills to support the company's long term projects and ambition, notably in the fields of decarbonisation, digital transformation and cyber technology. A third of the total recruitment will be allocated to young graduates.
Broughton lost around 1,500 staff during the COVID lockdowns due to the world's aviation industry going into limbo as fleets were grounded following the closure of borders to contain the spread of the pandemic.
Production at the plant near Chester was cut back as orders dried up.
However, the group is now experiencing growth in its order book as worldwide flights begin to resume, and many carriers look to replace older aircraft with fuel-efficient and eco-friendly planes.
Earlier this week the group revealed that it delivered 611 commercial aircraft to 88 customers in 2021, which it said demonstrated resilience and recovery with progress on ramp-up plans.
Airbus chief executive, Guillaume Faury, said: "While uncertainties remain, we are on track to lift production through 2022 to meet our customers' requirements. At the same time we are preparing the future of aviation, transforming our industrial capabilities and implementing the roadmap for decarbonisation."
Airbus makes aircraft for the commercial and military markets, as well as helicopters and satellites.