Irish hotels group signs up for latest Manchester development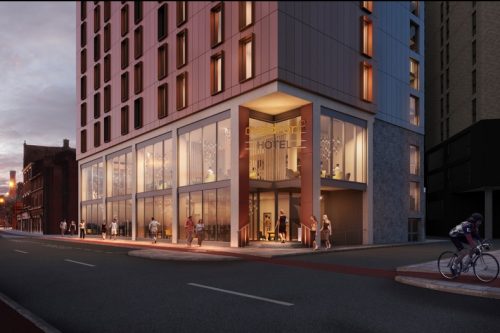 A forward funding deal has been completed for the construction of a new four-star 188-room hotel in Manchester city centre.
CBRE Investment Management completed the transaction for RJR Securities for the development of a Maldron Hotel on Chapel Street.
Dalata Hotel Group, the largest hotel operator in Ireland with 45 hotels across the UK and Ireland, has agreed a 35-year lease on the new property to trade under the group's Maldron Hotel brand.
The land was sold by Telereal Trillium, with JLL acting for their team. CBRE acted as funding advisor for RJR Securities, with Gleeds as development manager and Squire Patten Boggs as their legal advisors. Avison Young represented CBRE Investment Management.
McAleer & Rushe has been appointed as contractor to deliver the new hotel, which will be situated in the Chapel Street/ Embankment Quarter. Currently used as a surface overspill car park by BT, the site will be regenerated into a 17-storey hotel with 188 bedrooms, coffee lounge, bar, restaurant and gym facilities.
Richard Peskin, chairman and majority shareholder of Cheltenham-based RJR Securities, said: "I was associated with many interesting development projects during my career at GPE and this one, due to my personal involvement, has certainly been among the most exciting.
"Over two years ago we identified this site, being close to Manchester's luxury and prime leisure core, as an ideal location for a hotel. Now, with the secure forward funding, we are able to fulfil our ambitions."
He said the construction project will start next month.
Shane Casserly, corporate development director at Dalata Hotel Group, said: "We look forward to construction commencing in the coming weeks. With Clayton Manchester City Centre just opened and a Maldron under development on Charles Street, Manchester is a market that we know well, and view our new hotel on Chapel Street as an ideal addition to our portfolio in the city."
Will Kennon, executive director for CBRE, said: "Despite the obvious challenges that the hospitality sector has faced due to COVID, we are witnessing a selected return of investor appetite for the sector, and this project attracted strong fund interest owing to the combination of undoubted location, indexed lease to the strong financial covenant of Dalata and the first class project delivery team."
Murray Burdis, senior strategy and disposals manager for Telereal Trillium, said: "This ambitious scheme will maximise the site's potential and continue the regeneration of Chapel Street and the wider Deansgate area with renowned hospitality provider Dalata and a new Maldron Hotel. We look forward to seeing the project commence in the coming weeks."
Peter Devlin, contracts director at McAleer & Rushe, said: "We look forward to commencing construction next month and thank the teams at RJR Securities, CBRE Investment Management, Dalata Hotel Group, and all stakeholders involved for entrusting us with the safe delivery of the scheme."