North West business briefs: UA92; Taste Liverpool; Ainscough Crane Hire; Emmaus Burnley; PZ Cussons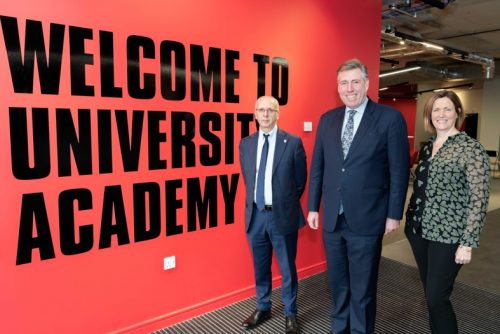 Sir Graham Brady, MP for Altrincham and Sale West, and chair of the Conservative Party 1922 Committee, visited University Academy 92 (UA92) to discuss higher education opportunities across the North West.
Based in Old Trafford, UA92 opened in 2019 and aims to make higher education accessible to all, through its founding principles of accessibility, social mobility and inclusivity. It offers a portfolio of degree and higher education courses across business, sport, media and digital disciplines, preparing students for the world of work by offering industry-led courses.
Working in partnership with leading names including Microsoft, TalkTalk, KPMG and Manchester United, students benefit from mentors, guest lectures and work experience opportunities, in addition to character and personal development guidance, and financial support beyond traditional scholarships and government loans. It currently serves more than 400 students, around 70% of whom are from the Greater Manchester region.
Sara Prowse, who was appointed CEO of UA92 in May 2021, said: "We're very proud of how quickly UA92 has established itself as a leader in higher education within the region. We believe that to truly reflect our community, we need to provide support for those living within it to access and benefit from higher education qualifications."
Sir Graham Brady MP said, "I very much enjoyed visiting UA92, seeing the impressive facilities and meeting some very engaged students.
"From a standing start, UA92 has already grown into an important part of higher education provision, attracting talented students from less traditional backgrounds around Greater Manchester and increasingly, from further afield. I look forward to seeing UA92 continue to go from strength to strength."
::
Liverpool has announced a new food and drink festival in collaboration with the city's hospitality sector, the Bordeaux Wine Council and the French government – confirming Liverpool's status as the UK's host city for Bordeaux Wine Festival in 2022.
For four days in June, Liverpool will come alive to celebrate its food and drink sector with a brand new festival. Taste Liverpool. Drink Bordeaux takes place from 2-5 June to coincide with the Queen's Jubilee Celebration. The festival, organised by Culture Liverpool, Marketing Liverpool and Liverpool BID, is being described as "the most delicious weekend of 202″.
Mayor of Liverpool, Joanne Anderson, said: "For visitors, there's no better festival to plan a trip around than Taste Liverpool. Drink Bordeaux. Food is the most delicious way to explore Liverpool."
Allan Sichel, vice-president of the Bordeaux Wine Council, said: "We look forward to being back in Liverpool bringing our passionate and committed winemakers and merchants who are happy to offer tastings of their wine and talk about their style and share details of great diversity of Bordeaux wines. Wine and food are closely linked and the involvement of Liverpool's top chefs and restaurants with Bordeaux wines promises visitors excellent tasting experiences. Taste Liverpool. Drink Bordeaux is part of a long-term cultural and tourist partnership between our cities."
Paul Askew chef patron at The Art School and creative director of Taste Liverpool, said: "Taste Liverpool. Drink Bordeaux is the most exciting and important event in terms of gastronomy and food and drink culture development ever for Liverpool. This is a fantastic opportunity to showcase the best of our dining scene across the entire spectrum of what we have to offer here."
::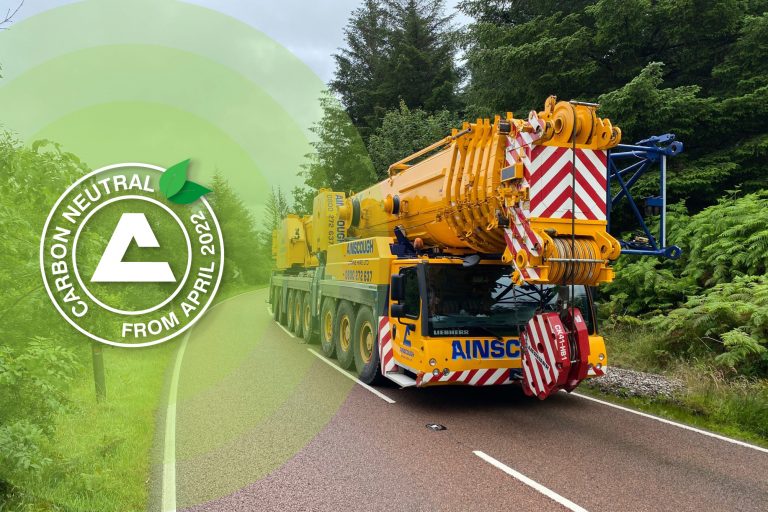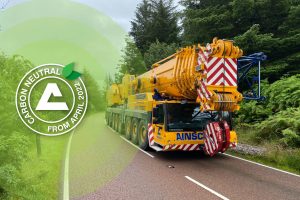 Ainscough Crane Hire said it has become the first crane company in the world to commit to using HVO (Hydrogenated Vegetable Oil) in its fleet, representing a key milestone in the construction industry's journey to net zero. The move will cover Ainscough's 400+ cranes and 30+ transport and heavy goods vehicles.
Standish-based Ainscough anticipates that the adoption of HVO will result in a further CO2 reduction of up to 90%, saving in excess of 14,000 tonnes of CO2 per year. An additional five per cent reduction has been achieved through wider energy saving initiatives with the residual circa five per cent met via the use of UK based residual carbon offsetting.
HVO is an advanced renewable diesel alternative – made largely of recycled vegetable oil ‐ that offers significant environmental advantages, including enhanced burning efficiency while delivering the same benefits and robustness as traditional fossil fuels. Ainscough is sourcing HVO through a guaranteed sustainable supply chain.
HVO can be used as a direct replacement for diesel, meaning no modifying of Ainscough's fleet is required, and has a storage life over 10 times that of traditional diesel, providing consistent performance in all conditions.
Peter Gibbs, Ainscough Crane Hire chief executive, said: "As the UK's leading crane hire company we have a responsibility to lead by example in the challenge of preserving the planet for future generations. Our move to HVO fuel is not just a breakthrough moment for the domestic crane hire market – it's a global first, too."
::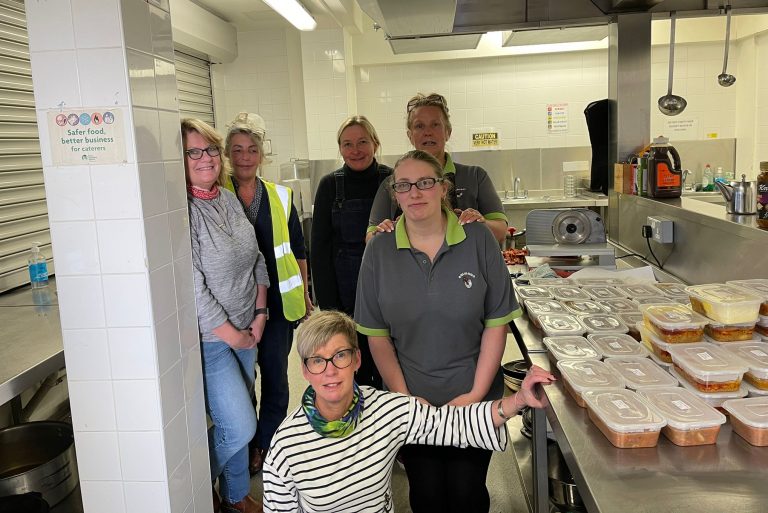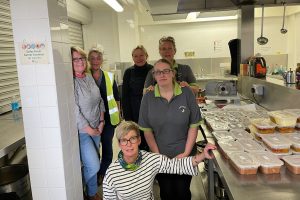 Food suppliers to some of the UK's best chefs kicked off a new partnership with a homelessness charity by preparing a batch of healthy meals for people with experience of homelessness.
For the residents of the Emmaus Burnley charity, this was a chance to sample some of the ingredients favoured by Michelin-starred restaurants, some of which are sourced from around the globe by Wellocks of Nelson and William Jackson Food Group, as well as locally.
Residents were delighted as the team of volunteers from Wellocks and WJFG chose to cook some of the community's favourites, such as cottage pie, lamb curry as well as sausage casserole, when they visited the kitchens of Emmaus House, Old Hall Street, recently.
Companion, Sonja, said: "For people who have lived on the streets, having healthy warm food cooked with fresh ingredients, is wonderful. I was lucky enough to have meals where I was living. It's great that we're all able to eat well now. We are very appreciative of this partnership."
Emmaus Burnley provides accommodation and support for up to 24 people as well as work experience and training at the Emmaus Department Store in Rochdale. All funds from the sale of new and secondhand furniture, and white goods sold supports vulnerable people within the Emmaus community.
::
Commercial interior designer Incognito and fit-out specialist Flexible Business Interiors (FBI) have completed the delivery of a transformational refurbishment of PZ Cussons' global HQ on Aviation Way, Manchester.
The project, which took 14 weeks to complete, has seen the award-winning design practice re-imagine PZ Cussons' 3,700 sq m office building to include a brand-led interior which takes inspiration from the company's leading UK brands – Original Source, Imperial Leather and Carex – as well as providing a wide variety of working environments to give employees absolute flexibility in where and how they work.
The main office floor features a fresh, vibrant Original Source themed gathering space where staff can come together to meet, chat and socialise in an environment designed to boost energy and promote wellbeing, while a suite of collaboration areas showcase a richer colour palette as a nod to the Imperial Leather brand first launched in 1930. Surrounding these spaces are traditional desking areas for those who like routine and a place to call 'home', while individuals looking for a quiet place to work on specific tasks will find solace in the 'focus' zones.
Simon Millington, director at Incognito, said: "Much of the interior design concept focuses on creating dynamic, innovative spaces in which PZ Cussons' employees can thrive. Spaces that draw on the characteristics of their leading brands and actively improve the wellbeing of their people."
George Curwen, project director at Flexible Business Interiors, said: "PZ Cussons is home to some big brand products that can be found in every home in the UK so it is a huge honour to have delivered their new workspace. Incognito's design includes some really interesting details from bespoke joinery items, soap bubble-inspired light fittings and hi tech connectivity which will make this building a fantastic place to work."