Everton commercial partner among oligarchs sanctioned by EU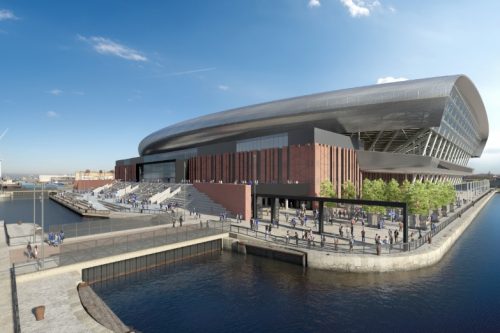 A billionaire commercial sponsor of Everton FC has been sanctioned by the European Union as part of the global response to Russia's invasion of Ukraine.
Uzbek-born Alisher Usmanov is behind the Russian-based telecoms company Megafon and holding entity USM, which have sponsorship deals with the Merseyside club
The Finch Farm training ground bears the USM brand and Megafon signage is on the club's Goodison Park ground.
Mr Usmanov, a close friend and business partner of Everton owner, British-Iranian Farhad Moshiri, revealed a £30m deal with the club in 2020 for the naming rights option on Everton's new £500m stadium scheme which is currently under construction at Bramley-Moore Dock on the Liverpool waterfront.
Mr Moshiri is worth £1.79bn and Mr Usmanov is worth £13.33bn.
It is unclear how the sanctions will affect Mr Usmanov's business dealings with Everton.
The EU listed Mr Usmanov as a "pro-Kremlin oligarch with particularly close ties to Russian President Vladimir Putin. He has been referred to as one of Vladimir Putin's favourite oligarchs. He is considered to be one of Russia's businessmen-officials, who were entrusted with servicing financial flows, but their positions depend on the will of the President.
"According to FinCEN (The Financial Crimes Enforcement Network which is a bureau of the United States Department of the Treasury) files he paid $6m to Vladimir Putin's influential adviser Valentin Yumashev. Dimitry Medvedev, the Deputy Chairman of the Security Council of Russia and former President and Prime Minister of Russia benefited from the personal use of luxurious residences controlled by Mr Usmanov.
"Therefore, he actively supported materially or financially Russian decision-makers responsible for the annexation of Crimea and the destabilisation of Ukraine."
The sanctions will lead to a "prohibition from making funds available" and a travel ban throughout Europe.
Mr Usmanov was one of 26 people added to the EU's sanctions last night (February 28). It is possible that the UK will follow suit and announce similar sanctions.
Last week Everton sources played down fears over the impact that sanctions could have on its commercial deals, or, indeed, the funding for its stadium.
TheBusinessDesk.com has contacted the club for a response.