Invest North: Inward investment set to ramp up following tough two year period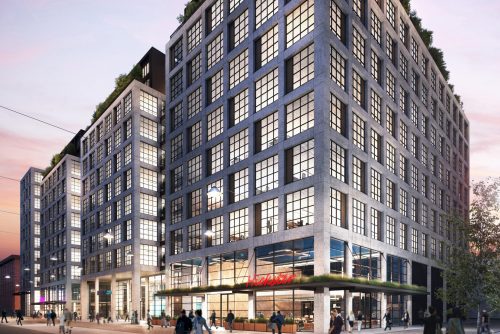 Greater Manchester is set to return to record inward investment levels, despite the debilitating impact of the coronavirus pandemic.
That was the claim by Tim Newns, chief executive of Greater Manchester inward investment agency MIDAS, in conversation with TheBusinessDesk.Com joint managing director, Alex Turner.
The conversation looked at how Greater Manchester is going to build its inward investment, as part of the Industry North 2022 conference organised by TheBusinessDesk.com.
Mr Newns said the region will finish the current year with a record performance by MIDAS, saying that the pipeline of future opportunities is "still really healthy".
He added: "Next year is really strong already."
MIDAS gauges investments and job opportunities on a 'traffic light' system, and Mr Newns revealed that there are 2,000 new jobs already in the green category for next year, with a further 6,000 in the amber category.
He also revealed that there are a number of transformational projects in the pipeline that are capable of creating thousands of jobs.
Attracting inward investment to the region was affected by the many restrictions imposed during the series of lockdowns introduced by the Government, and governments around the world after the pandemic hit in 2020.
Asked how MIDAS has changed its methods over the past couple of years, Mr Newns replied: "It's about agility really.
"We have done a lot more digital activity."
He said his team switched to virtual events all over the world, in the US, Germany, Japan and India, aided by increasing the region's PR message through working closely with Marketing Manchester.
He cited US group Cloud Imperium, which invested in the region recently, taking 81,130 sq ft of space at Manchester Goods Yard.
Mr Newns said: "The statistics around that particular investment, in terms of opportunities to see, how many eyeballs actually saw that, was absolutely phenomenal. It's the most impact we've ever had in terms of a particular press release."
He also said that, for the first six months of the pandemic MIDAS focused on the 300-plus foreign-owned businesses already in the region to help protect them.
"Our aim is to further embed companies in Manchester's eco system," he said.
MIDAS assists in bringing together large firms, small firms and universities.
He revealed that Manchester City was one of the businesses they worked with to help solve a challenge that the club put out to the market.
Lots of businesses, of differing sizes, came together to work on the challenge.
And he revealed that MIDAS has carried out similar exercises in the security, defence and low carbon sectors.
He said they also work with companies that have been in the area for more than 75 years, such as Kellogg's: "It's our role to embed these companies further."
Digital capabilities can play a key part in helping businesses throughout the region and Mr Newns said MIDAS recognises the value of technical support: "A company not transforming digitally, we know, will be gradually left behind."
Among the support MIDAS offers, he said, was helping firms look at diversification of product, that could help take companies into a different area.
"We take a proactive approach and give them support to push the business case internally," he said.
Mr Newns admitted: "Last year our figures were heavily affected by the pandemic. We created 2,000 jobs rather than 4,000 jobs, but we will bounce back. Some of those jobs have been delayed by COVID."
"I think we have proved to be relatively resilient through the last couple of years and our figures prove that and our speed of recovery proves that.
"Whether it's pandemics whether its, at the moment, not just trade wars, but actual wars, they all potentially affect confidence with investors.
"And, therefore, that's what we have got to be mindful of, how we build confidence with investors in this place so that, whatever the weather, which isn't always spot on in Greater Manchester, investors are confident that this is a place where they can invest safely at relatively low risk and high gain."