Six-figure investment funds expansion for Lancashire manufacturing firm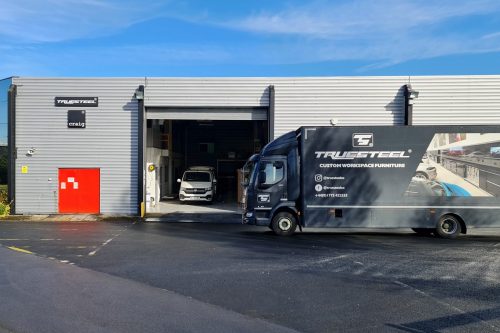 An Accrington-based manufacturing business specialising in workshop furniture has acquired new premises after a six-figure commercial mortgage from Barclays.
Craig Specialist Services, trading as TrueSteel, has bought the new premises on Altham Industrial Estate.
Graduating from university in the early 1990s, managing director, Craig Harris, started the company in 1998, after gaining experience from his grandfather, Ronnie Peacock of Marron Engineers.
The company worked in selling and servicing workshop equipment to garages and dealerships and this still forms a foundation of income to this day.
However, in 2013, TrueSteel was born, after a long standing yearn to manufacture his own product, which started when a long standing customer asked Craig to design the workshop and engineering sections of their new multi-functional educational centre.
Over the past eight years TrueSteel has become a major part of the business and today accounts for more than 60% of turnover.
In 2015/16, the business invested more than £500,000 in new manufacturing equipment. The warehouse, once stacked full of workshop equipment, is now predominantly manufacturing and the new premises will allow the business to expand further.
Craig Harris said: "We are a small, yet diverse, hard working company with amazing employees. We are all very passionate about our quality product and the service we provide and the new premises will enable us to take the business to the next level."
Ian Shelmerdine, Barclays business manager, said: "It is Craig's expertise and the company's reputation for quality workmanship that means car manufacturers and dealerships come back to him time and time again."