Invest North: 'Cities that are standing still, walk backwards'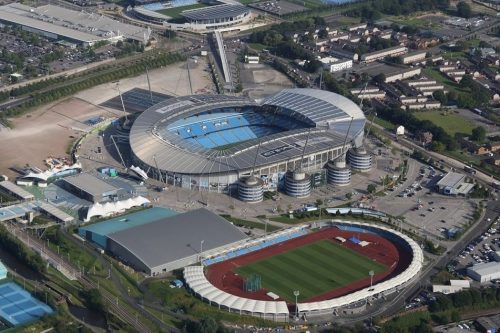 The transformation of Eastlands has been one of the outstanding regeneration stories of the last 20 years.
As the live events arena Co-Op Live continues construction, the area will be provided yet again with a boost to Manchester and the North.
Invest North spoke to Sir Howard Bernstein, the former Chief executive of Manchester City Council, Sara Tomkins the marketing & CSR director at Co-op Live and Pete Bradshaw the director of sustainability at Manchester City Football Club and what their roles are in the regeneration of the North.
Sir Bernstein described how the 70s and 80s were characterised by a decline in Manchester which was predominantly a manufacturing city. All economic activity dived, resulting in a drive to create a place to live, invest and work by the council to regenerate Manchester.
Led by Bernstein, the 2002 Commonwealth Games in Manchester and the creation of what is now the Ethiad campus, provided a real boost to the region's economy and shifted the city to success.
Bernstein said, "It's important to understand the context in how sport and culture relate to regeneration and repositions a cities economy."
As Manchester has evolved, the city is no longer a regeneration project but is now an economic development project. One current key development is the Co-Op Live arena, which is working with partners and the community to develop change.
Tomkins said: "We're super excited about change, which only comes from working with people through regeneration, by listening and engaging and taking away the fear of change.
"It's making sure that we're giving to people who are in the area but not necessarily coming to gigs. It's got to give back every day to the community and be a part of our community
"We're very proud to be continuing that journey with the residents and enjoying those conversations and really getting under the skin of what's needed now. I don't see it as an economic project. It is a continued regeneration project."
Manchester has led the way in delivering regeneration projects in comparison to not just the UK but Europe as well.
Sir Bernstein says this is down to effective leadership alongside working partnerships.
He said: "Manchester has an ability to forge collaborative working relationships, not just with communities by listening to them in terms of understanding their priorities, but also understanding very specifically what private investors want and need in order to ensure them to make a fanatic contribution to the future of the city. It also involves having ambitious plans, but we also need to be realistic."
Manchester City and the Ethiad Campus has been a trailblazer for regeneration and success, not just on the pitch but also off the pitch.
Bradshaw believes this is due to the consideration of the community in every step the club takes.
He said: "We want to make sure we listen to people. We do our absolute utmost to minimise the negatives and the disruption that come with a big venue and by having 60,000 people come every Saturday.
"We have been absolutely upfront and honest with our community. We have regular meetings with our neighbours and residents associations and we're celebrating the 22nd year actually of those meetings.
"The big thing that I think is different in Manchester, is there's this thing called social agency, where it's really about making sure that people have a chance to be involved to engage to tell their ideas and thoughts."
A key issue every person and business is facing is the race to net zero. For the construction of the Co-Op Live arena, this has been at the forefront of the process.
Tomkins said: "We absolutely have to change the narrative on how we create buildings and how we do business, if we don't address that in the next 10 years, then it's too late.
"We are driving as much energy efficiency around the building as we can and we will also be procuring green energy, renewable energy as much as possible. It doesn't stop there. We've got to consider how to take out food waste and packaging about how we operate our building to ensure it's as carbon neutral as possible.
"You've got to look at every single thing to ensure you're doing the right thing and making those choices – they're expensive choices. But it absolutely has to be the right choices for us to ensure we are driving a building that is caring for the next generation."
Manchester has transitioned to being a world-class international city. Sir Bernstein said it has, "long been associated with a place for being very cohesive and being multicultural."
But as the region looks to develop further Bernstein reminds us that, "cities that are standing still, walk backwards."