Courts back Greater Manchester's bid for London-style bus services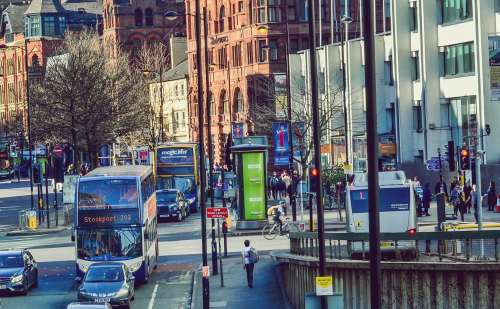 Mayor of Greater Manchester, Andy Burnham, has been backed by the courts in his bid to take back control of the region's bus network.
He was vindicated on all points, and has now called on the Government to use Greater Manchester as a pilot and become the first London-style public transport system outside the capital.
Last year he made a decision to implement a bus franchising scheme across Greater Manchester, to bring buses back under public control, which met with legal moves by bus operators.
Today, the courts found that decision was lawfully carried out, as were all other aspects of the franchising process.
Andy Burnham, Mayor of Greater Manchester, said: "This is truly fantastic news for everyone outside London who wishes to see a return to a bus service that puts people ahead of profit.
"We were always confident that GMCA had followed all correct legal processes and that the decision to franchise buses and bring them under public control was lawful and right. We're delighted that this strong legal decision, where we won on every point, validates and endorses everything we have done to date."
He said that, following the strong mandate from the Greater Manchester public, who wanted buses bringing back under public control, it was frustrating that two companies pursued their action, adding: "I am pleased that the court has dismissed all of their arguments."
He called on them to accept the ruling and allow the region to carry on with its proposals.
Mayor Burnham said: "I want to work with the operators and the Government to create the bus network that GM needs over the next few years and I will give a more detailed update on how and when we will implement franchising on Monday.
"However, in order to deliver a London-style transport system, we need the right funding to do so for our buses and for our Metrolink system so that people have access to the kind of reliable, affordable services that makes public transport an attractive alternative to the car.
"Access to reliable affordable public transport is central to the Government's commitment to levelling up and to our net zero ambitions. We want government to join us in a partnership that uses Greater Manchester as a pilot to allow it to become the first London-style public transport system outside of London, as the Government promised in its Levelling Up White Paper, providing a package of both post-COVID and longer-term funding."
He added: We know that this result is important not just for Greater Manchester, but for other city regions, too, such as Liverpool City Region and South Yorkshire who have both announced that they are taking steps to introduce a franchised bus network.
"We hope that this judgement today will pave the way for them to progress with their ambitions to bring buses under public control. This ruling is a green light for the North to retake control of its bus and public transport system."
Bus operator Stagecoach mounted a legal challenge last summer against Greater Manchester's plans to take control of its bus network, alongside West Midlands-based buses group Rotala.
It labelled the consultation around the reforms as "flawed" and accused the combined authority of running an "unlawful" public consultation on its plans to introduce a London-style bus franchising system in the city region.
The combined authority's plans mean it would be able to set fares, timetables and routes, which it says would be the best value arrangement for taxpayers.
If approved, the city region would be the first city outside London to have a regulated bus system since the 1980s. Liverpool City Region Combined Authority is also considering a similar plan.
Stagecoach submitted a court application for a judicial review, claiming the consultation had not taken into account "fundamental changes" brought on by the coronavirus pandemic.
However, in response to today's ruling, a Stagecoach spokesperson said: "We are disappointed at the decision of the court. This case was never about the principle of mayoral combined authorities being able to decide to introduce bus franchising. We absolutely respect that democratic right. However, the Bus Services Act 2017 makes very clear that authorities must meet specified standards on proper evidence and analysis in pursuing this process.
"It was our view that the process followed by Greater Manchester Combined Authority in assessing the impact of the COVID-19 pandemic on its bus franchising plans did not meet those legal requirements.
"Nevertheless, we accept the decision of the court. We will work constructively with GMCA to help deliver the Mayor's ambitions for the region's bus network, as well as the Government's wider objectives in the National Bus Strategy, and look forward to the Mayor securing the significant taxpayer support required to deliver the franchising system."
Rotala is considering an appeal.