Industrial warehouses come to market at prime locations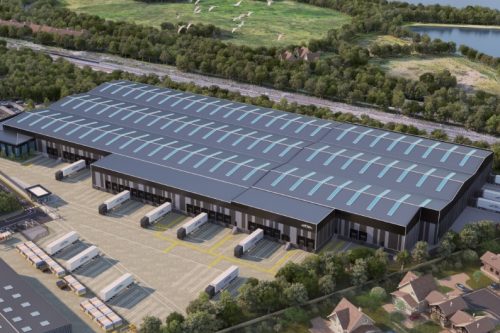 A specialist owner and manager of high flow through (HFT) logistics spaces is letting two warehouses, in Warrington and Long Eaton, Nottingham.
Realterm has instructed Colliers and LSH to let the 257,319 sq ft property in Warrington, and the 261,904 sq ft site in Nottingham.
The freehold Warrington unit, WA257, is located three miles east of Warrington town centre on Hardwick Grange Industrial Estate. It was recently acquired by Realterm from Marks & Spencer through a sale and leaseback.
Marks and Spencer is due to vacate in the summer of 2022 when the unit will then be available for a new occupier.
Hardwick Grange Industrial Estate has access to a plentiful labour supply and direct links to the UK's major distribution locations including Manchester, Liverpool and London. Other notable occupiers in the vicinity include Iceland, FedEx and Bunzl.
The property offers 27 dock level loading doors, 30 HGV space, 250 visitor and employee car parking spaces, and two-storey ancillary office and amenity space.
The Long Easton site is located to the south of Long Eaton Town, the East Midlands' Bigbox warehouse, EM262, is currently being refurbished and will be available for occupation from June 2022.
It is 3.5 miles from junction 25/M1 and 4.5 miles from junction 24A/M1, providing immediate access to the national motorway network. The property is closely connected to Nottingham, Derby and Leicester, offering the new owners access to a local labour supply.
The space is situated in an established commercial area, surrounded by high profile developments and occupiers including SEGRO Logistics Park, East Midland Gateway, East Midlands Distribution Centre, Amazon, Aldi, and DHL amongst others.
Facilities include 32 dock level loading doors, 33 HGV spaces, 18 tractor spaces, 225 visitor and employee car parking spaces and two-storey ancillary offices.
John Sullivan, head of the Manchester industrial and logistics team at Colliers said: "The North West and East Midlands mirrors the phenomenal past few years of record breaking performance of the wider UK industrial and logistics market in terms of pent up demand, occupier take up and constrained supply.
"We've also witnessed a surge in prime rental values, fuelled by accelerated structural changes triggered by the pandemic. In particular, big-box investor demand has continue to soar."
He added: "With the industrial and logistics sector continuing to be the most defensive commercial property sector since the outbreak of the COVID-19 pandemic, this trend is set to continue. Realterm's units offer the market some much needed good quality stock in both the North West and East Midlands markets and will be very well received."
Balazs Lados, managing director, European fund manager, at Realterm, said: "The properties are advantageously located in the heart of the regional motorway networks and are a tremendous addition to our European portfolio and support our strategy to acquire the best final mile investments in key market sellers."