Smarter work – Stockport style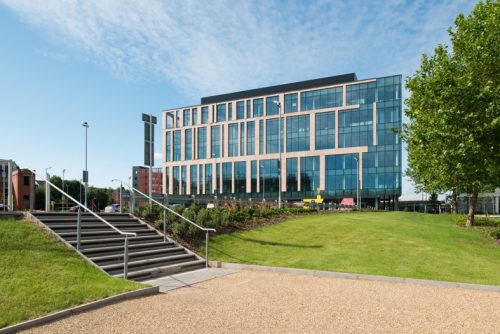 By Elise Wilson, Stockport Council leader and Greater Manchester cabinet member for the Economy, Business and International Relations
Last week I had a tour around the new offices of Stockport law firm ONP. They've joined Stagecoach, musicMagpie and BASF in Stockport Exchange, right next to the entrance to the train station, alongside a really smart Holiday Inn hotel, and just a couple of minutes away from my office in Stockport Town Hall.
Meeting the team there – James and Waseem from ONP, and Tom Webber from Muse developments – it really struck me what an enormous change we're all going through, not least in how we work, but how we all get along together as people, as colleagues, friends and people we work with.
At its heart, business is a social activity.
As we all get back into the groove of hybrid working, what I keep hearing is that businesses have to make workplaces attractive and compelling places for their teams to come back into, if that's what's needed.
If we're honest, while lockdown forced many of us to rethink our working habits, and we embraced some new technology, in truth we're all a bit weary of listening to colleagues through a bouncy WIFI connection and saying the dreaded phrase of our time, "you're on mute".
It's also important for businesses like ONP to be connected to their offices in Stoke-on-Trent, which being literally on the doorstep of Stockport station makes it such a great location for them and for their clients to comfortably and conveniently meet them in person.
In turn their staff will spend lunchtimes and evenings in the town centre, creating footfall and custom.
I know the pool tables and beanbag areas of cool tech companies might be a stretch for many of the small businesses in Greater Manchester that I've got to know in my time as portfolio holder for the economy in Andy Burnham's cabinet. But it cuts into the idea that we have the opportunity to do work differently in Greater Manchester.
Where we work, and how we work.
What all of these companies have done at the Exchange is a game changer for Stockport in creating very different agile working environments.
A few days later I was back at the Exchange, in the building next door, for the meeting of the Stockport Economic Alliance, which is chaired by Steve Oliver, the chief executive of musicMagpie – though I didn't have time to stay for a game of pool.
We were able to share with the members of the Alliance the final draft of the economic plan for Stockport, which they've shaped with us. In fact, it's not the council's plan, it's Stockport's.
Our businesses large and small, our voluntary sector organisations, trade unions and leaders in public service have all been central to shaping it.
They know what they need from me, what I can convene for them, and what we can all do as a business community to grow our ambition for Stockport and to know that we're ready and willing to work with anyone who shares our ambition for Stockport.
Exchange is just one of many sites in Stockport that really excite me.
As a girl growing up here, I used to love coming into town on a Saturday and meeting my mates on the Merseyway precinct. It's part of who I am, my past, but it's part of Stockport's future, too.
It has to change, but we're doing that boldly with the new Stockroom and really bold plans for a new hospital.
It also forms part of the council's Mayoral Development Corporation, which will see thousands of good quality new homes and will create a new and thriving, family friendly town centre neighbourhood which the developer, Capital&Centric, are imagining with a view of our famous viaduct.
We're bringing a new community space, including the library, into the town centre.
Rethinking how we use land in smarter and better ways.
Businesses like BASF, musicMagpie and ONP operate in a volatile world. They've embraced the challenge of change with us. We're in an almost perfect storm which we're thinking of as opportunities for Stockport – we're proudly carving out a whole different identity that takes the best of our past, to face the future with real ambition.