People: BES; IoD Cheshire; English Lakes Hotels Resorts & Venues; McGoff Construction; Miller Homes; Inscape Interiors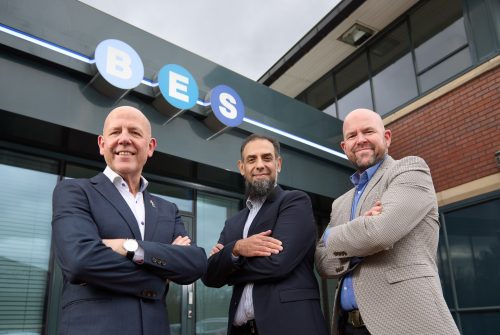 Rochdale-based BES, the specialist in delivering cGMP compliant facilities for the pharmaceutical, biotechnology, life sciences and healthcare industries, is to appoint Zeb Ahmed to the new role of CEO, as part of a suite of leadership changes.
Marking the company's 20th year in business, the changes are designed to support continued profitable growth as BES takes on increasingly complex and fast-track process engineering-led projects.
Former deputy managing director of Bouygues Energies & Services Contracting UK, Zeb has already joined BES as managing director designate, beginning the transition to the new leadership structure from January 4, 2022. He will become CEO on July 1, taking on day-to-day responsibility for running the company and delivering its commercial strategy.
A Chartered European Process Engineer and Oxford University Alumnus, with triple fellowship of the Institute of Chemical Engineers, Energy Institute, and Institute of Directors, Zeb previously worked with several of BES's existing leadership team in the 1990s. His process engineering background complements the turnkey service offering of the BES business, and the existing relationship between BES's current board members and the new CEO will enable a smooth transition.
Founding director and incumbent managing director, Steve Marsh, will move to the role of chairman from July 1, retaining strategic and financial oversight for steering the business through the next phase in its development.
Engineering director and founding board member, Paul Marsh, will become COO of BES when the new leadership structure takes effect in July. With a formidable track record of leading projects, Paul's expertise will be instrumental in ensuring BES's multidisciplinary team delivers consistently high standards and efficient programme delivery. He will also be responsible for maximising the value of digital design, engineering and construction technologies for BES and its clients.
Steve Marsh said: "After 20 years of success, the company is well positioned to achieve our vision of becoming the leading and largest multi-disciplinary specialist in the cGMP facility consultancy, design and delivery sector. The changes to our board and the addition of Zeb to our leadership team will enable us to do that."
Zeb Ahmed said: "BES was founded with the spirit of innovation and entrepreneurship and has retained that culture for 20 years. I am joining the company at an exciting time in its continued journey of success, with the potential to develop closer strategic relationships with our world class client base."
::
The Institute of Directors has placed diversity and inclusion at the heart of its agenda with the appointment of Katie Passley as a branch ambassador.
IoD ambassadors drive greater connectivity with members, support learning and development and give a local voice to the Institute, while ensuring that IoD national policy reflects local issues.
Katie is a senior solicitor at EY, who specialises in all aspects of commercial law. She also oversees training and development for junior staff members.
She is a member of the diversity and inclusion counsel at EY and Croda. This involves delivering training sessions and sitting on panels covering discussions such as race in the regions.
Outside of work Katie is a member of working groups including Kinship – a safe space for women from diverse backgrounds. She is also an active mentor for Migrant Leaders, a charity that aims to inspire and develop disadvantaged young migrants across the UK to broaden their horizons and embrace opportunities.
She said: "I'm excited to take on this new role with the IoD. I love working collaboratively to bring long lasting change and equity for all by using my platform to speak on behalf of those without a voice. To break barriers, we must overcome and eradicate inequalities while amplifying opportunities."
Welcoming Katie to the team, Richard Huxley, IoD Cheshire chair, said: "Not only does she bring proven legal expertise but she is a flag bearer for diversity and inclusion and will inspire directors to face these issues and challenges in a positive and constructive way."
Richard, managing director of Nantwich-based NWF Fuels, was named IoD Cheshire chair in September 2021.
::
Cumbria-based hotel group English Lakes Hotels Resorts & Venues has announced a raft of new senior management appointments in an expansion of its executive board.
The changes reflect the group's ambitions for growing the business and developing its offer across its four star venues in the Lake District and North Lancashire.
Ben Berry moves up from sales and purchasing director to take the reins as group managing director, while his father, Simon, transfers into a newly created role of executive chairman.
Previously group managers, Teresa Lawrence, Matt Stanaway and Michael Kay all win promotions to the board as sales, hotel operations and leisure directors, respectively.
Simon Berry said: "Teresa, Matt and Michael have all enjoyed long, successful careers with the group and their knowledge, experience and decision making input at the board table will be invaluable as we move the business forward.
"Ben takes over as managing director, taking charge of the day to day running of the business and allowing me to take more of an oversight and planning role.
"There's no doubt that we've significantly strengthened the board with these new appointments as we look forward to some exciting times ahead for our venues, staff and guests."
The hotel group has been in the Berry family for more than 60 years with Ben Berry representing the fifth generation at the helm. Its venues are Low Wood Bay Resort & Spa on Windermere, the Wild Boar Inn at Crook, the art-deco Midland Hotel in Morecambe and the Lancaster House Hotel in Lancaster.
Teresa, Matt and Michael join Simon, Tim and Ben Berry and finance director Matt Wilkinson as directors.
::
McGoff Construction has appointed Gary Wilson, from the Wirral, as construction director to head up its £92m Care & Residential Division.
Gary's team will primarily be focused on supporting New Care and Barchester Healthcare with their respective design and build roll out programmes, while undertaking ancillary care/residential schemes on any mixed use developments contained within such pipelines. McGoff Construction's Care & Residential Division currently has 12 schemes on site across the North West and Midlands, including a £15m landmark multi-generation mixed use scheme in Lymm, with a further nine schemes currently going through the planning and design process.
Gary has worked with the business on a consultancy basis since 2018 and has since worked extensively to further enhance the quality and health and safety standards across the divisions, taking up the helm as construction director in January this year. Harnessing more than 40 years in the industry, Gary's previous roles include operations director for Wates and operations director for Multibuild.
Being a pioneer of modern methods of construction throughout his career, the Altrincham-based business said Gary is perfectly placed to deliver on McGoff Construction's strategy to place precision engineering at the heart of everything it builds, driven by its ability to self-deliver many key packages in house.
Gary said: "I have known and previously worked alongside the McGoff brothers for a number of years and feel that the ethos and strategy of the business is unparalleled in this turbulent industry. McGoff Construction have unprecedented visibility on negotiated contracts and in turn me and my team have the ability to plan, innovate, procure and execute work to exacting standards in a safe and environmentally conscious way."
Managing director, Dave McGoff, said: "I have been fortunate enough to have worked with Gary for many years, we are delighted to have Gary join the board and very much welcome the experience and knowledge he brings with him. We look forward to embarking on the next exciting chapter of growth as we continue building for generations."
McGoff Construction is a privately owned, multi award winning construction and integrated support services business sitting at the heart of the McGoff Group.
::
Miller Homes has announced the appointments of five new employees to its commercial and land departments in the North West, based in Warrington at Birchwood Park.
The new hires to its commercial team are Mike Lees, who joins the team as a surveyor, having previously worked at Blueoak Estates. Additionally, David Hitchen begins as a senior surveyor, bringing a wealth of experience from his time at Wainhomes. Steve Nijs, a previous employee of GRS for 25 years, joins him as a senior surveyor/estimator.
Joining the land team is James Hampson, Miller's newly appointed land manager, and Chris Twigg as land buyer. The homebuilder is supporting Chris as he continues his studies alongside his new role, pursuing a degree at Salford University in Real Estate Asset Management.
The hires come after a successful 2021 for Miller Homes, which enjoyed strong launches at its new North West developments in Halewood, Cliviger, Prescot and Clitheroe.
Ian Smith, managing director of Miller Homes in the North West, said: "A very warm welcome all to our new members of staff – I wish them the best of luck in their new roles."
::
Lancashire-based bespoke joinery and washrooms manufacturer Inscape Interiors has taken on a new apprentice as it looks to upskill its workforce.
Reece Harlow will help support Inscape's automation strategy by acquiring the skills and knowledge needed to programme and operate new machinery.
Last month, Inscape reported a £350,000 investment in new technology at its base at Lower Healey Business Park in Chorley.
As well as Reece, the company is actively looking for another apprentice and intends to take on further staff in the coming months which, it says, will reaffirm its commitment to employing young people from the local community.
Gary Wynne, managing director, said: "We're on a journey towards greater automation and achieving a smart, internet-enabled factory that can help us boost capacity and be more agile, efficient and sustainable.
"To achieve this, we recognise the need to continuously upskill and invest in our people. We're pleased to offer this apprenticeship opportunity to Reece who is doing really well so far. We hope to expand our apprenticeship programme in the coming months."
Inscape found Reece through its partnership with apprenticeship training provider North Lancs Training Group. Reece undertook an initial four week traineeship before being taken on as an apprentice.
He said: "I was overwhelmed when I found out I had got the apprenticeship because it's such a great opportunity to learn new skills and gain a qualification.
"I've been getting to know how everything works, like operating the laminate pressing and learning about the CNC machine. Everyone has been friendly and being part of a team all working together is something I've really enjoyed."