People: Prospect Homes; The Very Group; Clearwater International; Butcher & Barlow; Anwyl Partnerships; Skylab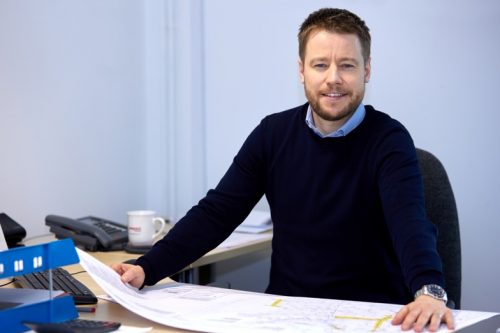 Liverpool-based Prospect Homes has made a new appointment to support its ambitious growth plans. The housebuilder has welcomed Andrew Denton to the team, taking on the role as head of land.
Established in 2000, Prospect Homes builds homes across the North West and is part of The Riverside Group.
All profits made from home sales at Prospect are given back to Riverside to invest in social value work and communities across the UK.
Andrew, has worked in the industry for more than 15 years in both the public and private sector, most recently as head of land at a volume house builder
A graduate from The University of Sheffield, Andrew also holds a Masters in Civic Design.
He said: "I was drawn to Prospect Homes by the existing team, a number of whom I have worked with previously, and also by the company ethos with profits being re-invested into Riverside. So, when this position came up, I jumped to apply."
As head of land Andrew will now lead the land team focusing on acquiring land for development in the North West.
He added: "I have two sites to exchange and two to complete in the first quarter, which makes it an exciting time to join the business. These sites will secure over 400 new homes for the pipeline and put the business well on track to achieve its growth plans.
"It's a very busy role, meeting with solicitors, agents and landowners to secure new opportunities, but I'm working with a great team."
Nigel Yates, managing director at Prospect Homes, welcomed Andrew, saying: "His knowledge and expertise is a real asset to the business. He has joined at a very busy but exciting time as we look at purchasing more land around the North West."
::
The Very Group, which operates digital retailer Very.co.uk, has appointed Charlotte Heiss as group general counsel and company secretary. Charlotte will join the Liverpool-based business's executive team in May 2022 and report to group CEO, Henry Birch.
Meanwhile, operations director Sean Hallows will be promoted to the role of chief operating officer, joining the executive team and also reporting to Henry Birch. Sean will succeed Phil Hackney, who will step down in April 2022 after six successful years in the role.
Most recently, Charlotte spent 11 years at RSA Group, latterly as group general counsel, company secretary and a member of the group executive committee. She was responsible for a 40-strong global legal and company secretariat team at the former FTSE100 insurer, achieving excellent standards of corporate governance, co-leading the RSA team responsible for the company's acquisition by Intact and Tryg and leading the group's response to key legal matters, regulatory change and Brexit.
Prior to RSA, Charlotte spent eight years at Linklaters specialising in mergers and acquisitions. At The Very Group, Charlotte will oversee corporate governance, as well as all legal, risk and compliance issues.
Sean has spent six years at The Very Group, during which time he has led all outbound logistics and returns, as well as the planning, development and launch of the company's highly automated fulfilment centre, Skygate alongside Phil Hackney. More recently, Sean headed the transfer of all fashion returns activity to Skygate. Prior to joining The Very Group, Sean was chief operating officer at Clipper Logistics.
During his six-year tenure, Phil led The Very Group's operations team, using technology to transform its fulfilment, logistics and customer care capabilities. He conceived and oversaw the launch of Skygate and digital improvements in Very's customer care team, including the roll-out of its automated chatbot and a significant reduction in call volumes into the business's contact centres. He was also responsible for Very's sustainability strategy, sponsored the firm's diversity and inclusion agenda, and co-led its response to COVID-19, including the transformation of its office sites to support the company's new hybrid working model.
Henry Birch said: "Attracting someone of Charlotte's calibre to the role of general counsel is testament to the strength of our business and an important step in our continued development. She will play a vital role in reinforcing good governance and leading our business's response on legal, regulatory and compliance matters.
"Sean is a hugely respected leader within our business and brings industry-leading experience, having launched and operated Skygate, one of the UK's most advanced fulfilment centres. He has worked closely with Phil and is absolutely the right person to become our new chief operating officer as we continue to invest in the transformation of fulfilment, logistics and customer care."
::
Edward Gale has joined Clearwater International as a director in the fast-growing TMT team. Edward, who will be based in the Manchester office, joins from Ernst & Young where he spent 14 years, including four as a director, working in both the UK and Singapore.
He joins as an experienced deal leader in the tech space who has notable experience in buy-side and sell-side transactions, including many cross border and private equity deals. His recent deal completions include the sale of SSP to Constellation Software Inc, raising a minority investment from Inflexion into CMS Payments Intelligence, and an investment into Distology by NorthEdge.
Edward is also a non-executive director at Big Life Group, a social enterprise that is focused on changing the lives of people through a multi-faceted approach.
This appointment is the latest in the line of investments in Clearwater International's TMT team, which continues to see strong deal activity. In the past 12 months the UK TMT team has completed 13 transactions in the TMT space valued at almost €1bn, while overall the international team has completed 40 deals worth nearly €1.9bn, representing a 48% increase in tech deal volume.
According to Mergermarket, Clearwater International ranks in sixth place in the UK and Ireland as advisers in the TMT space during 2021.
Over the past year Clearwater International invested in three new tech partners to further bolster its TMT team. Wesley Fell-Smith was promoted to partner, while new recruits included Nathaniel Cooper in the UK, and Jérémy Sartre who joined as co-lead of the French TMT team alongside Nicolas Saint-Pierre.
Managing partner, Mark Taylor, said: "TMT is an important sector for Clearwater International and we are keen to continue to grow this team. Edward definitely assists with this wider strategy whilst bolstering our senior team and existing expertise in the North."
Wesley Fell-Smith said: "The digital transformation of businesses continues apace, as evidenced by our continued fantastic deal flow over the past year. In response, it's essential for Clearwater International to continue to expand the team with experienced, tech-focused individuals who can not only deliver pure tech transactions but also collaborate with other sectors which are experiencing their own digital revolution."
Edward Gale said: "I've joined Clearwater due to its unique ability to work with exciting, entrepreneurially focused businesses and apply this model across an international basis."
::
Bury-based law firm Butcher & Barlow has reaffirmed its commitment to nurturing young legal talent by offering new training contracts and celebrating former trainees' success.
Having recently completed a full company rebrand, the Legal 500 firm has celebrated the recent qualification of former trainee solicitor, Catherine Vardy.
Catherine has been with Butcher & Barlow since 2016, first as a paralegal and then as a trainee solicitor and has recently qualified into the family law team at the Firm's Bramhall office.
Catherine said: "I am absolutely thrilled to have completed my Training Contract and am so grateful for the support I have received at Butcher& Barlow. The firm has a very positive outlook and I have enjoyed excellent departmental support. I am very much looking forward to continuing my legal career with Butcher & Barlow, handling family law matters such as protective injunctions, children matters and local authority cases."
Following in Catherine's footsteps are two new trainee solicitors, who have both been with the firm for a number of years in different roles, who will gain invaluable experience working across Butcher & Barlow's 10 North West high street offices.
Trainee solicitors Casey Ashton and Catherine Landale have both started training contracts within the conveyancing team and will initially be based at the firm's Frodsham and Bury offices, respectively.
Managing partner, Anthon Higham, said: "Butcher & Barlow places great emphasis on developing and nurturing young talent. We understand that effective mentoring and training forms a key part of a young solicitor's professional development which helps the firm to deliver the very best, longstanding personal service to our clients. We currently have nine trainee solicitors along with five paralegals with another six set to join us in September.
"Fifteen of our current partners trained with us and have gone on to play instrumental roles in helping clients to navigate important personal and commercial decisions."
::
Anwyl Partnerships has appointed Sam Oliver as land director.
Former senior land manager, Sam, joined the team three years ago during which time he has played an integral role in strengthening the firm's land and development arm. He has been instrumental in identifying and securing a number of key sites and helping drive Anwyl Partnerships' land-led development approach.
Sam said: "Joining the business just over three years ago, I have seen Anwyl Partnerships grow threefold as we expand across the North West into Greater Manchester, Cheshire, and Merseyside, where we have acquired multiple sites to deliver on a mixed tenure basis for our key partners.
"Given that the last two years have been particularly challenging, we have continued to grow and have emerged from lockdown with a strong forward order book. We look forward to unveiling our new and upcoming projects in the coming months.''
Tom Anwyl, of Anwyl Partnerships, said: "Sam has proved to be an ideal leader for the land operation. He has had a far reaching and positive impact on the business since joining only three years ago and his promotion to director is one that recognises his significant achievements."
::
Skylab, a Manchester-based sports technology firm specialising in development services and elite performance analysis for sporting organisations, has announced Tim Haynes has joined the senior management team as technical director. He joins from WhiteSpider and brings with him unrivalled senior management and technical strategy experience.
Tim's 20-plus years of pan-industry, technical leadership experience, including sports and sports technology, will be invaluable to the next phase of growth for Skylab. His breadth of experience in architecting effective technical solutions, for sports organisations, puts him in the ideal position to lead Skylab's tech stacks as they bring innovative, disruptive technology solutions to the sports market, the firm said.
Chloe Waddington, head of business, said: "We are hugely excited for Tim to join Skylab. With significant experience in bringing technical solutions to sport, Tim intrinsically understands and shares Skylab's motivations to create tangible benefit for sporting organisations and their fans by delivering a deeper understanding of how technology can be leveraged to effect powerful, positive change in sport."
Tim Haynes said: "It's an incredibly exciting time to be joining Skylab on their current trajectory and an amazing opportunity to be able combine my passion for both sport and technology. Skylab has a unique set of skills, balanced between elite performance analysis, software development and user experience, which aren't traditionally available to sports organisations as a package."