Property round-up: Blueoak Estates; Urban Splash; Exchange Quay; Blackpool Airport Enterprise Zone; Keppie Massie

Chester-based luxury housebuilder Blueoak Estates has begun work on Tollemache Green, a high-end housing scheme designed to create a new aspirational living community in the heart of  Cheshire.
Twenty one new exec and barn-style homes will be built on the site in Alpraham, now named, 'Tollemache Green'.
The light, bright open plan living designs include vaulted ceilings and open, versatile spaces with a high level of finish and luxury specification. All homes benefit from a host of sustainable features including air source heat pumps, electric vehicle charging for each home and solar panels to selected units.
Externally, a community orchard will house a collection of apple trees that can be harvested by local residents, with views overlooking a wildflower meadow. The extensive planting scheme features shrubs and native trees. Bird, bat boxes and hedgehog houses will be installed to help local wildlife live and thrive.
Under the ambitious scheme, Blueoak will build a new Village Hall on the site, integrating additional parking and a cycle store.
Iain MacLean, managing director of Blueoak Estates, said: "This is such an exciting development on so many levels. Tollemache Green will establish a new community within an affluent area of Cheshire, creating a new community, whilst introducing a sustainable way of living."
::
Regeneration company Urban Splash has completed deals on more than 10,000 sq ft of workspace in its North West portfolio this month, including a new deal with the team behind The Warehouse Project and Parklife Festival.
Sacha Lord, Greater Manchester's Night Time Economy Advisor, founded both ventures. Now, as they expand their team ahead of a packed-2022 schedule, the Warehouse Project has signed up for more Urban Splash space in Timber Wharf in Castlefield, adding to its existing offices at neighbouring Burton Place.
Sacha said: "The hospitality sector's been on one hell of a journey in recent years, and I've made it my mission to give businesses a voice, ensuring that as and when we could get back to some form of normality, we would be able to do so. For 2022, that means safely returning to live events, giving performers, venues, and associated businesses a platform to help get them back on track.
"To support this, we are growing our team and moving into another Urban Splash building adjacent to our current base. I find we have a lot of synergy with Urban Splash and we are businesses with many shared values – we're pleased to be welcoming more team members into the commercial community Urban Splash has nurtured in Castlefield."
Manchester-based Urban Splash has long had a history of welcoming musicians and performers into its buildings with Simply Red, 808 State, Cream and Manchester Jazz Festival among those who've operated from the company's workspaces into its North West properties. Urban Splash director, Nathan Cornish, said: "Our buildings have been the platform for some great brands. I'm really pleased to be working with Sacha and his colleagues supporting the next stage of their journey as we watch another of the city's unique offerings flourish."
Other deals completed in the past month include in Salford, where Urban Splash has welcomed Beaver Project Management to a 1,252 sq ft office in its refurbished Boat Shed – a riverside building offering new workspaces overlooking landscaped gardens within the commercial neighbourhood of Exchange Quay. The company has also extended its relationship with Irwell House Artists' Studios – a collective of 38 contemporary visual artists which has completed a new deal on 2,390 sq ft of space.
::
The renovation programme of Manchester's 435,000 sq ft Exchange Quay office development continues with in excess of £200,000 being invested in the reception refurbishment of Building 1.
Following the successful transformation of the reception areas in both Buildings 8 and 5, the team at Exchange Quay has re-appointed architecture and design studio Jasper Sanders + Partners to develop the entrance, first floor mezzanine and lift lobbies at Building 1.
Till Asset Management, acting on behalf of Exchange Quay has announced works have commenced on the entrance of Building 1 with North West contractor Aztec. This forms part of the scheme's continued commitment to enhancing its occupier experience with completion earmarked for spring 2022. The investment into upgrading the reception areas across multiple buildings totals some £500,000.
The team at Jasper Sanders + Partners focused on a minimal approach with consideration into the choices and sources of materials, both from an aesthetic and sustainability standpoint. The modest timber palette inspired by the maritime theme of the Exchange Quay site with its close proximity to the Manchester canal system, largely features to reception and internal entrance elevations.
The articulated American architecture of Exchange Quay heavily influenced the two previous schemes, with Building 1 offering a warm, welcoming and tactile interior in stark contrast to the highly glossed, cooler hued façade. Design director, Jasper Sanders, said: "This was all about retaining as many components as possible within the existing scheme, to refresh and update the arrival experience, using the minimal number of materials for maximum effect."
Liam MacCarthy, director at Till Asset Management, said: "Following the success and response to the scheme designs of both Buildings 8 and 5 we are pleased to be working with the leading design team again to progress our refurbishment programme to deliver another impressive entrance for occupiers and visitors alike."
The quoting rent on Exchange Quay is £21 per sq ft, plus car parking.
::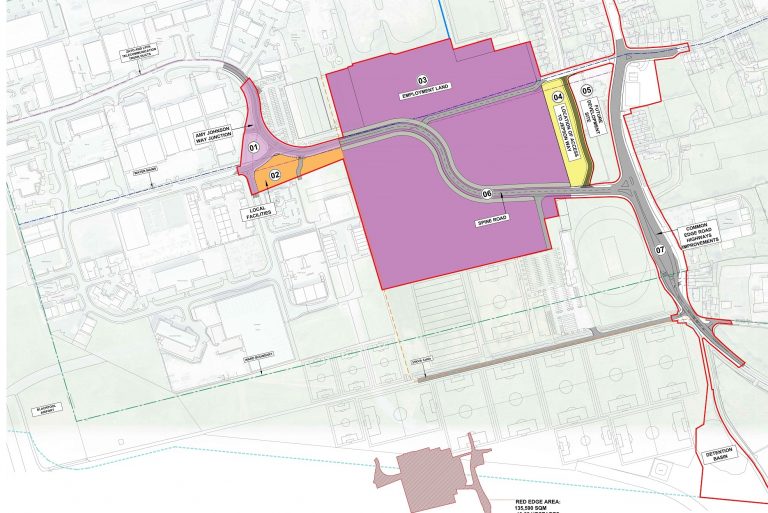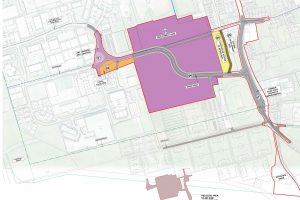 Architectural, planning and building surveying practice, Cassidy + Ashton, has submitted updated plans for the third stage of Blackpool Airport Enterprise Zone's Phase One regeneration.
The plans have been submitted on behalf of the Enterprise Zone with Blackpool Council. They include the creation of new business and industrial units, a multi-purpose local hub and a new eastern gateway access road.
This third application works in conjunction with the two planning approvals already granted for new grass pitches and new sports facilities as the next step towards the completion of Phase One.
New grass pitches, relocated south of the area, are now in use, with the new sports facilities, including changing facilities and a spectator pavilion and reconfigured car parking due to be completed for the start of the 2022-23 season.
The updated proposals seek to redevelop the original playing fields for commercial development. Covering an area of approximately 13.55 hectares, it includes plans for 8.97 hectares of office and industrial floorspace for employment use and a local hub comprising a day nursery, retail outlets and a café.
A new access road is outlined in the plans, linking Amy Johnson Way on the existing business park to provide access from Common Edge Road.
The updated plans also incorporate ancillary elements including an electric vehicle charging hub, junction and highway improvement works, drainage works, car parking and an electricity substation.
An original application which covered plans for the entire development of Phase One at the Enterprise Zone's eastern gateway was withdrawn to focus on three individual strands.
Breaking down the development into three elements ensures the local community will continue to have access to playing fields and sports facilities during the development of the area.
Cabinet member for business enterprise and job creation, Cllr Mark Smith, said: "The build out of the eastern gateway development land at Blackpool Airport Enterprise Zone is crucial to ongoing economic regeneration of the area and will bring with it countless benefits including new sustainable, long term, skilled employment, new services for the community and opportunities for local businesses to continue their growth close to home and their workforce."
Claire Parker, senior planning consultant at Cassidy + Ashton, said: "By approaching the plans for this phase of development in three stages, the local community continues to have access to sporting and recreational facilities throughout the development. This application will serve to support the long term vision for the zone's eastern gateway and in doing so will not only provide improved commercial and leisure facilities, it also offers considerable economic benefits to the entire borough."
Phase One is the first phase of Blackpool Airport Enterprise Zone, with £28.8m allocated for the redevelopment of the 144-hectare site.
::
Liverpool-based property consultancy Keppie Massie is now advising on three major regeneration projects in St Helens.
The firm is providing advice on viability, funding and land assembly to St Helens Council on its plans to transform St Helens town centre. The multimillion-pound transformational project includes a new bus station, market hall, offices, retail, hotel and town centre homes together with extensive public realm improvements. The scheme is to be delivered by the council and its developer partner, English Cities Fund.
Keppie Massie has also advised the council and the combined authority on the funding for the £54m Glass Futures Centre of Excellence research and innovation facility in St Helens, where work has now commenced on site.
At the Parkside scheme in Newton-le-Willows, Keppie Massie has advised St Helens Council on financial appraisal and viability assessments on the former colliery site prior to its recent approval by government. Work on the new logistics hub and its associated £38m link road to the M6 is already under way.
Managing director, Ged Massie, said: "Large scale regeneration schemes are at the very heart of the services we provide and we are excited to be supporting on such vital development projects.
"The St Helens area is the focus of several significant regeneration projects and we are delighted to have worked on them. The town centre work in St Helens provides a unique opportunity to regenerate this location, while the project led by Glass Futures has the potential to become a globally significant centre for glass innovation."
Keppie Massie is an independent firm of property consultants with offices in Liverpool, Manchester, Glasgow and London, advising on property and regeneration projects across the UK.