Two-year renovation of Martins Bank Building set to commence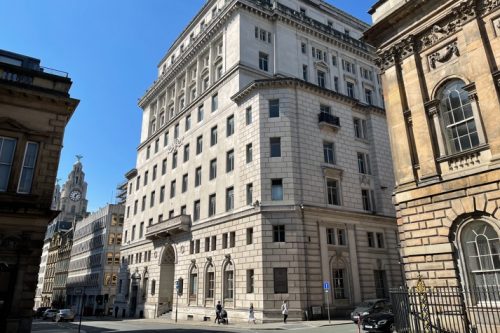 Renovation work on Liverpool's iconic Martins Bank building, in Water Street, is set to start in July, with a 2024 re-opening planned.
The building, which was the site of former Liverpool bank, Martins, before its takeover by Barclays, was used to store the Bank of England's gold reserves at the onset of the Second World War.
It was acquired, for an undisclosed sum, by London-based hybrid workspace provider Kinrise in August last year.
The bank's doors have been closed since 2009 and, despite numerous projects and ideas, the building has remained empty, except for a handful of events and film shoots.
Kinrise, which boats a 'restore over rebuild' ethos and a focus on design-led workspaces within historic settings, has revealed plans to turn the 210,000 sq ft building into a hybrid mix of work, social and restaurant space.
The Martins building is the firm's biggest acquisition to date.
Kinrise is working with architects Red Deer and Brock Carmichael, on the two-year the renovation.
Sam Lawson Johnston, co-founder of Kinrise, said: "Martins is such an important and imposing building that is so closely tied to Liverpool, its history, culture and community.
"We want the building's renovation to be open and accessible once more so it can be enjoyed and experienced by everyone across the city. As work progresses we are delighted to share updates and insights on this iconic building that belongs to the city."
Ahead of renovation work commencing, Kinrise linked with local skating troupe, Rollerdrome, to showcase the building's beautiful interiors.
Roller skaters roam freely around the large, open-lit banking hall, across ornamental marble and stone flooring, under an ornate, vast glass ceiling.
They then roll through the building, up the main staircase into the remarkably well-preserved original boardroom dressed with a walnut ceiling detailed with gold, emerald green, sea motifs, dolphins, ships, mermaids and Liver Birds, all nodding to Liverpool's maritime history, purposed to reflect the power and prestige as Martins Bank's national head office.
The skaters even venture into the lower ground vaults which famously stored the gold reserves.