£200k investment will put Campervan holiday business on road to expansion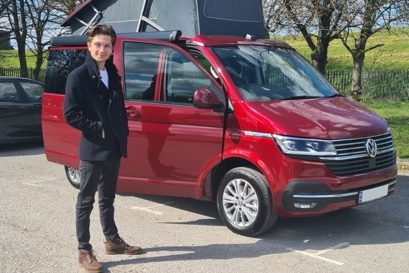 Entrepreneur Sam Cohen is investing £200,000 into his Bury-based campervan hire business which was only created 12 months ago.
Samco Campers offers 'staycation' breaks for holidaymakers either unable, or reluctant, to travel abroad following the two year pandemic which severely affected international travel.
Sam said orders have more than doubled in the past year and is aiming to treble his fleet as part of the expansion plans.
His fleet includes VW California campervans which offer facilities such as pop-up roofs, kitchenettes, and side awnings.
Sam, 30, says the staycation market is set to grow due to the COVID crisis, the current cost of living crisis, airport delays, and a taste for home-grown holidays.
He said: "I only launched the business last year and bookings were buoyant right from the start. But this year has started on a different scale.
"Clearly, with so much uncertainty in the world right now and the cost of living rising, many people will be holidaying at home. A luxury VW campervan provides a great way to explore all the UK has to offer."
He added: "I started with just a couple of vehicles and plan to add many more in the future, but there's currently supply issues due to a global computer chip shortage and production delays in Ukraine, where vehicle wiring looms are made."
Sam was inspired after a road trip across the Western Cape of South Africa. He said: "After arriving back in the UK several years ago, I was on a mission to launch a campervan hire business that would allow many other avid adventurers to explore the UK.
"COVID-19 made us all endure change in one way or another and thankfully those dark days seem firmly behind us, even though the world is still in a very unpredictable place.
"The idea of exploring the UK and all it has to offer is becoming an even more popular choice."