Fast-expanding 'safe-cation' market drives Sam to £1m investment in touring vans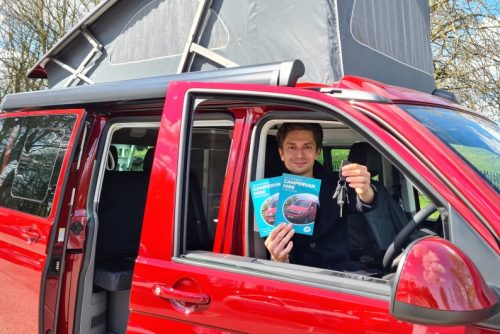 Entrepreneur Sam Cohen is aiming to hit the road to success after launching a luxury campervan hire business – backed by a potential £1m investment.
The Bury-based businessman has created Samco Campers to provide a safe 'staycation' route for holidaymakers either unable, or reluctant, to travel abroad due to the COVID-19 pandemic.
Instead, they can explore the UK in a choice of new Volkswagen California campervans, each with creature comforts such as pop-up roofs, kitchenettes and side awnings.
Sam has created all-in-one 'pet friendly' packages which include insurance, unlimited mileage, breakdown cover and telephone support, with prices starting from £70 per night.
The 29-year-old is hoping to have around 15 vehicles by the end of the year, as part of a £750,000 expansion – a natural extension of his existing Bolton caravan sales operation.
He said: "I only launched the business a few weeks ago and already bookings are coming in thick and fast. Clearly, with so much uncertainty about travelling abroad, many people will be holidaying at home.
"A luxury VW campervan provides a great way to explore all the UK has to offer. We provide everything a novice or experienced customer requires."
He added: "I've started with an initial £250,000 investment and will expand the fleet as demand increases."
Sam was inspired following an unforgettable road trip across the Western Cape of South Africa. He quickly realised how exhilarating a road-tripping adventure can be.
"After arriving back in the UK, I was on a mission to launch a campervan hire business that would allow many other avid adventurers to explore the UK."
He said: "COVID-19 has made us all endure change in one way or another. Throughout these unpredictable times we have all had to make sacrifices, whether that is by now working from home or cancelling plans we were once excited for.
"With many trips abroad now facing new government regulations, involving quarantine procedures, the idea of exploring the UK and all it has to offer is now becoming a popular choice."