People: Brabners; Time Finance; Bensons for Beds; IoD Manchester; Addleshaw Goddard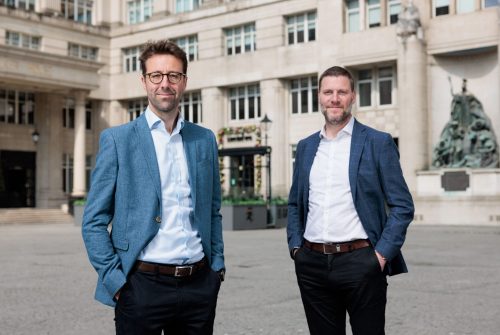 Independent law firm Brabners has appointed Phil Weldon as the newest partner in its litigation practice, following a record year of growth and high profile case wins for the team.
Originally from the Wirral, Phil joins the firm from Knights' Chester office and now returns to the city where he spent his formative years studying at the University of Liverpool. Phil brings with him an inclusive client base ranging from individuals and smaller owner-managed businesses to larger PLCs.
Phil's core areas of expertise include contractual disputes, shareholder and partnership disputes and disagreements arising from business acquisitions. His new role will see him work closely with the firm's head of litigation in Liverpool, Paul Lunt, alongside a 40-strong team of litigation specialists across the firm's Manchester, Liverpool, Lancashire and Leeds offices.
Recent high profile cases supported by Brabners' litigation team include England Captain Ben Stokes's successful privacy claim against The Sun newspaper, acting on judicial reviews concerning the Government award of multimillion-pound PPE contracts and instructions concerning the Azeem Rafiq racism claims in English cricket. The firm is also currently representing Coleen Rooney in her ongoing libel dispute with Rebekah Vardy, commonly known by the tag #WAGathaChristie.
Phil Weldon said: "The Brabners litigation practice has a fantastic reputation within the industry for delivering high calibre, high profile work. More broadly, I'm proud to be joining a business that is routinely being recognised as one of the best law firms to work for in the country, having monitored the ongoing investment in its culture in recent years."
Nik White, managing partner at Brabners, said: "Phil is an exceptional and highly regarded lawyer who has built a stellar reputation. We're proud to welcome him into the litigation team which excels in supporting high net-worth individuals, business leaders and well known figures to navigate a wide range of disputes.
"I look forward to seeing Phil's impact on the team as an undoubted asset to the wider firm."
::
Time Finance has announced that Kate Brown has taken up a new role within the firm as head of marketing.
The move sees her promoted from her previous position as senior marketing manager to oversee the creation and delivery of the marketing strategy for Time Finance.
Kate brings more than 5 years' experience to the role, having built a career as an ambitious marketer within the financial services sector. Most notably, in 2020 she supported the delivery of Time Finance's rebrand from the AIM-listed group of businesses formerly known as the 1pm plc Group.
In her new role she will lead a compelling strategy across brand, PR and digital marketing as well as expand the team to bring in more specialists that share her vision in driving innovation and change within marketing.
Kate said: "I'm honoured to be stepping up to the head of marketing role at Time Finance and leading our marketing function. As an ambitious and forward thinking business, the Time Finance brand is one I'm immensely proud to help shape and grow. Whilst the last few years has seen the firm establish itself as a recognisable force in the market, we have very exciting plans to invest in and accelerate our brand further."
Chief executive, Ed Rimmer, said: "Kate has done a great job since joining Time Finance three years ago and has played an instrumental role in driving our marketing strategy and generating brand awareness within that time.
"One of our greatest objectives is positioning ourselves firmly in front of business owners as they continue to recover and look for forward thinking and supportive funders to accelerate their growth plans. As an alternative finance provider, we are the ideal funding partner to help them on that journey. I am confident that with Kate leading our marketing function we will achieve this."
::
Bensons for Beds has made a key appointment to its senior leadership team to as it drives the transformation of the Accrington-based business.
Francesca (Frankie) Haynes will join the bed retailer on May 9, as retail director. She joins from Costcutter and has also worked for other retailers including Aldi, Asda and B&Q.
Frankie has significant experience of retail, customer services, human resources and engagement and culture and will report to Nick Collard, Bensons' chief commercial and digital officer, who is adding executive responsibility for retail.
After facilitating a smooth transition, Alan Williams, Bensons' current managing director for retail, will step down at the end of September after 23 years with the business.
Bensons' chief executive, Mark Jackson, said: "Alan has been the pivotal person in building the business into what it is today – his understanding of the customer is nothing short of inspirational.
"But as much as I'll miss Alan's wise counsel and wish him all the best for the future, I'm looking forward to our next chapter as we continue our transformation."
Nick Collard said: "I feel very privileged to be taking over responsibility for retail from Alan as we start accelerating our omnichannel thinking and bringing it to life in the stores and online. Frankie's extensive retail experience is going to be a tremendous asset to Bensons."
In January, Bensons, which became a standalone company in 2020, reported a return to operating profitability on the back of strong sales growth driven by investment in its omnichannel strategy, including a new e-commerce platform, product innovation and accelerated store relocations and refurbishments.
::
The Institute of Directors has further bolstered its Manchester team with the appointment of three leading business figures.
Debbie Black, Alyson Chadwick and Richard Webster join the branch leadership team as ambassadors.
They will drive connectivity with members, support learning and development and give a local voice to the Institute, while ensuring that Manchester's issues are reflected in IoD national policy.
Debbie Black set up DGB Solicitors to specialise in advising directors and shareholders in private companies. As well as being a company director for more than 17 years in the legal sector, Debbie has 30 years' experience as a litigator, with a focus on good governance, infrastructure and practical policies. She is a charity trustee and works with a number of North West charities.
Alyson Chadwick is the co-founder of Hedgehog, which provides consulting, business advisory and coaching services. She has more than 25 years' experience of leading strategy, planning and transformation delivery.
Following spells with LEK Consulting and Co-op Bank, Alyson became group strategy director for Co-op Group, and played a pivotal role in the rescue and relaunch of the Co-op. She is a trustee board member of The Roy Castle Lung Cancer Foundation and a non-executive director of its retail board.
Richard Webster is a Chartered Civil Engineer and Chartered Director, with 30 years' experience in the insurance and support services sectors. Following senior leadership roles with Euler Hermes, Morgan Sindall and AIG, he now works as a non-executive director and advisor.
Richard is a Fellow of the IoD and has been a member for more than 25 years. He is passionate about promoting the development of directors through IoD training and the Chartered Director qualification.
Debbie Francis, chair of IoD Manchester, said: "By sharing best practice and knowledge, we will ensure that Manchester's directors can navigate the challenges that lie ahead and prosper. With fragile confidence and unpredictable economic conditions, being well connected has never been more important."
::
Addleshaw Goddard has appointed Claire Edwards as a partner within its data protection and information law practice.
Claire, who is based in AG's Manchester office, previously led the information law group at Pinsent Masons, overseeing the work of 13 partners and around 45 lawyers. She is particularly specialist in data protection and privacy issues, advising some of the world's largest brands on matters including regulatory compliance, online digital data collection and processing, marketing and ICO investigations.
Claire has previously held roles at DLA Piper and Pepsi-Cola International. She was included in The Lawyer's Hot 100 list in 2020 and her practice has received high grade national and local recognition in L500 and Chambers. Claire currently sits on the ICO's International Transfer Forum.
Addleshaw Goddard's data practice is known for advising high profile brands including BP, BooHoo, Homeserve and Virgin Money and has trebled in size in recent years under the stewardship of practice lead Helena Brown. The team recently received a Chambers & Partners Band 1 ranking in Scotland.
The firm recently announced a record number of senior promotions, inviting 20 lawyers to join its partnership, bringing its global partner headcount to more than 340 people, from May 1 2022.
Helena Brown, partner and head of data at Addleshaw Goddard, said: "Data has become major strategic consideration for commercial clients, not only in the context of digitisation and service delivery, but due to reputational and financial risks associated with data breaches and enforcements.
"Claire is an excellent addition to our team, having worked for some of the largest global brands on a range of issues relating to the management and protection of data. She has consistently been recognised as a leader in her field and grew her previous practice considerably over a relatively short period of time."