Plans for net zero building HEMISPHERE to be revealed at public consultation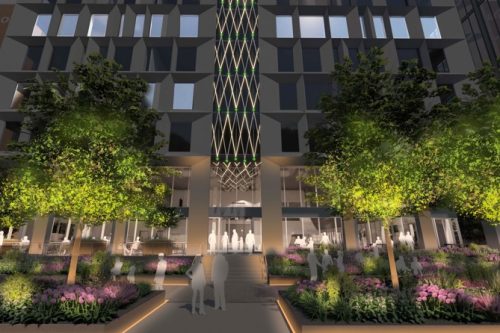 A public consultation into Liverpool's first operational net zero carbon building is being held next week.
HEMISPHERE, will be based in Liverpool's Paddington Village, in the heart of the Knowledge Quarter Liverpool (KQ Liverpool) Innovation District. The site could support up to 800 jobs.
The proposed £35m building, next to The Spine, which opened in May last year, will feature 116,000 sq ft of innovative Grade A office space for health, education, science and tech occupiers.
Sciontec, the commercial spin-out of KQ Liverpool, announced the event as the next phase of development at Liverpool's Paddington Village.
Liverpool City Council, as landowner, is working with Sciontec to deliver the project that will continue to support growth and jobs in the city's Innovation District, Knowledge Quarter Liverpool (KQ Liverpool).
Located at Plot 9, HEMISPHERE gets its name from the two sides of the human brain – creative yet logical, each side of the office building designed to have its own personality, look, and feel, with features that differentiate one side from the other.
Alongside the 120,000 sq ft of Grade A office provision, HEMISPHERE will include an array of collaboration spaces, a wellness studio, café, and extensive new areas of biophilia-inspired high quality, green, public realm.
The building will be designed to achieve the principles of an operational net zero carbon building, a 'WELL' Building Platinum Standard, and BREEAM rating of 'Very Good'.
The creative design approach is an homage to KQ Liverpool, as an international destination for the life sciences, healthcare, and tech industries.
Sciontec is jointly owned by Liverpool John Moores University, the University of Liverpool, Liverpool City Council, and Bruntwood SciTech. It operates Liverpool Science Park, manages Sciontec AI at The Spine, and is developing new, world class science and technology facilities across the Liverpool City Region.
Its core purpose is to further expand and enhance the knowledge economy in Liverpool by delivering world leading places and spaces to accommodate science, innovation, and tech enterprises.
The public consultation event will be held on Monday, May 16, at The Spine, Paddington Village, between 4-7pm.