People: CoolKit; Time Finance; Hurst; Kuits; Irwin Mitchell; Russell Taylor Group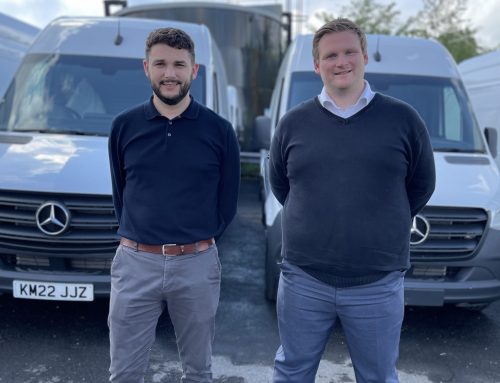 Burnley-based CoolKit has boosted its senior team with two appointments as it continues its plans for growth following record sales orders in Q1 2022.
The UK's largest manufacturer of temperature-controlled vans has welcomed Daniel Miller as its first finance director and Danny Hough as head of technical and development.
Experienced finance specialist, Daniel Miller, joins the company from Finnish paper and energy technology supplier, Valmet, where he most recently held the position of UK managing director. Miller brings a wealth of experience gained through several senior level finance roles over his 14-year career.
He joins CoolKit's senior management team and will oversee the company's strategic finance and planning, focusing on digital transformation and driving continued growth for the business which recently reported that its Q1 sales orders for new converted vans were up by 75%, with total year sales forecast to hit £15m.
Miller said: "The team is full of fantastic people with a culture of quality, care and attention across every department. My job is to build on this extremely successful foundation and look for new ways of working through digital transformation tools, data capture and analysis."
Danny Hough, a qualified mechanical engineer, will be responsible for the product design and development side of the business. Bringing skills gained throughout his career journey from toolmaker's apprentice to manager, he will focus on fostering innovation, continuing to ensure that CoolKit's temperature-controlled vans are best-in-class.
He said: "The CoolKit team is continuing to expand and is supported by a strong management team who are focused on the development of the business. I hope to apply my experience both tactically and strategically to develop a culture where we positively challenge ways of working across the design and manufacturing process, and ask if there are ways that we can do things even better to improve our products."
CoolKit founder and CEO, Rupert Gatty, said Daniel and Danny will be instrumental in helping to take the business forward: "Hiring our first finance director is a strategic move which signals a step-change for our business.
"CoolKit's success depends on us listening and understanding our customers' evolving needs and complex challenges, and by us continually re-imagining our products and services to meet them. Both Daniel and Danny will play key roles in meeting our ambitious growth plans."
::
Time Finance has appointed Sean Hughes as head of compliance to strengthen its position as a trusted lender to UK SMEs and support its strategic, growth-orientated goals.
Sean brings more than 10 years' experience having built a career within the financial services sector. During his time at firms including Thistle Initiatives Group, BNY Mellon, Atlanta Group and Time Finance, Sean has played a hands-on role in monitoring compliance policies and processes, recommending areas for improvement, and providing advisory services.
In his new position Sean will lead the compliance function and ensure the firm continues to excel in meeting its regulatory obligations.
Ha said: "The firm already has an excellent reputation for delivering services built on transparency, integrity, and trust. I'm looking forward to building on that further and helping Time Finance to achieve its longer term commercial goals whilst also ensuring our customers are at the heart of those decisions."
Ed Rimmer, CEO of Manchester-based Time Finance, said: "Sean is a great addition to the Time Finance leadership team and will carry on the great work we have delivered over the last few years. Sean will play an important role in monitoring existing initiatives and seeking improvements so that we maintain our title of a credible and trusted funding partner."
::
Stockport accounting and business advisory firm Hurst has promoted three staff to associate manager level.
They are Oliver Cross and Ellie Wild in the business services team and Jack Moore in the tax team.
Oliver was recruited to the practice in 2017 as an audit senior while Ellie joined as a graduate trainee accountant in 2015 and qualified two years later. Jack joined in April last year as a tax senior.
Partner and director of practice development, Simon Brownbill, said: "Joining us early in their careers, Ollie and Ellie have become invaluable members of the team, and we welcome their promotion to management positions. In a short period of time, Jack has really impressed us with his skills and knowledge.
"We see his promotion as recognition of his stellar performance, and the central role he will play as the team continues to grow and develop.
"These promotions reflect our ongoing commitment to promoting talented individuals within the firm and giving them the opportunity to further their careers with us."
The firm has also recruited three trainee accountants to its growing team. They are Ewan Lawson, who has a Maths and Economics degree from the University of Strathclyde, Tirath Panesar, who graduated in Accounting and Finance at the University of Leeds, and Miles Redgrave, who has an Astrophysics degree from Loughborough University.
In another development, Mimi Weir-Bennett has taken on a new role at Hurst as its dedicated HR and quality associate. She joined the practice as a personal assistant in 2015, then moved to its HR and business support team. Mimi's new role will see her support and promote best practice across the firm.
::
Manchester commercial law firm Kuits has created a new role within its litigation team in acknowledgement of the growth in property litigation matters.
Rebecca Jones joined in 2017 and will now take on the role of head of property litigation. Rebecca has significant experience in property disputes including those relating to development, dilapidations, landlord and tenant disputes and professional negligence issues arising out of property matters.
She has a particular specialism in possession action in both the High Court and County Court against protestors and persons unknown.
Rebecca said: "I am excited to take on the role of head of property litigation as we continue to see a rise in matters in this area. Kuits is an ambitious and supportive firm where I have the opportunity to work on complex matters with a great team around me."
Further to Rebecca's new role, Kuits also announced the appointment of Niall Helferty as a solicitor who has six years' experience in property-related matters in both residential and commercial properties including possession proceedings, nuisances and forfeiture.
Managing partner, Steve Eccleston, said: "Rebecca's new role is an important appointment for Kuits and I have no doubts that she will use her skills and experience to continue to grow this area of the business."
::
Irwin Mitchell has strengthened its commitment to family law in the North West with the appointment of senior associate solicitor Emma Benson, further adding to one of the largest family law teams in the country.
Emma joins from JMW and is experienced in a wide range of family matters. She is well known for handling complex financial issues following the breakdown of relationships and issues relating to the arrangements for children. She has also been recognised as a 'Rising Star' in The Legal 500 UK for the third successive year.
Emma said: "Having grown up and been to school in Cheshire I recognised the great opportunities for a legal career in Manchester, serving clients regionally and nationally, and working with the wider professional community. I look forward to working with such a talented and highly regarded family law team at such an exciting time."
The firm has also shown its commitment to developing its existing family law talent in the region by recently promoting several solicitors across offices in Sheffield, Leeds and Manchester. Roopen Kalirai and James Henshall were promoted to associate solicitor, Lara Tucker and Maisie Huynh were promoted from associate to senior associate, and Helen Revill was promoted to partner.
In addition to these promotions, the firm appointed family law partners Claire Filer and Fran Hipperson in London last month – both bringing a wealth of expertise in complex family law issues.
Ros Bever, national head of Irwin Mitchell's family law team, said: "We are committed to providing true expertise in the family law space, not only in the North West region but across the whole country. Our specialist team continues to go from strength to strength – we're really focusing on how to achieve the best outcomes for our clients by nurturing our own talent and bringing in the best from the region. I am really excited to have a rising star like Emma on board, and look forward to working with her."
The Irwin Mitchell family law team has also recently appointed specialist therapists and launched a mediation support service earlier this year to help clients with the wider elements of mediation beyond the legal aspects.
::
Two new consultants have joined the construction management team at Russell Taylor Group as the North West construction industry begins to see a buoyant return to pre-COVID levels.
Mark Dawson and Molly Hills bring their sales and communications skills to the expanding division based at the technical and engineering recruitment company's Burton Manor headquarters in Cheshire.
Construction management division's manager, Amanda Winder, said: "The construction sector has shown amazing resilience throughout the pandemic and now we're seeing major growth in the region in areas such as new build housing, build to rent and student accommodation.
"Mark and Molly will be adding to the expertise of the division in the recruitment of a white collar construction workforce to fill the growing demand for project managers, construction managers, design management and commercial managers along with quantity surveyors and senior quantity surveyors.
"Their focus will be on channelling this regional growth into major economic recovery for the UK as a whole. There's a great feeling of confidence in the air and they'll be putting their passion and energy into providing talented, experienced people to get high value projects completed."
In the North West, private housing and commercial works are currently the main drivers behind the region's 4.5% annual average growth in construction output, slightly above the UK forecast. Added to this is the building of new care homes as well as fit-outs at existing hospitals, retail outlets and schools.