VC firm Praetura Ventures breaks £100m EIS funding mark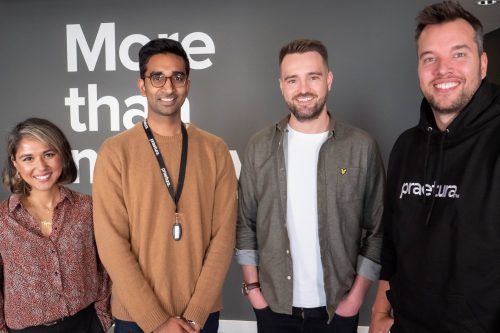 Manchester finance group, Praetura Ventures, has closed its latest EIS Growth Fund, marking a milestone £100m raised since its first EIS (Enterprise Investment Scheme) fund launch in 2019.
The VC investor is now looking to deploy around £15m into approximately 10-15 tech and life sciences businesses, mainly in the North of England, over the next six months.
About two thirds of Praetura's 27-strong portfolio of businesses are based in the North.
The investment group revealed it has already seen more than £1bn-worth of investment opportunities this year, spanning multiple sectors.
Praetura has completed eight investments in the first quarter of 2022.
These include the firm's £1.5m investment into the Manchester-based start-up Sparkbox, which uses AI to help major retail brands, such as River Island, make better stock buying decisions and reduce profit losses.
Praetura Ventures also invested £3m into Orka Technology Group, an innovative SaaS business that provides platform-based solutions to help create a more seamless experience for shift workers and their employers.
To service its growing pipeline, which sees Praetura Ventures assess 200 new early-stage opportunities a month, the group has also made three new hires to its investment team.
These include serial entrepreneur Tania Rahman, who previously founded her own award-winning London restaurant Chit Chaat Chai. Tania joins Praetura as an investment manager and will be responsible for evaluating early-stage investment opportunities and working with the team to transact deals.
In addition, Praetura has welcomed investment executive Mahesh Santiapillai, who brings eight years' industry experience, having previously been an associate at financial institutions such as UBS and LGT Capital Partners.
Praetura has also welcomed Martin Kelly to the distribution team as a client services manager, Martin brings with him more than 16 years of experience from his time at Manchester investment platform AJ Bell. Later in the year Mo Hussain will also join the team as a business development manager.
In January 2021, Praetura Ventures also appointed a further three operational partners from global companies such as Apple, Dr. Martens, Social Chain and AO.com, taking the team to eight industry heavyweights.
Praetura's operational partners provide mentoring and support to the founders in Praetura's portfolio, helping them to scale their business, build networks and develop skills.
David Foreman, founder and managing director of Praetura Ventures, said: "In the three years since launching our first EIS fund, we have been aiming to become the venture capital investor of choice for Northern founders of early-stage companies.
"Throughout our journey, we have put more than money at the heart of what we do, knowing first hand that businesses need far more support than capital alone at this stage of their growth journey.
"In that time, we have had the privilege of supporting some truly exceptional businesses and founders. Over the next 12 months, we plan to invest into even more EIS-qualifying businesses across multiple sectors, knowing the vast contribution they provide to the economy and our everyday lives."