Consumer products manufacturer set for expansion with £500,000 cash injection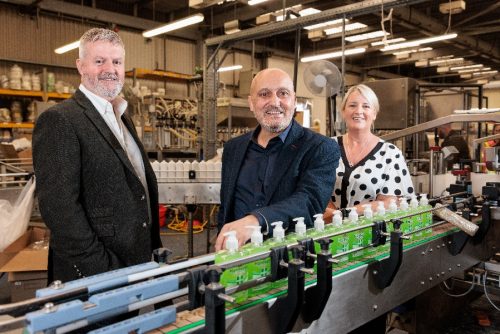 Manufacturer MPM Consumer Products has secured a £500,000 loan to accelerate its growth plans and create jobs.
The cash from NPIF – FW Capital Debt Finance, managed by FW Capital and part of the Northern Powerhouse Investment Fund (NPIF), will be used to strengthen its workforce, creating five jobs by the end of the year, and to develop its service offering with innovative new products.
Founded in 1995, Manchester-based MPM Consumer Products is a specialised contract liquid fill manufacturer of household and personal care products. Based in Manchester, the business employs 80 staff and turnover of £8.5m.
MPM Consumer Products produces some leading UK brands for major retailers with personal care products such as handwash, bodywash, foam and crème bath, creams and lotions, as well as household lines like antiseptic disinfectant and sterilising fluid.
Roberto Sensale, managing director MPM Consumer Products, said: "We have great plans ahead and the funding from NPIF – FW Capital Debt Finance has given us the platform to focus on our future growth strategy and invest heavily in our product development and technical teams. The support from Loz and FW Capital has been great, responding quickly to our requests and ensuring a smooth process throughout."
Loz O'Connor, FW Capital's deputy fund manager, said: "MPM Consumer Products is a highly successful and profitable company. We are delighted to provide growth capital to Roberto and the team who have great plans to introduce new ideas that will support the future expansion of the business as well as create new jobs. This fits perfectly with the NPIF investment criteria, specifically designed to help small and medium sized businesses secure the funding they need for job creation, growth and development."