Royal Mail Warrington super-hub set to open as part of £900m investment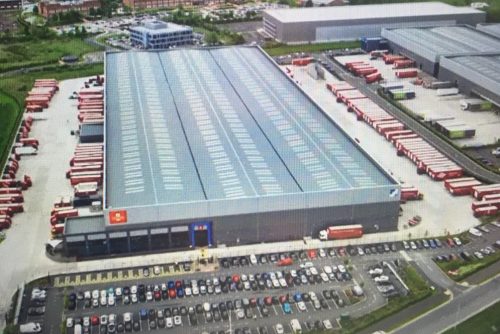 Royal Mail will officially open its first parcels super-hub in Warrington tomorrow (June 16).
It is the first of two super-hubs, the other being in Daventry, in the Midlands, which is due to open next summer as part of an investment worth a total of £900m.
The 344,000 sq ft Warrington site, the size of four-and-a-half football pitches, will be capable of handling 800,000 parcels a day, and when Daventry opens the two sites will be capable of processing more than 1.5 million parcels a day, with options to grow that to more than 2.5 million.
Most parcels will enter the Warrington hub in roll cages and automated tippers will then tip inbound parcels from these onto a conveyor to enable singulation and sortation to take place.
Both sites will involve a high level of automation in the sorting and processing of the parcels which, Royal Mail, says will enable staff to be reassigned to other tasks.
The investment in the sites is in response to a shift in work patterns for Royal Mail which has seen letter volumes shrink, due to increasing use of electronic mailing systems. Royal Mail now derives more than half its revenues from parcels.
Royal Mail chief executive, Simon Thompson, said parcel super-hubs will enable retailers to sell later in the day and consumers to receive items later the next day.
And, in an interview with Sky News, he said Sunday deliveries will play a bigger role in the working week: "We really see massive potential there.
"When we speak to our retailers they're very interested in that extra day with us," he said.
The two super-hubs will also significantly increase Royal Mail's capacity to process mail at peak volumes.