People: Harrow Estates; The Women's Organisation; pro-manchester; Primas Law; Gateley; Crowdguard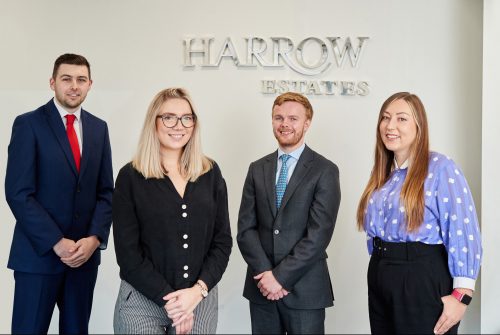 A North West company specialising in land acquisition and planning for large scale developments across England and Wales has strengthened its Cheshire based team with four new appointments.
Based at Daresbury Park, near Warrington, Harrow Estates – a division of Redrow Homes – has promoted Guy Vernon to head of land, and Jonathon Broadey to land negotiator. It has also taken on new recruits Hannah Rodger and Freya Macdonald, as planning manager and land manager, respectively.
Guy Vernon, from North Wales, joined Harrow Estates as a development surveyor five years ago, before gaining a promotion to senior development surveyor in 2020. Prior to that he spent three years with Knight Frank's London residential development department, having qualified as a RICS chartered surveyor.
He said: "I appreciate the opportunity the Harrow board has given me, in a role that is important to the growth of Harrow and the wider Redrow business, and I look forward to working more with the 14 Redrow divisions for new land opportunities."
New planning manager, Hannah Rodger, from Chester, has joined Harrow from Gladman where she spent five years, latterly as senior planner, after graduating with a Masters in Planning from The University of Manchester.
Hannah said: "I'm excited to join Harrow and work on a varied range of sites and projects. It's been great to get involved with Harrow legacy sites such as Woodford Garden Village in Cheshire, where place-making planning has been key to the site's success. Working on the evolving plans to create a vibrant local centre for the Woodford community has been a highlight."
Land manager, Freya Macdonald, who lives in Manchester, began her career with Taylor Wimpey as a graduate before progressing to become an assistant strategic land manager. With a Masters in Urban Planning from Newcastle University, Freya is keen to "get stuck into the role", and put her experience in strategic land to excellent use with Harrow.
She said: "Housebuilding is an exciting industry and it's great to be working with a strong team at Harrow, to both secure new sites and assist the team in converting its existing portfolio into consented schemes."
Former apprentice, Jonathon Broadey, from Warrington, joined Harrow in 2018 straight after studying for his A-Levels at college. Drawn by the prospect of an apprenticeship where he could earn and learn, while gaining vital on-the-job experience, he applied for a position as Redrow's first land apprentice. He has since gained two promotions and is in the final stages of his Real Estate Management Degree course, funded by Harrow.
He said: "I could have followed the traditional route and gone to university to study property but I would only just be graduating now and likely be in lots of debt, with minimal work experience on my CV. Fortunately, I now have four years of work experience, am finishing my degree, and I am half way through my RICS Assessment of Professional Competence. It's been hard work and I've had to manage my time, but Harrow has accommodated my studies."
As land negotiator, it's Jonathon's role to identify and secure new land opportunities.
Julian Larkin, managing director for Harrow Estates, said: "We have an enthusiastic and dynamic land and planning team and these four appointments have served to strengthen our depth of experience as well as bringing existing team members through the ranks with well-deserved promotions. It's particularly pleasing to see the progress Jonathon has made since joining us four years ago as an apprentice fresh out of college."
::
Liverpool-based training and support provider, The Women's Organisation, has bolstered its marketing and communications team with a series of new appointments.
Formerly senior marketing executive, Nikki Anderson was promoted to marketing, PR and communications lead in early spring, in line with a new strategy that will focus more on digital communication and delivery of its services.
Nikki has worked in creative marketing for more than 10 years and is experienced in working for organisations that promote a positive social message and deliver impact for local people. With a wealth of experience in digital media, design and content creation specialising in video production, Nikki joined from The Hive Youth Zone, where she was head of marketing.
Under Nikki's leadership, The Women's Organisation has further expanded its marketing team with the appointment of Anna Lauder and Vicky Gibbons.
Anna joins the business as marketing co-ordinator, having studied English Literature at Bath University. Previously she worked in a role producing content for a travel website and as a digital marketing assistant for a sustainable kitchen company.
Vicky, also a former English student at the University of Leicester, joins as marketing officer and previously completed an internship in marketing and campaigns after graduating in 2021.
Both Anna and Vicky will be responsible for creating compelling digital marketing and social media content that promotes the organisation's growing roster of seminars and training, designed to economically enable and empower women in the Liverpool City Region.
The duo join Nikki and senior marketing executive, Cynthia Ajayi, who has been with the organisation since 2017.
Prior to working for The Women's Organisation, Cynthia was a production coordinator at the BBC and worked on some of their best known and loved TV shows, including The One Show, Songs of Praise and Newsround.
Cynthia is now responsible for marketing programmes and events at The Women's Organisation, and, alongside Nikki, helps to manage digital marketing content. She also hosts seminars, panels and events both in person and online.
Nikki said: "It's an exciting time for The Women's Organisation as we re-adapt after lockdown. We have a new vision and new goals and I know we're going to benefit greatly from new energy, ideas and enthusiasm.
"Liverpool is known as being a city that is bold, enterprising and ambitious, and the women here are determined, driven and innovating. During lockdown, we saw the number of enquiries at The Women's Organisation almost treble – a clear sign of women's tenacity and resilience, despite all the odds being stacked against them.
"I'm very proud to be leading an exceptionally creative and highly skilled marketing team and my ambition is to reach and help as many women as we can realise their goals and achieve their potential."
::
Mills & Reeve lawyer, Rachael Somerset, has been appointed by pro-manchester as chair of its Sports Industry Group. The group has also appointed Mills & Reeve associate, Rustam Sethna, as its vice chair.
The pro-manchester Sports Industry Group focuses on the business needs of clubs, organisations and sporting individuals as well as the contribution sport has on the region's economy and service sectors.
Sam Booth, chief executive of pro-manchester, said the Sports Industry Group is committed to supporting talent across the North West and the appointment of Rachael and Rustam will further enhance the group's impact on the sector. Sam said: "Rachael and I have worked together for many years, firstly when she was on the Future pro-manchester committee which helps young talent within Greater Manchester's business community.
"Now, we are collaborating on developing talent across all areas of the region's sports sector. Rachael and Rustam have a wealth of knowledge and skills across all sports and will be a valuable addition to the group."
Rachael is a principal associate in the Manchester office of Mills & Reeve. She is a commercial litigator and an expert in reputation management and defamation, particularly in the sports, media and entertainment sector. She regularly represents high profile clients including celebrities, professional footballers at top flight clubs, sports organisations, NHS and Education bodies, corporates and charities.
Rachael is also a champion of women in sport and is part of the team behind Mills & Reeves' Equalizer initiative – a bespoke sports law package to help support growth and "level the playing field" for women in sport. Rustam advises on sports disputes and regulation. He has acted for athletes, clubs, governing bodies, player associations, agents and administrators in contractual, employment, disciplinary, ethics, anti-doping and selection disputes before the Court of Arbitration for Sport (CAS) and various international and national governing body tribunals, such as the FIFA Football Tribunal and the EFL's Player Related Dispute Commission.
Rachael said: "I'm looking forward to driving forward the group to help enhance the North West's international reputation as a centre for sporting excellence. Sport is a huge contributor to the North West's economy."
::
Boutique corporate and commercial law firm, Primas Law, has announced a consecutive department hire as it continues to deliver on its strategic growth plans for the year.
Insolvency litigator, Alexia Savar has joined the firm's corporate recoveries and insolvency department based in Manchester. She joins Primas Law having acted for insolvency practitioners and directors with particular expertise in contentious matters including director disqualification proceedings.
Alexia's appointment is in line with the ambitious growth plans set out by the firm in its new financial year, and follows shortly after the practice announced its latest senior hire with restructuring specialist, Dylan Quail joining the team in March.
Chris Love, head of Primas Law's corporate recoveries and insolvency team, said: "As a firm, we've been committed to deliver on our plan to expand our insolvency offering and hiring the best people has always been the priority for us.
"Dylan's experience working as an insolvency practitioner assisting companies and individuals in distressed situations is invaluable to company directors and stakeholders seeking practical legal advice and guidance on their options.
"We have seen a marked increase in insolvency litigation and director disqualification action as well as increased traffic to our dedicated director's advice hub we set up to provide support. That's why we're delighted to have Alexia on board who brings great experience across these areas."
Primas Law is a boutique commercial law firm with offices in Manchester and Cheshire, with the firm's corporate recoveries and insolvency team based in Manchester.
::
A total of 15 promotions have been announced at the Manchester office of legal and professional services group, Gateley.
Louise Ilhan from the residential development team has been made partner with intellectual property, commerce and technology (IPCT) lawyer, Tom Hughes, promoted to legal director.
Gateley has also promoted residential development lawyer Crystal Or, corporate lawyer Ffion Brumwell-Hughes, banking lawyer Rebecca Mills and restructuring lawyer Jenna King to senior associate.
Completing the round are nine new associates spanning Gateley's corporate, pensions, employment, residential development and IPCT teams. They include Imogen Cox, Hannah Serene, Victoria Brown, Jessica Pigg, Hannah Francois, Rachel Collister, Gillian Hanson, Rebecca Nichols and Emily Pritchard.
Paul Jefferson, partner and head of Gateley's Manchester office, said: "I am absolutely delighted to be announcing this latest round of promotions and congratulate everyone who has been recognised for their excellent work. This strong performance is testament to how they have all demonstrated their resilience, professionalism and determination to succeed for themselves, their clients and our business, despite the challenges we have all faced recently.
"At Gateley we are committed to the development of all of our people and I am confident this recognition of their efforts will help them on the path to continued success in the next stage of their legal careers."
The 15 promotions in Manchester are in addition to the 55 promotions across Gateley's Belfast, Birmingham, Dubai, Guildford, Leeds, London, Nottingham and Reading offices.
::
Crowdguard, the specialist in event safety management and perimeter protection, has appointed Iain Moran as the Altrincham company's new managing director. Iain, a former director of ATG Access, also becomes an equity partner in Crowdguard, and a director of the company's new Crowdguard US business in the USA.
Bringing more than two decades' experience in event security, pedestrian safety and perimeter protection to Crowdguard, Iain first joined ATG Access 20 years ago as an installation technician. After moving into sales, he became ATG's head of UK sales, followed by three years as head of global sales, before being appointed as sales and marketing director in 2019.
Iain's remit at Crowdguard will be to develop and implement a sustainable growth strategy, enabling the company to scale up in terms of both product and service offering, and geographical reach.
Deborah Ainscough, founder and operations director of Crowdguard, said: "Iain brings a vast amount of knowledge and experience with him to Crowdguard and will help the company realise its ambition to be a leader in event safety and security, both in the UK and the US. Our aim is to provide expert guidance and a complete solution for venues, event organisers, commercial clients and those responsible for the public realm, from risk assessment and specification, through to quality assured deployment.
"We have already garnered an enviable reputation for technical expertise, quality and customer service, and Iain's experience will help us build on those strengths as we continue to grow."
Crowdguard specialises in temporary safety and security installations for events, venues, sites and pedestrian locations. Iain's appointment and investment in the business is part of the company's strategic growth plan, which involves adding threat, vulnerability and risk (TVR) assessments, along with vehicle dynamics assessments to Crowdguard's service offer, in addition to semi-permanent security and anti-terror solutions.
Iain said: "My investment in Crowdguard and new post as UK managing director and US director provide an exciting opportunity to take a lead role in developing a successful SME through the next stages of growth. I am joining a very talented and ambitious team and have worked with Deborah for some time – we share the same vision and the same passion for keeping people safer."