People: Jackson Lees; Primas Law; Frank Whittle Partnership; CBRE; BDO; Autocab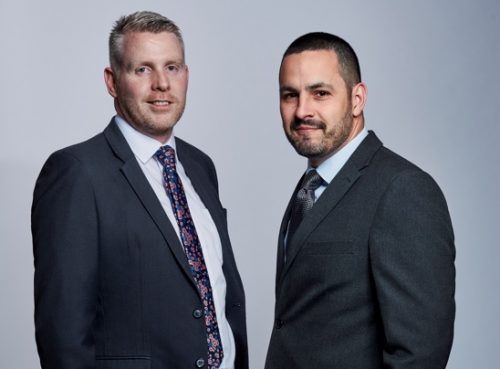 North West law firm Jackson Lees has expanded its wills, trusts and probate team with the appointment of two new solicitors, Rafael Donovan and Barry McDonough.
The appointments come as the firm looks to grow the practice area, increasing its offering and bolstering the team.
Barry McDonough was appointed as team head and solicitor following six years at Hill Dickinson, dealing with wills, trusts, estates and succession planning for high net worth individuals.
After graduating from the University of Liverpool with a Bachelor of Laws degree, Barry became a paralegal in personal injury, before continuing his studies and attaining a Master's in business finance and law.
Switching focus to wills, trusts and probate, Barry then moved to London to get experience in the field as a paralegal before qualifying at Hill Dickinson.
Barry said: "As a team we've got an incredible support network for new and existing colleagues, so we're all very much looking forward to working together and growing the wills, trusts and probate offering."
Joining Barry on the team is Rafael Donovan, who was appointed following two-and-a-half years at MSB Solicitors, where he dealt with wills, trusts, probate and powers of attorney.
The University of Liverpool graduate has previously worked as a mental health support worker, as well as a Citizen's Advice Bureau volunteer, where he developed a passion for offering legal advice.
He went on to achieve a graduate diploma in law (GDL) before taking on the legal practice course (LPC) part-time for two years, while also undertaking road traffic accident (RTA) defendant work to gain legal experience.
Rafael went on to complete his training and spent four years at Morecrofts Solicitors. Rafael said: "It's been incredible settling in to such a dynamic team and I'm thrilled to be part of the wider group. Since starting, I've thoroughly enjoyed the onboarding process and working with such a great support network. I'm looking forward to watching the team take shape and flourish."
Esther Leach, managing director at the Jackson Lees Group, said: "We're thrilled to be expanding such an important focus area for us as we look to bolster our wills, trusts and probate offering. Barry and Rafael have both hit the ground running and we're very pleased to see them getting stuck in. Together, with their experience and passion for helping others, we've no doubt our two new appointments will fit right in to our group of dedicated professionals."
::
Boutique corporate and commercial law firm, Primas Law, has announced a consecutive department hire as it continues to deliver on its strategic growth plans for the year.
Insolvency litigator, Alexia Savar, has joined the firm's corporate recoveries and insolvency department based in Manchester. She joins Primas Law having acted for insolvency practitioners and directors with particular expertise in contentious matters including director disqualification proceedings.
Alexia's appointment is in line with the ambitious growth plans set out by the firm in its new financial year, and follows shortly after the practice announced its latest senior hire with restructuring specialist, Dylan Quail joining the team in March.
Chris Love, head of Primas Law's corporate recoveries and insolvency team, said: "As a firm, we've been committed to deliver on our plan to expand our insolvency offering and hiring the best people has always been the priority for us.
"Dylan's experience working as an insolvency practitioner assisting companies and individuals in distressed situations is invaluable to company directors and stakeholders seeking practical legal advice and guidance on their options.
"We have seen a marked increase in insolvency litigation and director disqualification action as well as increased traffic to our dedicated directors' advice hub we set up to provide support. That's why we're delighted to have Alexia on board who brings great experience across these areas."
Primas Law is a boutique commercial law firm with offices in Manchester and Cheshire, with the firm's corporate recoveries and insolvency team based in Manchester.
::
Architecture, design and masterplanning practice Frank Whittle Partnership (FWP) has announced several senior promotions as its project list continues to grow.
FWP is well known for its sports stadia and healthcare design work, though its portfolio is much wider and ranges from heritage projects to leisure developments. Headquartered in Preston, it also has offices in Manchester and London.
Promotions include Phil Nealen who has been made a partner at the award-winning multi-disciplinary firm. Phil, who has been with FWP for 25 years, has led on a large number of NHS and healthcare projects across the North West.
Brad Grime and David Simmons have both been promoted to senior associate. Brad, who heads FWP's Manchester office, specialises in sports and leisure and has led on various high profile projects. David, FWP's lead interior designer, has led on various NHS and sports and leisure projects.
There have also been seven promotions to associate level across the various disciplines: Michael Bates-Tracey, architect; Kate Simmons, interior designer; Guy Hirst, building surveyor; Sam Shuttleworth; project manager/quantity surveyor; James Halsall, architectural delivery; Jonathan Hunter and Jonathan Strother, quantity surveyors.
Finally, Brian Jolly becomes manager of the health and safety department.
FWP managing partner, David Robinson, said: "Our people have a wealth of experience, and their range of knowledge ensures that we consistently deliver projects efficiently and cost effectively.
"Given that, it is only right we recognise the contribution they make to FWP's success. These promotions are very well deserved. The appointments will also allow our senior management team to concentrate on managing the practice and to continue to move it forward and to explore new opportunities."
::
CBRE has bolstered its UK development & residential team in the North West with its latest hire. Claire Robinson joins as associate director to strengthen the team within the Liverpool and North West market. Claire will cover the Northern region from her base in the Liverpool office.
Claire joins from Avison Young where she was associate director for four years and prior to that she worked with Bilfinger GVA as senior surveyor in the land and development team.
A well known figurehead with more than 15 years' experience in the North West property market, Claire has acted on behalf of both public and private sector clients providing agency and development consultancy advice on a wide range of commercial and residential projects across the region.
Recent clients have included Homes England, Burton Foods Ltd, Aldi, MOD, NHS, Miller Homes, RSPCA Liverpool Branch, as well as Wigan Council and Liverpool City Council.
Claire will further enhance the UK development & residential team's capabilities advising clients across development consultancy and regeneration including masterplans, scheme optimisation and development land agency to both private and public sector clients.
Kieran McLaughlin, senior director, CBRE's UK development & residential team, said: "Claire has a fantastic reputation within the Liverpool market working on some high profile projects. Her breadth of experience and expertise in the sector will further enhance our capability across the North of England."
Claire Robinson said: "I look forward to supporting Kieran to strengthen and grow the team throughout the North West. There are exciting opportunities within the residential sector and I am keen to explore these as part of CBRE's market-leading team."
::
Accountancy and business advisory firm BDO has strengthened its customs, excise and international tax team with the appointment of Stephen English as director.
Stephen will be responsible for helping clients with the full range of customs and international trade issues, working across BDO's service and sector lines to deliver a comprehensive tax offering. In addition to his experience advising clients, Stephen spent 10 years at HMRC where he was a senior officer and regional manager in the CITEX and large business directorates.
Stephen has worked on more than 150 Brexit and supply chain projects for businesses, ranging from mid-sized privately-owned companies to multinationals and Government departments.
Angela Cross, head of tax for BDO in the North West, said: "Stephen has significant customs experience, including transfer pricing, classification and origin, as well as specialist procedures such as inward processing, customs warehousing and AEO. His in depth knowledge and experience at HMRC will be vital as clients continue to navigate a post-Brexit landscape and increasingly complex global supply chains."
According to BDO's recent Rethinking the Economy survey, one in 10 North West companies have stated that the ongoing impact of Brexit – such as supply chain disruption and complicated customs legislation – poses the biggest threat to the growth of their businesses in the next three months. Despite this, 28% of businesses in the region already operate overseas and plan to expand our overseas activity.
Stephen said: "I anticipate further changes for all importers and exporters, particularly with planned system changes as HMRC moves from the CHIEF to CDS system, as well as the eventual implementation of phytosanitary checks on food from the EU which is currently not in place. Together, these will present additional challenges to businesses, as they continue to acclimatise to life outside of the European single market."
He added: "I'm really looking forward to working alongside an ambitious and enthusiastic team with the shared vision of enhancing BDO's customs offering to clients and developing the current team into a national practice."
::
Autocab has appointed Mike Russell as its Manchester-based chief operating officer to assume responsibility for execution excellence, operational assurance and optimising and digitalising the way Autocab delivers its products and services to its global client base.
He will also build on the strong momentum within the business, as part of the strategic focus on developing a consistent, high quality way of working, and with particular emphasis on the provision of world class technical support and onboarding.
Mr Russell said: "Autocab has a brilliant team which has enabled it to be such a success story over the last 30 years. Implementing complex, central, systems in any business is a major endeavour and the key to success is having strong relationships at all levels. I look forward to meeting Autocab's customers around the world and to building strong and rewarding relationships with them."
Safa Alkateb, CEO at Autocab, said: "Mike has a solid understanding of global operations, go-to-market strategy, and customer satisfaction, and a proven track record of maximising the growth potential of a range of businesses.
"Excellent project execution and optimising the way we work, as we expand globally, are at the heart of delivering best-in-class solutions for our clients. I'm delighted to welcome someone of Mike's calibre as our new chief operating officer and have every confidence that he will provide the leadership and rigour to enable us to deliver against one of our most important strategic priorities."
Prior to joining Autocab, Mr Russell has held senior positions for established tech businesses, predominantly in the travel industry, including serving as group chief executive for Comtec Holdings, chief executive for Vertical Systems and most recently, chief operating officer for Open Destinations.
An engineer and accountant by training, Mike has extensive experience of providing excellent service to a global B2B customer base in the software arena. He brings a practical, hands-on approach to delivery and believes that the foundations of successful implementations are openness, honesty and trust.