Work continues as Peel L&P takes control of Wirral Waters modular build site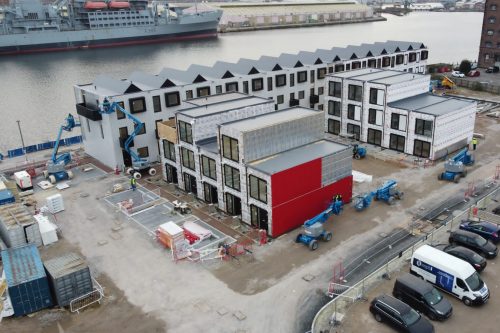 Manchester-based developer Peel L&P has taken control of the East Float housing project at its Wirral Waters site.
It follows the collapse last month of House by Urban Splash, which was delivering the modular build housing scheme on the Birkenhead Docks site.
Richard Mawdsley, director of development for Peel L&P's Wirral Waters, said today: "Since House by Urban Splash entered into administration, Peel L&P have taken control of the East Float housing project and will be responsible for the development moving forward.
"Our contractor, who is unaffected by the administration, is onsite and key staff have been retained to ensure practical completion of Phase One of the project which comprises 30 homes.
"We expect to achieve practical completion within a matter of weeks."
He added: "The housing products we have delivered in Phase One, and plan to deliver in Phase Two, have been designed by Liverpool-based architects, shedkm.
"Both the 'Town House' and 'Row House' homes have been designed so they can be constructed using a variety of methods, including traditional, full volumetric and panelised delivery.
"The different approaches to delivery will not impact on key features such as the 50% reduction in energy costs when comparing Town House to a similar new-build home.
"We are now working with the architects, our contractors, and others, to finalise our approach to the delivery of Phase Two, the next 55 homes, which we are confident will be delivered within the planned timescales."
He said plans for the final two phases of the East Float project do not involve the House by Urban Splash factory in Alfreton, Derbyshire, which lost 160 jobs following the administration, and will be delivered as intended.
Mr Mawdsley said: "The overall delivery trajectory for this particular development at Wirral Waters will not be adversely affected by the closure of the factory, and it will be delivered in full and on time.
"East Float is one of three residential schemes now onsite along the new Northbank neighbourhood area of Wirral Waters, that will collectively deliver over 1,100 new homes in the next few years.
"This includes the catalytic 500 home Millers Quay development which is also on site. These schemes will sit alongside new public realm, parks, and dockside walkways, much of which is already complete, creating a new diverse and sustainable community at Wirral Waters."
House by Urban Splash was a subsidiary of Manchester housing developer Urban Splash, which is unaffected by the administration being handled by Teneo.
House by Urban Splash was a joint venture between Urban Splash, Japanese house builder Sekisui House, and Homes England. The two main shareholders held 48% of the company, with Homes England holding the remaining four per cent.
The modular business was demerged from the main group in 2019 when Sekisui House and Homes England invested £55m in the business.
Several connected companies were also been placed into administration. These included Urban Splash House Investments, Urban Splash House, Urban Splash Modular, Port Loop Holdings, Port Loop and Port Loop (Subco1).
Joint administrator Adrian Berry said at the time of the appointment: "This appointment follows various operational issues relating to the factory in Alfreton, which have impacted the wider group.
"We will now look to stabilise the US House Group by providing a platform to complete certain developments and explore sale options for the factory and the other development sites."