House by Urban Splash in administration with loss of 160 jobs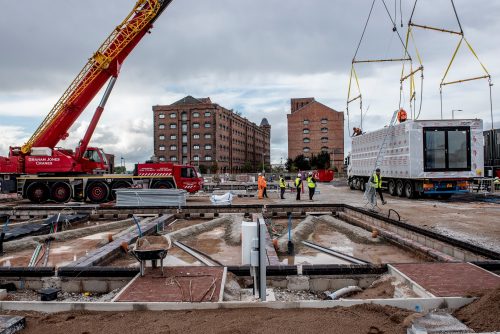 A subsidiary of Manchester developer, Urban Splash, has been put into administration with the loss of 160 jobs.
House by Urban Splash is a modular housing business creating homes at its factory in Alfreton, Derbyshire, for assembly on site.
One of the main sites featuring its homes is the Wirral Waters development, on Birkenhead's docks.
The Urban Splash group, which is unaffected by the administration, confirmed that Teneo has been appointed administrator of House by Urban Splash.
House by Urban Splash was a joint venture between Urban Splash, Japanese house builder Sekisui House, and Homes England. The two main shareholders held 48% of the company, with Homes England holding the remaining four per cent.
The modular business was demerged from the main group in 2019 when Sekisui House and Homes England invested £55m in the business.
Several connected companies have also been placed into administration. These include Urban Splash House Investments, Urban Splash House, Urban Splash Modular, Port Loop Holdings, Port Loop and Port Loop (Subco1).
At the time of the appointment of the administrator House by Urban Splash employed a total of 187 staff.
A statement from Urban Splash said: "The directors of House – Urban Splash House Holdings Group – have appointed administrators from Teneo to the company.
"The appointment of Teneo senior managing directors Adrian Berry and Daniel Smith to the company has no impact on the wider Urban Splash group or its operations, which continue to run successfully.
"House is a joint venture between individual shareholders who own 48% of the equity, Homes England which owns 4% and Sekisui House UK Limited, which owns the remaining 48% shares.
"The administrators will oversee completion and sale strategies for the company's developments."
Joint administrator Adrian Berry said: "This appointment follows various operational issues relating to the factory in Alfreton, which have impacted the wider group.
"We will now look to stabilise the US House Group by providing a platform to complete certain developments and explore sale options for the factory and the other development sites.
"We would like to thank all employees and other key stakeholders for their continued support."
It is unclear how the administration will affect sites like Wirral Waters, but Richard Mawdsley, director of development for Peel L&P's Wirral Waters, told TheBusinessDesk.com: "Our immediate thoughts are for Urban Splash's factory staff who now face redundancy.
"For our part, we are currently working through the implications of the news for the East Float development. The first 30 of the modular homes have been delivered to site and practical completion is due imminently.
"This news does not impact on any other plans for Wirral Waters, where the pace of delivery remains high with a range of projects on site now, including two other residential projects within the Northbank neighbourhood."
Earlier this week (May 10) Urban Splash revealed it has submitted plans for the second phase of a £55m waterfront development on the site, involving a further 55 waterside family homes in the Northbank neighbourhood at Wirral Waters.
The residential scheme is being developed through a joint venture between Peel L&P and House by Urban Splash.