People: Dow Schofield Watts; Royce Peeling Green; Deloitte; Ward Hadaway; Manchester International Festival; Claimsline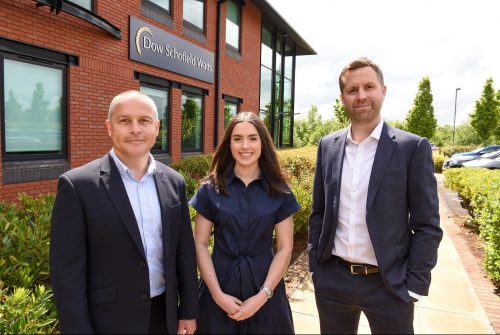 Daresbury-based Dow Schofield Watts has expanded its corporate finance team in the North West with the appointment of Rose Arnold as an executive.
Rose has six years' experience in finance. She started her career at PwC in Manchester, where she qualified as a Chartered Accountant and worked in digital audit, testing IT access and controls for some of the UK's leading banks and financial institutions.
She went on to work for Liverpool-based online retailer the Very Group where, as an analyst in its financial services arm, her role included financial planning and monitoring.
Recent deal statistics show that Dow Schofield Watts was the most active corporate finance adviser in the North West during the first quarter of the year, and also ranked sixth in the UK, based on deal volume.
Gregg Pendlington, who leads the North West corporate finance team, said: "Rose's relevant experience makes her a valuable addition to our team. Given the recent levels of activity and the strong deals pipeline, Rose's appointment gives us additional capacity in what continues to be a very busy market."
::
The directors of Royce Peeling Green have announced the promotions of Carolyn Dutton, Ian Wynn, Anthony O'Connor and Jon Hayward to the Mancheser-based RPG Group board.
Carolyn, Ian and Jon were already directors of RPG Chartered Accountants and Anthony was an existing director of RPG Chartered Financial Planners.
Jonathan Brownson, managing director of the RPG Group, said: "These promotions to group director level recognise the hard work and dedication demonstrated by the four new directors to the firm, our clients and our people.
"For RPG to thrive, it is essential that we continue to grow and develop at all levels."
::
Deloitte is boosting investment in its regional business by promoting seven people to partner, one to associate partner – a senior signing director – one to senior director and 19 people to director in the North West.
Based in Manchester, the seven partners are Zoe Davidson and Tim Bridge, financial advisory, Paul Greenall and Helen Rylands, tax & legal, Doug King and Saul Wadsworth, audit & assurance, and James Meadowcroft, risk advisory. Elizabeth Benson has been promoted to associate partner – a senior signing director – in audit & assurance and Nabanita Ghosh has been promoted to senior director in consulting.
The people who have been promoted to director are Alexandros Philippides, Chris Bailey, Emily Hesketh, Stephen Harrison and Sophie Jackson in audit & assurance, Ryan Warburton, Tim Hayle, Nicola Wainscott, Warren Bolas, Benjamin Holguin and Adam Cooper in tax & legal, Ben Scholey, Samuel Boor, Katie Wray and Niall Alcock in financial advisory, Stacy Dyer, Thomas Graham and Sajid Akhtar in consulting, and Emily Durn in risk advisory.
Zoe Davidson is part of the real assets advisory team across the North and leads Deloitte's levelling up agenda. She focuses on major development advisory which combines real estate, infrastructure, economic growth and place making expertise to deliver a significant difference to the success of communities.
Tim Bridge leads the sport business group working with governing bodies, national associations, clubs and other sports organisations around the globe. Tim is a regular speaker at industry events and media commentator on sports business.
Paul Greenall is an actuary within the global employer services team. He has been with Deloitte for more than 15 years and has extensive experience of advising both UK and international clients. Paul will lead the pension practice across the North specialising in pension advice to both corporates and trustees.
Helen Rylands is part of the firm's global employer services practice, based in Manchester and leading a team spanning the North of England and Scotland. She provides advice on all aspects of employment taxes and social security. She has a lead ESG role for the global employer services practice nationally, advising clients on implementing more responsible employee reward choices and workforce policies.
Doug King is part of the audit and assurance practice, with more than 15 years' experience working with a variety of UK and US listed companies across a number of sectors. He leads the audit & assurance wellbeing strategy, was a former chair of Future Pro Manchester and is one of Deloitte's mental health champions.
Saul Wadsworth leads Deloitte's North Assurance hub and specialises in accounting advisory. With more than 16 years' experience, Saul advises on the most complex and challenging technical accounting matters and the practical application of accounting and financial reporting requirements.
James Meadowcroft is a partner within Deloitte's risk advisory team and leads the North West internal audit & controls team. He specialises in supporting businesses solve their risk, control, compliance and assurance challenges, helping to drive transformational change. James is also climate lead for the North West region.
Andy Westbrook, practice senior partner for the North West at Deloitte, said: "It's testament to our continued growth in the region that we have made 28 senior promotions this year. These promotions showcase the breadth and depth of Deloitte in the region as they span all service lines."
::
Top 100 law firm Ward Hadaway, with offices at Chapel Walks, Manchester, has announced the promotion of four lawyers to the role of partner as the firm continues to deliver strong growth across North West and the wider Northern region.
Kerry Adcock, Louise Cannell-Mirza, Melanie Gavin and Laura Gooddy are celebrating being made partners in the firm as part of a total of 28 lawyers who have been promoted this year. Melanie and two other lawyers are from the Manchester office.
Liz Bottrill, executive partner at Ward Hadaway Manchester, said: "Our team are exceptional lawyers who thoroughly deserve their promotions, which reflect an important milestone in their individual careers."
Martin Hulls, managing partner at Ward Hadaway, said: "As a full service firm, we're focused on delivering high quality, expert legal support across a wide range of sectors, encompassing all aspects of the law. Our investment in the recruitment and development of our people enables us to achieve this and is accelerating our growth. It's an exciting time to work at Ward Hadaway."
With more than 450 people in three key locations – Leeds, Manchester and Newcastle – Ward Hadaway is a Top 100 law firm, established around 30 years ago.
Melanie Gavin, a barrister specialising in healthcare matters, said: "Since I joined Ward Hadaway I have been fortunate to work with some world class organisations and individuals in the healthcare sector."
::
Manchester International Festival (MIF) has appointed three new additions to its board as the organisation prepares to take on the operation of The Factory, a new landmark cultural space opening in Manchester next year.
Faz Barber, Lamia Dabboussy and Laura Jordan-Bambach each bring expertise in media, advertising and youth culture. Laura is seen as an industry leader in the design sector and an award winning gender diversity activist, encouraging those underrepresented in the sector to pursue roles in the creative industries.
Lamia has the utmost proficiency in talent development, audience focus, digital production and distribution, while Faz has a background in performance and architecture and has sat on MIF's Young People's Forum since 2019.
Tom Bloxham, Manchester International Festival chair, said: "It is a huge privilege to lead the MIF board and I am immensely grateful to our board members, all of whom are leaders from the worlds of arts, business, sport, media and civic leadership with international reputations, who choose to give their time and skills freely to help realise our massive ambitions for MIF and The Factory. It is a joy to welcome Laura, Faz and Lamia to the board at this really exciting moment."
Faz Barber, architectural designer and Young People's Forum representative, said: "I am incredibly grateful to be appointed on the board of an organisation that has supported my career in the arts over the past two years. I hope to be a diverse voice by bringing a young current perspective and utilise my knowledge in architecture and performing arts to influence the decision making process for the development of The Factory and MIF23."
Lamia Dabboussy, arts and media consultant, said: "I'm thrilled to be joining the MIF board at this absolutely transformational time. I've long admired MIF's huge creative ambition – particularly its desire to pioneer new experiences for audiences – and The Factory provides a once in a lifetime opportunity to build on MIF's mission all year round, working with local communities, talent and partners alongside the world's best artists to create visionary new work for Manchester and beyond."
Laura Jordan-Bambach, president and chief creative officer of Grey, said: "I'm hugely excited about joining the board of Manchester International Festival/The Factory. It's the most inclusive, experimental and creative festival in the UK and a leader on the world stage and I'm pleased to be part of such a wonderful organisation."
These additions follow the recent appointments of Tom Cunningham as head of commercial operations and partnerships, and Low Kee Hong as creative director, who will work alongside John McGrath, artistic director and chief executive and the rest of the curatorial team on developing the artistic programme for The Factory.
::
Claimsline, an accident management company based in Ardwick, has appointed Chris Roy as chief growth officer.
Regulated by the FCA, Claimsline provides a recovery service to drivers who have been involved in a motor accident. Its service offers manufacturer-approved repairs and like-for-like replacement cars with no impact on a motorist's no-claims bonuses.
Looking to improve its customer experience, tech-enabled Claimsline is developing a new client portal to complement its in-house CRM system. The portal will provide reliable and useful updates to customers throughout their claim without the need to get in touch.
Chris Roy is spearheading this drive. Joining from AutoConvert, a fin-tech platform which was acquired by Auto Trader in 2010, where he was previously head of product, Chris is responsible for improving the overall customer online journey, and to develop new marketing channels to further grow Claimsline's client base.
Alongside Chris's appointment, Claimsline plans to expand its team of experts by 50% from 18 to more than 30 this year.
Andrew Franks, commercial director at Claimsline, said: "Our growth since 2019 is a credit to the hard work and dedication of our experts. We're constantly on the lookout for new ways to improve our customer service and are excited to welcome Chris to the team and for the new ideas he'll bring."
Chris Roy said: "The service that Claimsline provides to its customer is extremely valuable and makes a real difference during what can be a very stressful time. We have a lot of exciting concepts in the pipeline that I'm looking forward to working on that drive solutions forward."