People: Anwyl Lancashire; Marketing Lancashire; Gregory Abrams Davidson Solicitors; AG Project + Building Consultancy; Specsavers; Liberty Group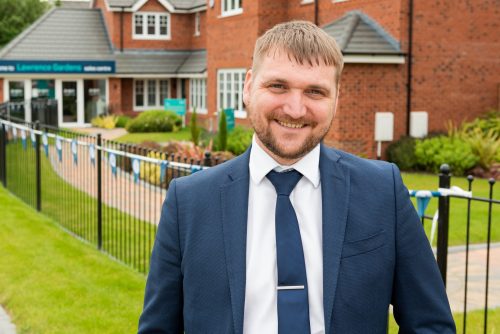 Daniel Owens has been promoted to head of commercial at Anwyl Homes Lancashire.
It follows Tom Grundy moving to a full-time role as commercial director for the Anwyl Group, focusing on supply chain relationships across the wider business.
Daniel, who joined Anwyl last year, began his housebuilding career 15 years ago as a trainee with Barratt Manchester. He studied for a HNC qualification at the University of Salford and became a quantity surveyor, rising to the role of group surveying manager, servicing different Barratt housing operations across the UK.
In his new role as head of commercial, Daniel is overseeing a team of three surveyors, a senior buyer and commercial trainee, with recruitment under way for a new trainee.
He said: I'm looking forward to taking on the challenge that comes with more responsibility. The industry continues to move at pace as we work towards meeting new building regulations, making our homes even more energy efficient and continuing to achieve high quality standards. It's my role to ensure we do all of that on budget."
Managing director of Anwyl Homes Lancashire, John Grime, said: "Tom Grundy was one of the founding employees of Anwyl Homes Lancashire and played a key contribution in building the business. The running of the commercial department is a critical role and having worked closely with Tom, Daniel was the natural choice to head up the department, taking full responsibly for all commercial functions at Anwyl Homes Lancashire."
::
Andrea Challis, joint owner and CEO of one of Lancashire's most popular and successful holiday park operators, The Partington Group, has been appointed by the board of Marketing Lancashire to the role of interim chair of Marketing Lancashire.
She became a director of the board of Marketing Lancashire in 2019 and has been very active in the promotion of the county, sharing her wealth of experience on a number of sub-groups covering a wide range of businesses and visitor attractions.
Andrea is also a member of the Blackpool Business Leaders Recovery Group and is a director of Blackpool Tourism Bid.
She said "As a Lancastrian who has worked in tourism, travel and the hospitality industry for most of my life, I'm really proud to take on the role of interim chair of the board of Marketing Lancashire. I'm also grateful to my fellow board directors for their support and for the confidence they have shown in me."
Andrea steps into the interim chair role following the departure of Tony Attard, at the end of 2021. The full recruitment process for the appointment of a permanent chair is currently on hold until the Government announces its response to the DMO review, as this could potentially inform future governance arrangements.
Rachel McQueen, chief executive of Marketing Lancashire, said: "We are so pleased that Andrea has agreed to become interim chair, she is a fantastic advocate for the county and for the tourism and hospitality sector and we look forward to working closely with her over these critical next few months as we work with stakeholders to set future ambitions for the promotion of Lancashire."
::
Law firm Gregory Abrams Davidson Solicitors has appointed John Corkill solicitor, auctions and property specialist, to support the growing workload for its residential property team.
The expanding practice, with a network of offices in Liverpool and London, made the appointment in response to increasing demand for expert legal services from clients buying and selling residential properties.
The property division of the firm has a team of 12 specialising in providing tailored legal advice for clients seeking services including buying or selling commercial or domestic property, remortgaging, transferring equity, extending leases, tenancy agreements, probate sales, right to buy from a landlord and property acquisitions and sales at auction.
John has wide ranging experience of residential freehold and leasehold sales and purchases, new-builds, shared ownership, adverse possession claims, plot sales and auctions.
He said: "Despite the rising cost-of-living and many other issues affecting spending power, the housing sector continues to buck the trend. The investor and private interest in the property market remains very strong with everyone wanting to move as quickly as possible as demand continues to outstrip supply."
::
Manchester, Preston and Sheffield-based AG Project + Building Consultancy (AG) has launched a new sustainability service after experiencing a surge in demand for strategies designed to minimise a property's environmental impact.
The new service will be headed by building surveyor Gemma Cornwall, who was a key member of the firm's team on property projects for Boohoo, London-based housing association ARHAG, Futures Housing Group, and Lancaster City Council, which together exceed £84m.
Gemma said: "Sustainability has long been discussed, but now it is a central focus for all of our clients. Demand for advice on sustainability has been increasing over the past five years, but these last 18 months have seen a significant change in attention toward sustainability.
"As a strategy in managing properties, it was largely on the periphery, but it is now very much the central issue. The climate agenda has certainly acted as a key catalyst, but with rising energy costs, it has placed the subject very much at the top of the agenda."
The new service will be offered through each of the firm's offices in Manchester, Preston and Sheffield, with the headcount of the team expected to increase over the next year.
::
Specsavers in Manchester Arndale Centre has welcomed new optometrist director, Chetan Mistry.
With more than 16 years' experience in optics, Chetan joins the 52-strong team and will head up the store alongside fellow director, Peter Dodd.
The 32-year-old, who lives in Worsley, originally started working in Specsavers at just 16-years-old, back in his hometown of Solihull. Keen to pursue a career in optometry, he studied at the University of Manchester and continued to travel back to Solihull every other weekend to work at the store. After qualifying he then went on to work between the Solihull and Shirley Specsavers stores.
After relocating to Manchester, Chetan has spent the past seven years working at Specsavers Manchester Fort. He became an optometrist director in 2016 after completing the Specsavers Pathway course, an internal development programme designed to set employees on a path to becoming a store director.
He said: "We have a great team and I'm looking forward to the challenge of a new role. Together with Peter, we hope to open more clinics, so we can offer more appointments to the community. We also plan to grow the contact lens side of the business to meet growing demand."
::
Property services company Liberty Group has welcomed three new members to its board of directors.
Debbie Francis, an award-winning senior leader with 20 years' experience in STEM industries including civil engineering, Jonathan Prew, who is currently transformation director at Achieve Together, and Paul Butterworth, executive director of assets at Wythenshawe Community Housing Group, will take up their roles in June. Also joining the board is Liberty's group managing director, Ray Jones.
The new external members bring with them extensive experience of local government, business transformation, large scale infrastructure projects and oversight of large budgets.
Jones has been leading Liberty since joining the business in December 2018, and has seen business growth which has taken Liberty from a turnover of around £76m per annum to a projected £111m per annum in 2022-23, as well as overseeing transformational change in the business's profitability and performance.
He has enjoyed a varied career across transport, utilities, health, property and engineering sectors.
Liverpool-based Liberty provides property services to more than 250,000 homes across the UK. It specialises in the full range of property services including reactive and planned maintenance across all technical disciplines, refurbishments, mechanical and electrical projects, construction and whole-home decarbonisation.
Ray Jones said: "I am thrilled to be joining our board of directors and to be working alongside such accomplished and experienced business leaders."
Martin Joyce, chair of Liberty Group Investments, welcomed the new additions, saying: "Their combined skills and experience will refresh and strengthen the board taking the company forward as we look to support clients across a number of exciting growth opportunities within our sector."
He added: "Debbie is known as a pioneer and amongst other roles she has an impressive non-executive portfolio including chair of Lancashire LEP and trusteeship at Pave the Way charity. We are excited that Liberty will be benefitting from her expertise.
"Jonathan has brought forward a number of 'UK first' services in local government and has delivered £1bn of new business in his career. He will also be a huge asset to the board."
The board changes come following a recent announcement that Liberty had been awarded contracts valued at £32m over the next 10 years, bringing the total of new business secured during 2021-22 to £108m.