'Liverpool in a pint' returns as Cains is revived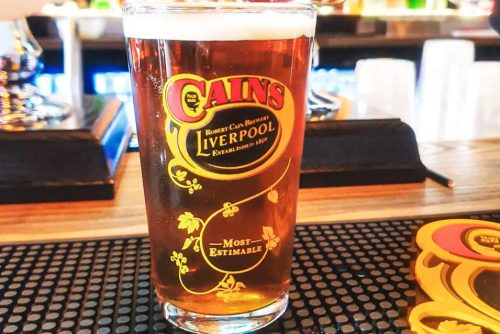 A new era for Liverpool brewer Cains begins today (June 24) when the first pint of its finest bitter will officially be served once again.
The milestone will be marked at the newly-opened Cains Brewery following a multimillion-pound renovation at the site where Robert Cain first brewed his range of ales back in 1858. The investment has created 40 jobs.
The beer they call 'Liverpool in a pint' disappeared from bars almost 10 years ago, but St Helens-based Mikhail Hotel & Leisure Group, the new owners of the Cains Brewery development in Stanhope Street, Toxteth, is behind its return under a new management team.
The Cains brand was revived in 2002 when brothers Sudarghara and Ajmail Dusanj bought the business. They introduced a popular range of around 10 different brews, but the venture collapsed into administration in the financial crash of 2008.
The Dusanj brothers bought back the red brick brewery and eight of the original pubs, but brewing came to a halt in 2013 and, despite plans to relaunch as a microbrewery, the brand has lain dormant, until now.
The first brew to be ready is Cains Finest Bitter, a prize-winning cask beer brewed to a traditional recipe. Cains Lager will also be ready in around another week's time and will be available to enjoy at all Mikhail Group Venues across the North West, as well as the brewery's tap room.
Situated within the the Baltic Triangle the brewery lends an industrial Victorian feel, spread across three floors filled with Cains memorabilia and two private tap rooms where visitors can turn their hand to pouring their own pint of Cains Lager.
The Mikhail Hotel & Leisure Group operates a variety of outlets throughout the region, including the Grade ll-listed Bold Hotel in Southport, Liverpool's largest Irish bar, Punch Tarmey's and The Brewery Tap which are based at the Stanhope Street Brewery Village, and Doctor Duncan's pub based in Liverpool's Queen Square.
The group is also currently transforming iconic Southport building The Grand which will open next month.
Andrew Mikhail, group chairman, said: "Cains beer is synonymous with Liverpool, I love the Cains brand with the vivid yellow logo.
"The beer they call 'Liverpool in a pint' has been missed by many since it disappeared almost 10 years ago. I feel incredibly proud to be bringing this iconic brew back to life and I'm sure that there are many real ale fans looking forward to enjoying that first pint of Cains this weekend."
One of the old brewery's most popular pints was Cains Raisin Beer, and current general manager and head brewer, Andrew Hayes, revealed it is set to make a welcome return.
"The Raisin Beer was one of the best loved beers Cains ever produced – and will be available very soon. We are excited to bring the original recipe back to life for all to enjoy," he said.