Greater Manchester finalises Clean Air Plan for submission to government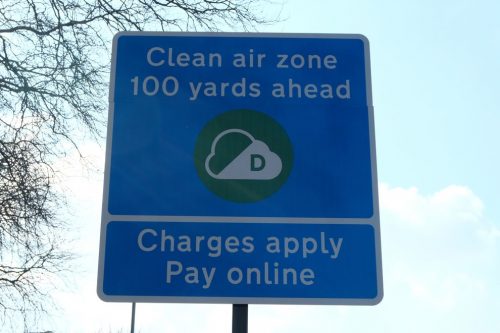 Greater Manchester is to submit its case for a new investment-led, non-charging Clean Air Plan, to meet a government July 1 deadline.
Earlier this month Environment Secretary George Eustice suggested that Greater Manchester should consider a smaller charging Clean Air Zone covering Manchester city centre.
But all of Greater Manchester's political leaders are clear that clean air compliance should be achieved through an investment-led, non-charging approach.
Unlike the previous charging Clean Air Zone scheme defined by government guidance, the investment-led, non-charging GM CAP seeks to attend to the cost-of-living crisis – through avoiding the use of charging – and will actively consider the impacts of the pandemic, particularly on Manchester city centre, where it needs to support ongoing recovery due to changes in economic activity and the impact of wider global economic instability on supply chains.
The plan includes:
Evidence that economic conditions have deteriorated significantly since the previous Clean Air Plan was agreed in summer 2021, with businesses in Greater Manchester now dealing with the cost-of-living crisis, soaring inflation and high vehicle fuel costs.
New analysis which shows how an investment-led approach could see financial support targeted towards upgrading vehicles which frequently travel through locations where modelling shows exceedances of legal NO2 limits might otherwise continue.
A commitment to review local policy changes, such as goods vehicle access controls, alongside regulatory measures such as vehicle licensing standards to accelerate fleet upgrades.
A proposal to work with government to agree the targeted use of the CAP ANPR cameras to support identification of vehicles that could be upgraded, and also for potential law enforcement activity related to the detection of crime.
The submission to the Government also addresses concerns that the price of new and used commercial vehicles is rising, making upgrade less affordable, with anecdotal evidence that the trade-in value of Euro 5 and older Hackney cabs is falling, as more cities bring in tighter licensing standards and/or Clean Air Zones.
Some sectors potentially in scope for the Clean Air Plan have still not recovered from the impacts of the pandemic, including the coach sector, with lockdown restrictions meaning that many were forced to stop operating for long periods.
Tackling the health impact of poor air quality remains a priority for Greater Manchester but the region argued that the previous GM CAP became unworkable due to changes in the global vehicle supply chain linked to the pandemic and the emerging cost-of-living crisis. It would have imposed daily charges for non-compliant vehicles that owners might not have been able to upgrade to cleaner vehicles.
Andy Burnham, Mayor of Greater Manchester, said: "Our city is still recovering from the pandemic and we don't want the Government to level down our city centre with their proposals to charge businesses from across Greater Manchester who have to travel through or work within the proposed charging area.
"Even a small charging Clean Air Zone would result in a considerable financial burden for the many businesses moving products and people through Manchester city centre, providing a significant setback in economic recovery from the impact of the pandemic, and during a cost-of-living crisis.
"The Government wants us to charge Greater Manchester businesses at a time when they can least afford it."
The Blackpool-based Federation of Small Businesses (FSB) welcomed today's announcement.
FSB development manager for Greater Manchester, Robert Downes, said: "These new proposals and the new data set out in it are encouraging. It acknowledges what FSB and others have long maintained, which is that there is a better way of cleaning up the air in our city region and getting us to legal compliance levels without wrecking the economy and destroying businesses.
"This is an alternative, business-friendly CAZ that we've always called for – one that gets us over the line when it comes to illegally high levels of NOx pollution by using targeted measures in the few areas where there are genuine problems.
"We already knew these were in parts of Salford and Manchester city centre, and goes to show the original 493 square mile CAZ was the proverbial sledgehammer to crack a nut – a term FSB often used to describe the blunt instrument that it was."